Cards get the better of Padres after wild finish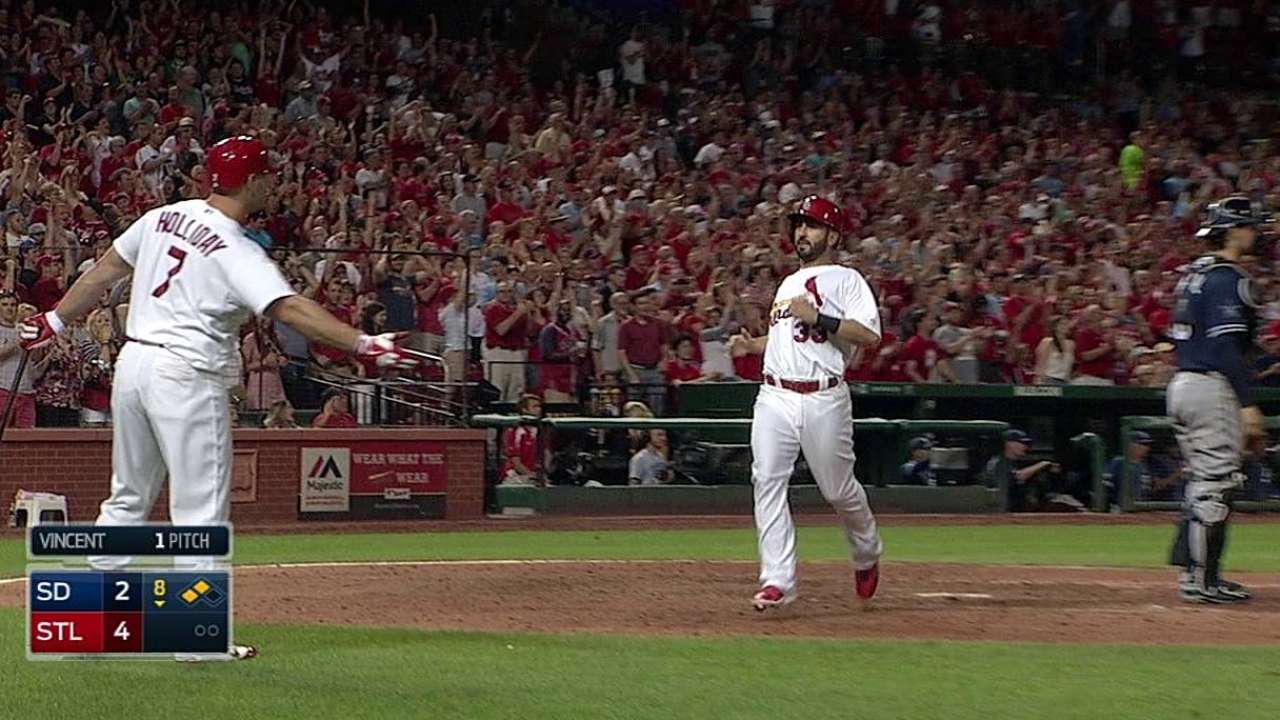 ST. LOUIS -- An out that wasn't, another that the Padres wouldn't take and one that took a lengthy replay review to confirm all loomed largely in a 4-3 Cardinals win at Busch Stadium on Thursday that had all sorts of drama and debate late.
The Cardinals were the beneficiaries of two questionable calls, the first of which sparked their two-run rally in the eighth inning, the second of which hinged on a shortage of replay angles. A replay review offered no conclusive evidence to overturn a play at the plate, and that helped extinguish the Padres' brewing rally in the ninth.
That meant that although he allowed five baserunners in a two-run game, Trevor Rosenthal escaped with his 36th save.
"We strung at-bats together against one of the best closers in the game," said Padres manager Bud Black. "It's frustrating that the game ended like it did."
Jon Jay, out of the lineup as he continues to nurse a sore wrist, came off the bench to deliver the game-winning RBI double on reliever Nick Vincent's first pitch of the night. He was the fourth straight Cardinals batter to reach against the San Diego bullpen in that inning, though the Padres still believed afterward that they were robbed of an out.
Alex Torres opened the inning with what he thought was a strikeout of Tony Cruz, a call initially confirmed when home-plate umpire Bob Davidson ruled that catcher Yasmani Grandal caught the foul tip. But Cruz contended the ball skipped off the dirt, and first-base umpire John Tumpane concurred.
The strikeout was repealed.
"I heard dirt," Cruz said. "It was either the ball or the glove. I knew I foul-tipped it, so I told him it hit the ground."
The Padres didn't care much about that detail because they thought Cruz had swung through the pitch altogether. Replays seemed to confirm that theory, though that was not a call Black could challenge.
"I thought he clearly just swung and missed the ball," Black said. "We thought we had a strikeout, and then all of a sudden, I see Cruz is back in the batter's box. I couldn't believe it."
Cruz took the next pitch he saw and singled to center. Three batters later, after Daniel Descalso walked on four pitches while trying to give himself up with a bunt and Matt Carpenter singled, Cruz scored the go-ahead run on Jay's two-run double.
"Huge hit for us," manager Mike Matheny said. "As a pinch-hitter, you do want to go up there and make sure you're not just watching pitches. He was ready and got something he could handle."
Rosenthal made the ninth plenty eventful, loading the bases with one out. One run scored on a pinch-hit single by Jake Goebbert, but the tying run, Alexi Amarista, was ruled out as he tried to follow. Whether he actually was out remains a matter of perspective.
Shane Robinson's throw from right took catcher A.J. Pierzynski up the third-base line, forcing Pierzynski to dive back at Amarista.
Unable to hear a call from Davidson, Pierzynski, who had just entered the game, lunged at Amarista again as the shortstop went back to touch the plate. Though Pierzynski was late in tagging Amarista that second time, Davidson ruled Amarista out, saying the initial tag had been made.
"I thought I got his arm, but I wasn't sure, and when I saw him off the plate, I couldn't hear Bob, [so] I just went after him again," Pierzynski said. "If you've caught long enough, you know you just go get the guy before you hear something. It was so loud at that point, you couldn't hear anything. I just went off instinct."
"There are many times you can just go over and tag him and take away all doubt," Matheny added. "I think it just caused a little more confusion."
A review provided inconclusive evidence to overturn the call. Black was ejected when he came out to argue.
"You saw their catcher go back and try to tag our runner, because he knew he missed him," Black said. "You saw our player react, knowing he wasn't tagged. So you saw two Major League players, two experienced Major League players, react to a play that they both knew there wasn't a tag. That's what's frustrating."
Rosenthal followed the drawn-out review with a walk to load the bases. He then ended a 24-pitch night with a strikeout.
Jhonny Peralta had earlier given the Cardinals a two-run lead as he matched the franchise's single-season home run record for shortstops with his 16th. His blast in the second inning off Stults also scored Matt Adams, who opened the inning with a single. The Cardinals only had two other hits in Stults' seven-inning start.
John Lackey, coming off one of the worst statistical starts of his career, also gave seven strong innings. He allowed two runs in the sixth but navigated out of the inning without letting San Diego take the lead.
Lackey closed out his 110-pitch effort with a 1-2-3 seventh, giving him his second seven-inning start in three outings with the Cardinals. He relied heavily on his off-speed pitches all night.
"I have to give Tony a lot of credit tonight," Lackey said. "I was really unfamiliar with their lineup, so I let him guide me through. I threw in there whatever he called. Overall, I just executed pitches better today."
Jenifer Langosch is a reporter for MLB.com. Read her blog, By Gosh, It's Langosch, and follow her on Twitter @LangoschMLB. This story was not subject to the approval of Major League Baseball or its clubs.