Breakthrough Series continues to build influence
More than 20 of program's alumni were selected in last three Drafts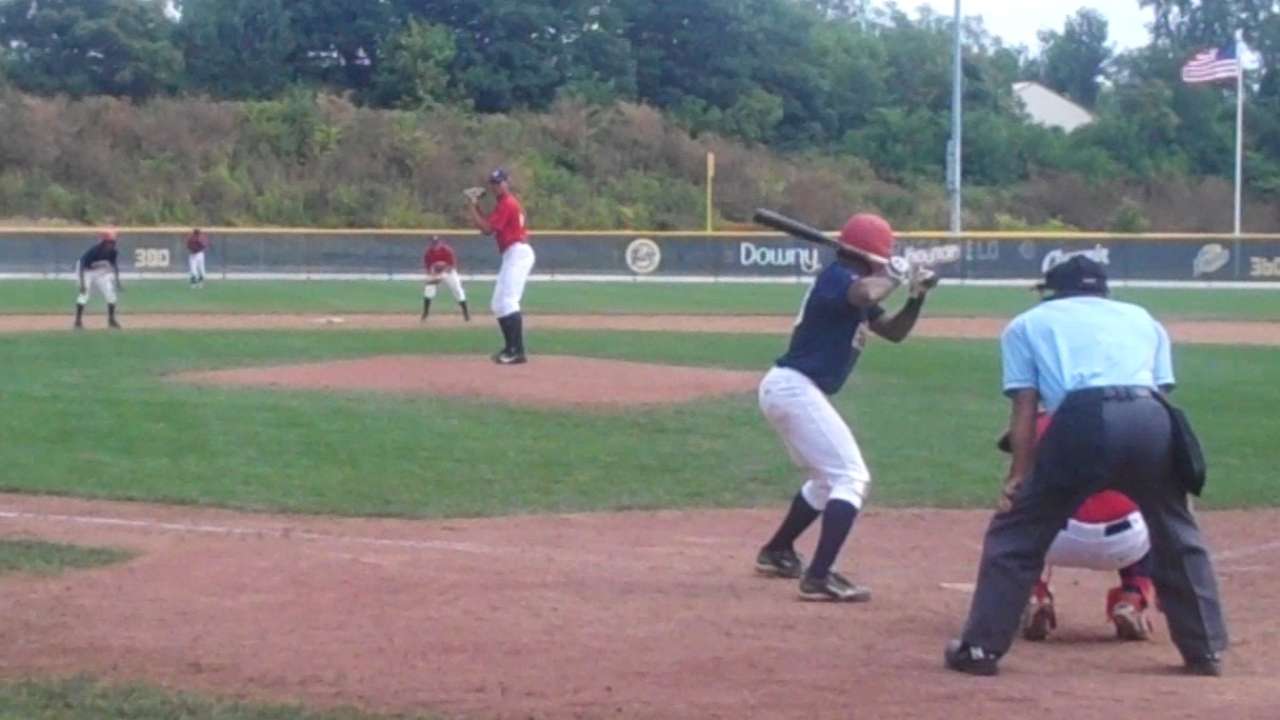 The seventh edition of the Breakthrough Series will be one to build upon.
The ground-breaking event, hosted by MLB and USA Baseball, expanded to four cities and greatly increased the amount of players it can impact this year. But perhaps most importantly, it featured several former Major League players serving as coaches and role models.
Dmitri Young, a two-time All-Star, was one of 15 former big leaguers involved in this year's Breakthrough Series, and he said it was a pleasure to work with a great group of kids. Young, who also operates Da Meathook Switch-Hitting University in California, said he was "all in" as soon as he was invited.
"I had influential people throughout my life that helped me along the way. And I've always said that if I wasn't a baseball player, I would've been a teacher," said Young. "Well, guess what? I'm no longer a baseball player. I do camps and clinics and I'm helping the youth of tomorrow, so now I'm a teacher. I'm a baseball teacher, and I also teach life. Where my life has been, good, bad and indifferent, I have a story to tell, and with that story, that helps out with what you have to do on the baseball field."
Young, the older brother of fellow big leaguer Delmon Young, indeed has a story to tell.
Dmitri Young was drafted fourth overall in the 1991 First-Year Player Draft, and he went on to hit .300 five times in his 13 big-league seasons. Now, he loves to teach kids about the path that he's taken, and he served as a hitting coach and manager at the Breakthrough Series in two different locations.
This year, the Breakthrough Series happened in July at four sites: Minor League parks in Bradenton, Fla., and Brooklyn, N.Y., played host, as did the Urban Youth Academies in Compton, Calif., and Cincinnati, Ohio. Young made it to the two academies, and he said his lessons always start at a common root.
"The first thing I do with any of my students is I introduce myself. And when I shake their hand, I tell them to give me a firm handshake and to look me in the eye," said Young. "And I tell them to pass that on to every time they shake someone's hand from here on out, regardless of whether they're shaking a coach's hand or a teacher's hand or anyone else. It shows a sign of respect and confidence."
That lesson, so simple, is exactly what the Breakthrough Series is trying to impart on its young charges. The point of the Breakthrough Series is to increase the exposure of inner-city athletes to pro scouts and college coaches, but it's also to help them round out as athletes and people.
Ben Baroody, MLB's senior director of baseball development and Urban Youth Academies, said that the Breakthrough Series keeps the groups small so that players can get intense individual attention. They can get an hour with a player like Young in the batting cage, but they can also learn about life.
Hall-of-Famer Frank Robinson spoke to some of the kids at the Breakthrough Series this year, and former All-Star Eric Davis was available for tips in the batting cage.
Baroody said that former outfielder Jeffrey Hammonds was instrumental in lining up several Major League peers to help as instructors. That experience, said Baroody, turned out to be invaluable.
"We had a lot of support from our different hosts at the academies and Pirate City," he said. "The Cincinnati Reds gave us the royal treatment, and the Brooklyn Cyclones were great up here. But I think the group that really helped us take the event to the next level was the support of the Major League Baseball Players Association. They helped coordinate the former players serving as our instructors. Their assistance and their experience in the game really helped make a difference for these kids."
Each location of the Breakthrough Series had its own perks. The ones at the Urban Youth Academies had state-of-the-art facilities available -- from fields to weight rooms -- and the event at Pirate City in Bradenton came with a built-in measuring stick. Each of the top prep players could look over just one field, where they'd see the members of Pittsburgh's Gulf Coast League affiliate playing their game.
"Essentially, for those couple days, they were living the life of a professional player," said Baroody. "They were staying in the dorms next to the Pirates players, eating at the same place, hanging out with them at night. And on the next field to where we were working out, they were playing Gulf Coast League games. It was definitely a reality check for a lot of these kids. This is what to expect."
One of those players, Blair Frederick from New Orleans, had the prototypical experience. Frederick, who is about to start his junior year at Brother Martin High School, has been a constant presence at the New Orleans Urban Youth Academy and has seen his game mature in time for college.
Frederick attended the Breakthrough Series in Bradenton with the hope of learning more about the game, and he got the opportunity to measure himself against some of the best talents in the country. Now, the left-handed pitcher is hoping to consolidate his gains and pitch in college or the pros.
"It was great. It was nothing like anything I'd ever done before," he said of the Breakthrough Series. "We were in the Pirates' facility, and the whole Major League Baseball atmosphere was wonderful. We had a great time. And it wasn't too strict. It was real loose. We went out there and we had fun."
Frederick said that the Urban Youth Academy has been big for him the last two years, providing a place for him to hit in the batting cages or to take extra fielding work any day of the week. Frederick, who also plays the outfield, said that he's loved baseball from the first time that he picked up a ball.
The Breakthrough Series, established in 2008, has quickly proved its importance to the game. More than 20 players with Breakthrough Series experience were selected in each of the last three Drafts, and the program just had its first alumnus -- Houston's Jon Singleton -- progress to the Majors.
Around 20 percent of African-American players in pro baseball have played in the Breakthrough Series, and that number is only expected to increase over time. The game is becoming increasingly international, but Young believes players have a responsibility to pitch it to inner-city kids in America.
That's why he's out there in California teaching kids to hit, and Young said he'd be back for the Breakthrough Series as often as he's invited. Young believes that as the Breakthrough Series continues to unearth gems, that will cause an even greater ripple effect back home in their community.
"I looked gruff when I was out in the field because I was playing the game," said Young. "But in the dugout, I kept everybody loose. You have to be comfortable out there doing what you love to do. When I played, there was no rookie hazing when rookies got called up, except maybe to call him up at 2 a.m. and make him get some food for us. But with all seriousness, with those rookies, I wanted them to be comfortable. There was a reason for them to get called up, but those guys were scared as they could be when they'd get called up. And that's the same thing with the Breakthrough Series.
"RBI was just starting when I got drafted. Now we have academies throughout the country and current players like Curtis Granderson, CC Sabathia and Torii Hunter that are doing so much on their end. On my end, I'm a retired player. I've coached. I've been there and done that. I have time to be able to spend with the young kids and to help them on the mental side. This is about life as well as baseball."
Spencer Fordin is a reporter for MLB.com This story was not subject to the approval of Major League Baseball or its clubs.