Simon's second-half struggles continue at Coors
Allows seven runs over five innings; falls to 0-5 since break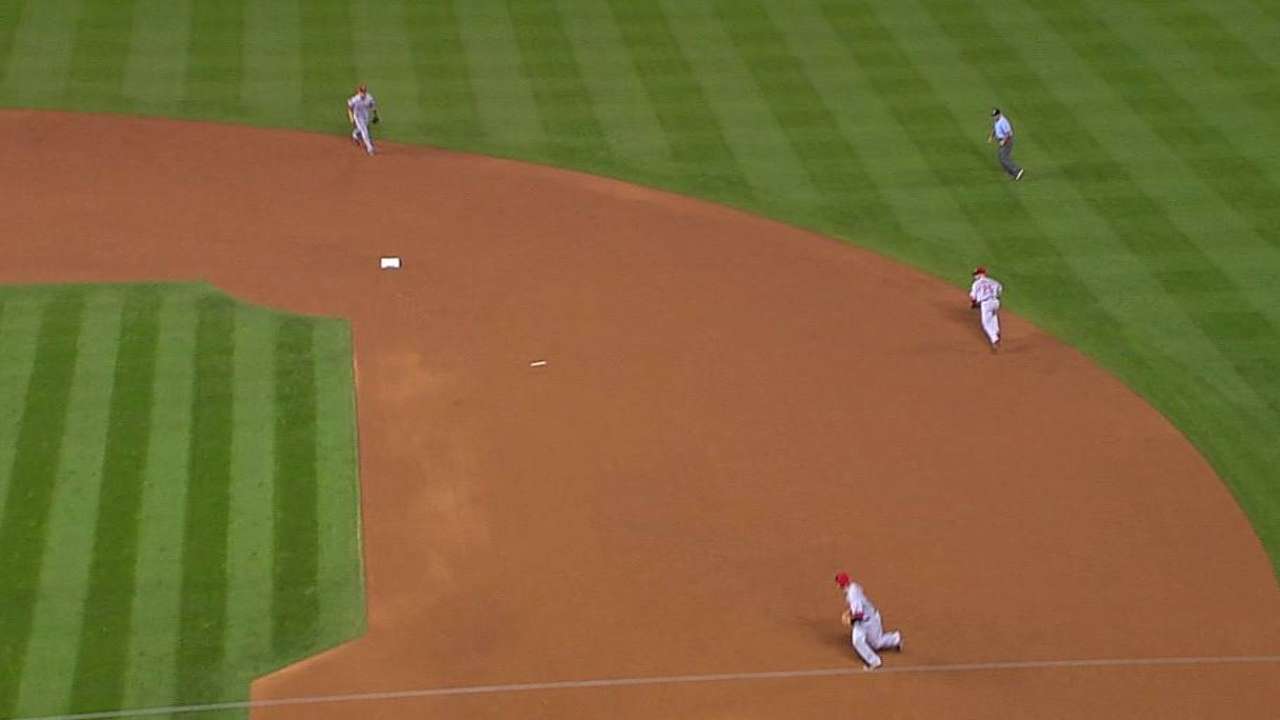 DENVER -- Remember Reds pitcher Alfredo Simon? He won 12 games in the first half and was a 2014 National League All-Star. That dude sure seems to be missing of late.
Well, that's mostly true. Simon has been making all of his starts for the Reds and remains a 12-game winner. But he is also winless in the second half while not pitching like an All-Star. His latest outing on Thursday night at Coors Field produced his worst line of the year as the Reds lost to the Rockies, 7-3.
"As much as that pre-All-Star Game quality was unbelievable -- it left us all shaking our heads going, 'How did this guy have this first half?' For a guy that has some experience, he still has some things to learn about being a starting pitcher in this league," Reds manager Bryan Price said.
Simon allowed a career-high seven runs, with a season-high-tying five being earned, over five innings. The 10 hits he gave up were a season high and one shy of a career high. He had one intentional walk and two strikeouts.
Once again, Simon did not remain in the clubhouse to speak with reporters.
"They were very, very comfortable at the plate and hit a lot of balls hard. And that's a bad combination," Price said.
In six starts since the break, Simon is 0-5 with a 5.46 ERA and he has lasted past five innings just once -- when he worked seven innings with two runs allowed on July 30 against Arizona. In the 18 starts that earned him his first All-Star nod, he was 12-3 with a 2.70 ERA.
"His sinker is just in the middle part of the plate right now -- a lot," catcher Devin Mesoraco said. "Early on this year, he was able to run it away from the lefties and run it in to the righties. Right now, it's not really running. He's pulling it to the middle vs. righties. With the lefties, he's losing it away or pulling it to the middle against them, too. That was his pitch. Everything goes off of that."
The Reds' rotation that has been so strong all season but trouble lurks with Simon not performing well coupled with Thursday's news that Homer Bailey is headed to the disabled list.
"Being a starter, you have to be some kind of resilient," Price said. "[Simon has] been resilient physically. And you have to be resilient mentally, in the sense that when you're down on your luck and not pitching well, it's something that's in the hands of the pitcher to turn it around. … It's been a string of outings where he just hasn't pitched very well. He hasn't located very well. He hasn't been able to blend his pitches consistently in the zone."
Meanwhile, Cincinnati (60-61) dropped its third straight game and fifth in the last six to fall below .500 for the first time since July 30. This loss came against a last-place Colorado club that had been losers of three in a row and 14 of 17. Wins by the Brewers and Cardinals put the Reds 6 1/2 games back in the National League Central and 4 1/2 back for the second NL Wild Card.
The night started promising against Jorge De La Rosa, as Cincinnati took a 2-0 lead in the second inning on Ryan Ludwick's RBI double that drove in Mesoraco. A two-out single to left field by Zack Cozart scored Ludwick, who later hit a two-out solo homer in the sixth -- his first long ball since July 10.
Simon gave up back-to-back one-out doubles past center fielder Billy Hamilton in the bottom of the second for the first Colorado run. In the third, after three hits loaded the bases with no outs, he escaped with only a sacrifice fly.
In the fourth, after a Charlie Culberson leadoff single, Simon did himself in with a throwing error that led to two unearned runs. With a runner on first base and no outs, D.J. LeMahieu grounded to Simon, who spun and rushed a wide throw into center field to put runners on second and third. Both runners would eventually score. The game got away from Simon in the fifth when he gave up Culberson's three-run homer to left field with one out on a first pitch.
A reliever turned fill-in starter at the beginning of the season who became a full-time rotation member, Simon's 148 innings are easily a career high. Because his velocity is still strong, Price doesn't believe fatigue is an issue.
"Really the only way to learn to pitch a season as a starter is to go out there and pitch a season as a starter," Price said. "I don't like making any excuses for our players."
Mark Sheldon is a reporter for MLB.com. Read his blog, Mark My Word, and follow him on Twitter @m_sheldon. This story was not subject to the approval of Major League Baseball or its clubs.