Odorizzi leads Rays to series win in Texas
Longoria, Forsythe homer behind righty's seven-K gem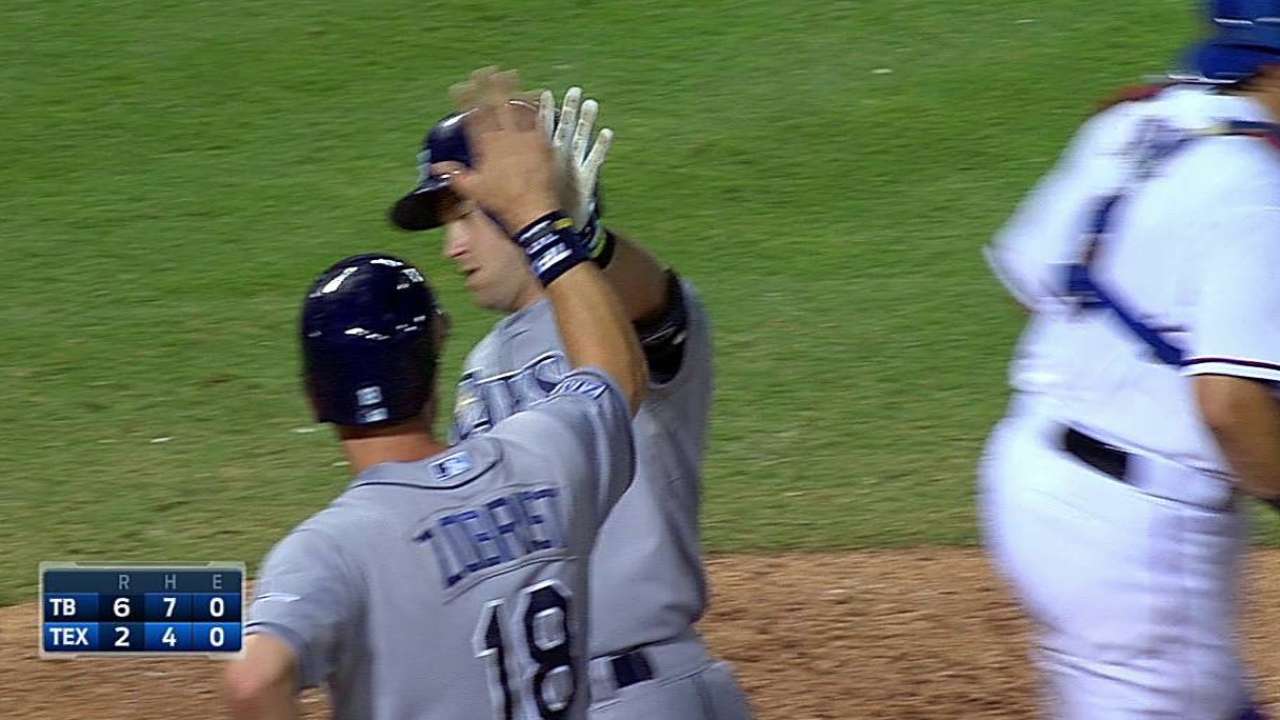 ARLINGTON -- The Rays wrapped up their 10-game road trip on a high note Thursday night with a 6-3 win over the Rangers at Globe Life Park.
After going 6-4 on the trip, which included stops in Oakland, Chicago and Arlington, the Rays (60-61) will return to Tropicana Field on Friday night to begin a three-game series with the Yankees.
Tough extra-inning walk-off losses Sunday in Chicago and Tuesday in Arlington made the way the trip ended look even better.
"We're really good at the bounce after the fall," Rays manager Joe Maddon said. "We've lost some tough games on this road trip, and that's part of the game of baseball. But we came back."
Jake Odorizzi started for the Rays and went 3 2/3 innings without any trouble before Leonys Martin beat out a two-out bunt in the fourth. Geovany Soto made Martin's play look all the wiser by slamming his first home run of the season into the left-field stands, cutting the Rays' lead to 4-2.
"He was mixing his pitches pretty good," Soto said. "He was commanding his fastball early in the game, getting ahead a lot and then he started mixing his pitches."
Soto's blast was all the Rangers could muster against Odorizzi, who allowed two runs on two hits and a walk while striking out seven in seven innings en route to his ninth win of the season.
"Fastball location was good," Odorizzi said. "I don't know what the velocity on it was or anything like that, but that's really not part of my game anyway. I was able to throw it where I wanted to. And I was getting weak contact and mixing well on top of that, and I think that's what kind of helped it today, too. Offspeed was good and all around the zone. Couldn't really sit on anything."
Odorizzi has won two consecutive starts and five of six, going 7-2 in his last 10 starts, quite a turnaround from his first month of the season when he went 1-3 with a 6.85 ERA in five starts.
"I thought he was throwing the ball well and getting nicked up [early in the season], and a lot of it had to do with pitch selection," Maddon said. "I think his pitch selection has gotten better, otherwise he might have been on this run from the beginning of the season.
"... It's all gotten better as the year progresses. And then, of course, confidence -- I mean the guy's confident. The guy's swaggering out, he's swaggering back, he's got a little bit of John Wayne working right now. It's good. It's a good thing."
Odorizzi allowed that he has experienced a lot of growth since the beginning of the season.
"Now that I'm finally comfortable, I feel like I've learned a lot between now and then," Odorizzi said. "I've found some new stuff out about myself. ... It's fun to go out there every fifth day and continue to grow as a player and get better each time out."
Logan Forsythe got the Rays on the scoreboard when he hit his fifth home run of the season, a two-run shot in the second inning off Rangers starter Robbie Ross Jr.
"I knew his cutter was working pretty well," Forsythe said. "My thought on that pitch was let it travel a little bit and see it back through the middle. Just try to get my hands inside. Luckily I got the hands far enough out front. ... It was a little more inside, but the hands worked for me on that at-bat."
Maddon credited Forsythe for igniting the Rays' offfense.
"The 0-2 homer by Forsythe, that got us going," Maddon said. "That kind of like took the wind out of their pitcher's sails, because he was going pretty well. Gets an 0-2 count and suddenly the ball's in the bleachers."
Evan Longoria and James Loney helped pad the lead with RBI singles in the third to make it 4-0 Rays.
Longoria answered for the Rays with his 15th homer of the season, which came in the fifth with one aboard to give the Rays a four-run cushion.
While the Rays still have quite a hole to dig out of to play significant games in September, if they can get any offense their pitching appears ready to carry the load. Thursday marked the 18th consecutive road game in which the Rays have allowed three runs or fewer.
"They've been outstanding," Maddon said.
Bill Chastain is a reporter for MLB.com. This story was not subject to the approval of Major League Baseball or its clubs.