Padres begin road trip with streak-ending loss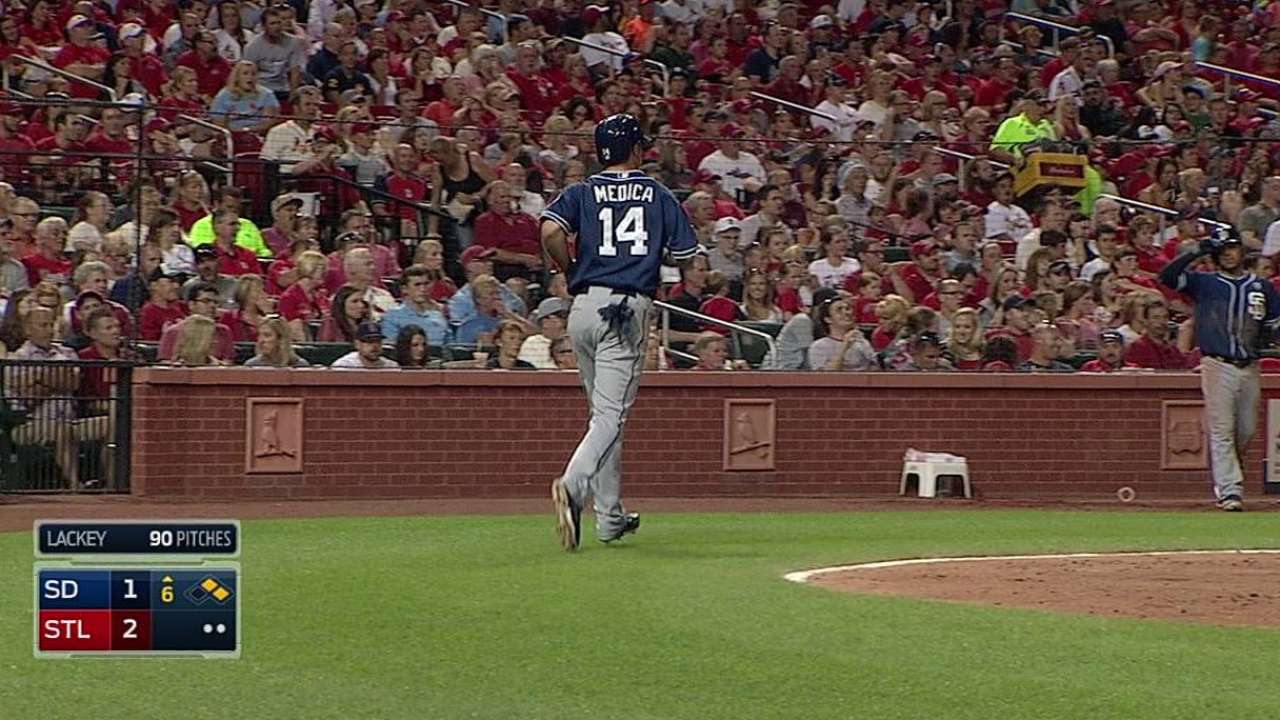 ST. LOUIS -- Bud Black sat frustrated in the manager's office at Busch Stadium following his team's 4-3 loss on Thursday, certain he had seen with his eyes what the Major League replay system hadn't shown umpires.
With the Padres trailing by two runs in the ninth inning, with one out and the bases loaded, pinch-hitter Jake Goebbert sent a line drive to right field. Yasmani Grandal scored from third to bring the Padres within one run, and Alexi Amarista sprinted around from second attempting to tie the score.
That's when confusion ensued.
Cardinals catcher A.J. Pierzynski received the throw from right field and swiped to tag Amarista, who was called out by home-plate umpire Bob Davidson. Yet Amarista continued toward home, and Pierzynski dove to retag him, but not before Amarista touched the plate.
"You saw two Major League players react to a play that indicated that a tag was missed," Black said. "You saw their catcher go back and try to tag our runner, because he knew he missed him. You saw our player react, knowing he wasn't tagged. So you saw two Major League players, two experienced Major League players, react to a play that they both knew there wasn't a tag. That's what's frustrating."
Following a review, the call was upheld, and Black was then ejected for arguing the result. A strikeout from Cardinals closer Trevor Rosenthal followed to close out the victory for the Cardinals, snapping the Padres' five-game winning streak.
"From where I was at, the only doubt that I had was whether [A.J.] got him on the back or not," Grandal said. "When he comes back and goes to re-tag him, that kind of tells you for sure he didn't tag him. It's one of those plays [where] you can't do much about it."
"That's what you're always taught as a catcher," Pierzynski said of continuing the play. "I thought I got him, and I haven't seen anything yet to prove me wrong."
Only one inning earlier, confusion eventually led to a Cardinals rally.
After starter Eric Stults exited with the score tied following seven innings, reliever Alex Torres began the eighth with what appeared to be a strikeout. Grandal threw around the horn to signal the first out of the inning.
But the strikeout victim, Tony Cruz, pleaded with Davidson that the ball had bounced in the dirt and that it was not a caught foul tip. The ball did hit the ground, and after a short discussion among the umpires, it was ruled a foul ball. Cruz sent the next pitch back through the middle for a leadoff single.
"From my vantage point, I didn't hear anything, I thought he clearly just swung and missed the ball," Black said. "We thought we had a strikeout, and then all of a sudden, I see Cruz is back in the batter's box. I couldn't believe it."
"I think the communication just wasn't there," Grandal added. "[Cruz] was arguing something else than what it was. We came in here, saw the replay, and it looked like he didn't foul-tip it."
A walk and single followed to load the bases, and pinch-hitter Jon Jay doubled to the center-field wall to give the Cardinals a two-run lead heading to the ninth.
"It doesn't change anything, because you still have to make another pitch," Grandal said. "It just so happens that he got a base hit, and then we couldn't throw strikes."
The Cardinals first got on the board in the second, when Stults left a 2-0 fastball over the plate and shortstop Jhonny Peralta sent it over the fence in left-center.
Stults settled into a groove from there, retiring 14 of the next 16 hitters he faced en route to five scoreless innings in which he scattered a walk and single.
Stults allowed just the two-run homer in seven innings of work for his third straight quality start. In three starts this month, he has surrendered three earned runs over 19 2/3 innings.
"I felt pretty good," Stults said. "I'd say physically I felt better, body-wise. I felt like I was able to locate some pitches down in the zone and get some ground balls."
The Padres, after stranding runners in the third and fourth innings, were able to capitalize in the sixth to take Stults off the hook. Two walks and a double loaded the bases with no outs before an RBI forceout brought the Padres within one run and a two-out single by rookie Rymer Liriano tied the score.
Trailing by two in the ninth, the Padres loaded the bases with two singles and a walk before Goebbert cracked what could have been the game-tying hit through the right side. Instead Amarista was ruled out at the plate.
"Two key plays," Grandal said of the loss. "Foul tip and the play at home plate. We battled back. We had the bases loaded right at the end, and we had another chance to do something and we couldn't get it through. Sometimes the calls are going to go your way, other times they aren't. That's the way the game is."
A walk reloaded the bases with two outs before a strikeout ended the Padres' chances for good.
"We strung at-bats together against one of the best closers in the game," Black said. "It's frustrating that the game ended like it did."
Alex Halsted is an associate reporter for MLB.com. This story was not subject to the approval of Major League Baseball or its clubs.