MLB.com Columnist
Bill Ladson
Strasburg, homers lead Nats to 11th straight Citi win
Righty fans eight over seven innings; LaRoche, Harper go deep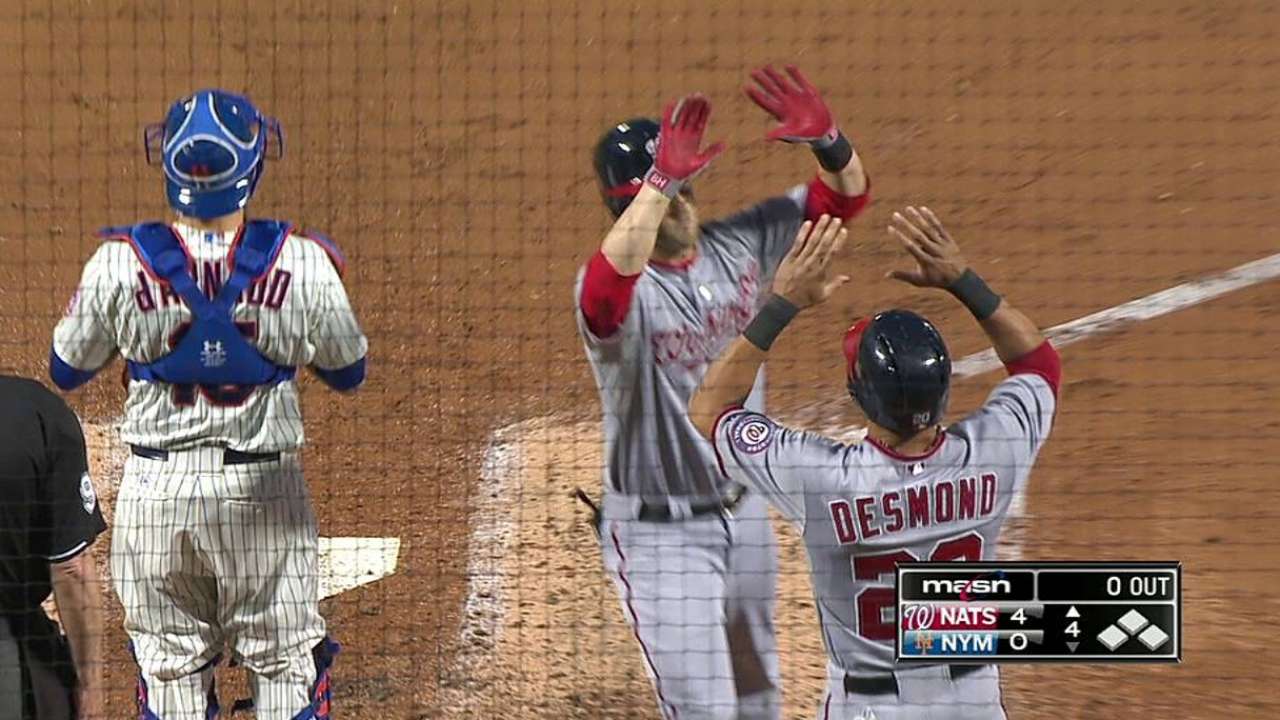 NEW YORK -- Entering Thursday night's game, right-hander Stephen Strasburg had struggled on the road this season, going 1-8 with 5.25 ERA. However, playing at Citi Field wasn't a problem for Strasburg as the Nationals downed the Mets, 4-1, for Washington's 11th straight win at New York's home ballpark.
The win put the Nationals six games ahead of the Braves in the National League East race. Atlanta lost to the Dodgers, 6-4, at Turner Field earlier in the day.
But don't tell manager Matt Williams that the Nationals have a comfortable lead.
"We've seen in recent years that [a comfortable lead] doesn't mean anything," Williams said. "It means that we have to work even harder and make sure that we take care of our games and play well. That's our objective."
Strasburg got off to a great start, retiring nine out of the first 10 hitters he faced, while striking out three batters. The only time New York scored against Strasburg was in the fourth inning, and that run was unearned. After Daniel Murphy reached base on an infield single, advanced to second on a throwing error by Ian Desmond and David Wright struck out, Lucas Duda hit a sacrifice fly, scoring Murphy.
Strasburg showed he could get out of trouble when, after Eric Young led off the sixth with a double and Curtis Granderson followed with a walk, Murphy hit into a double play, leaving Young at third base. Wright ended the inning by striking out.
Strasburg would pitch seven innings, allowing the one unearned run on three hits, while striking out eight batters and walking two.
"He really had fastball command from both sides of the plate. That's where it starts with him," Williams said. "If he can do that, it just opens up everything else. He pitched well. He had a jam in the middle inning and he got out of it with a great double-play ball. He pitched well."
After getting roughed up against the Braves last Friday, Strasburg sought the advice from people like Williams, pitching coach Steve McCatty and teammates Gio Gonzalez and Doug Fister on how to get better results. Strasburg came to the conclusion that he had to pitch inside more and have great fastball command.
"We look at Stras as our horse," Gonzalez said. "He will always be our ace. He has such talent and is willing to learn more."
Strasburg knew he had to change his approach on the mound.
"This game is funny. You can always learn something new," Strasburg said. "I wouldn't say pitching on the road [is tough]. I think I had bad games on the road. I think there are things that I do that put me in a position where [the hitters] can take a better swing at it. So I'm going to trying to learn as a much as I can."
The Nationals gave Strasburg enough run support to work with starting in the first inning off right-hander Dillion Gee. With a runner on first and two outs, Adam LaRoche hit an 0-2 fastball over the left-center-field wall for a two-run homer. It marked the fifth time this season that a National hit a home run on an 0-2 count.
Gee threw two curveballs before throwing the fastball, and LaRoche thought the ball he hit wasn't going out of the park.
"I thought I popped it up a little too much, but it ended up being enough," LaRoche said.
Three innings later, Bryce Harper got in on the act and hit a mammoth home run over the right-center-field wall, a two-run shot, to make it a 4-0 game. His last three home runs have been against the Mets. This last home run indicated that Harper maybe over his thumb issues. He swung the bat free and easy and hit the ball a long way to right field.
"His strength is coming back, and if he gets a ball that is in a little bit, sometimes it hurts him. He feels it for a day or so, but that is part of the process coming back from that," Williams said. "He is getting stronger by the day. He is seeing it better. It probably starts with strength. If you feel good about it, then you are able to stay back and wait for the ball a little bit, let it travel, and he has been doing that."
Harper said the swing was the best he felt all year.
"It was pitch I could handle over the plate. I was lucky enough to put it over the fence for two runs," Harper said.
Mets manager Terry Collins was disappointed that his team didn't put things together against Washington.
"We're a little disappointed with how we played them here, no question," Collins said. "We play them good in Washington. … They just outplayed us [in New York]. We can't keep the ball in the park, and we can't hit them out. That's the story of this series, for sure."
The Nationals return to Washington to begin a 10-game homestand starting Friday against the Pirates.
Bill Ladson is a reporter for MLB.com and writes an MLBlog, All Nats All the time. He also could be found on Twitter @WashingNats. This story was not subject to the approval of Major League Baseball or its clubs.