Homers haunt Gee as Mets drop series finale to Nats
Righty allows four runs, via two long balls, over six innings in loss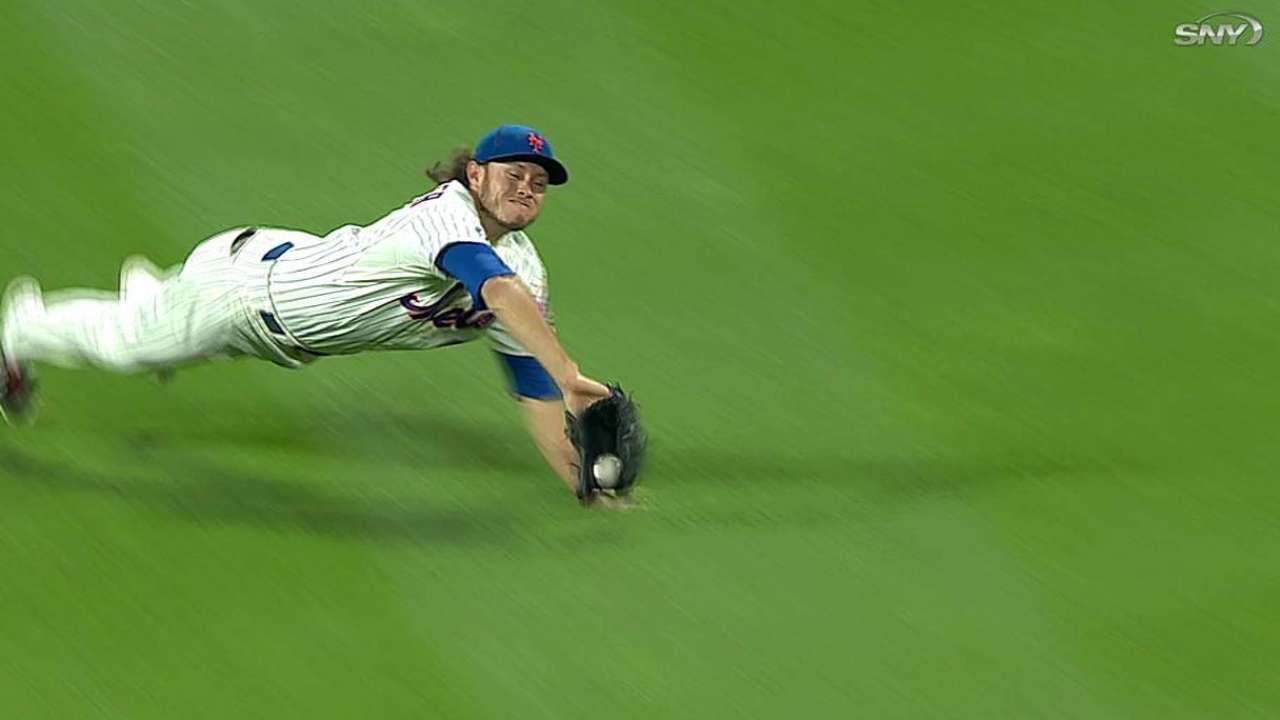 NEW YORK -- The Mets' Sisyphean season has apparently taken its next turn.
The week began with a renewed sense of excitement surrounding the organization's commitment to younger position players for the last 40-plus games and talk from manager Terry Collins that his club will play meaningful baseball in September for the first time in years.
Now, after the Nationals' 4-1 victory Thursday night to complete a three-game sweep of the Mets and extend Washington's Citi Field win streak to 11, the difference between the team running away with the National League East and the team struggling to reach .500 is as stark as it has been all season.
"There's no secret or anything else I can say other than they outpitched us, they outhit us. They just flat-out outplayed us," captain David Wright said. "They played much better baseball than us these last three days. That's what happens. You get swept when every facet of the game is played by the other team."
The Mets' struggles against the Nationals are not specific to this series, however. They dropped five straight to Washington over the last nine days and are 2-10 overall this season. During the Nationals' 11-game win streak at Citi, a run that dates back more than a year and is the longest ever by a visiting team in Flushing, Washington has outscored the Mets, 74-21.
None of that bodes well for a club that hopes to compete in 2015.
"Those playoff teams, those good teams, [they] find a way to win close games," Wright said. "And they certainly have against us."
The tale Thursday was a familiar one. New York righty Dillon Gee, who has been up and down since returning from the disabled list more than a month ago, was that again in the series finale. Washington righty Stephen Strasburg, who started Opening Day against New York but isn't having the best season in a deep Nationals rotation, quieted the Mets for seven innings.
Two Nationals two-run home runs gave Strasburg all the offensive support he needed. The first came in the opening inning, when Adam LaRoche sent an 0-2 fastball away over the wall in left-center. Bryce Harper doubled the Mets' deficit in the fourth when he homered to deep right-center, the result of Gee leaving an 88-mph fastball over the middle of the plate. Gee preceded both long balls with walks.
"That's what happens," Gee said. "I walked too many guys, and it really hurt me."
Of Harper's six home runs this season, half have come against Mets pitching in the last eight days.
The Mets' best attempt at mirroring those feats came in the fourth inning, when Lucas Duda launched a long fly ball to center that briefly excited the Queens crowd of 22,782 before ultimately dying on the warning track for a sacrifice fly. Daniel Murphy scored.
Duda flied out to the center-field warning track again in the seventh, and Curtis Granderson sent right fielder Michael Taylor to the wall in the eighth, but both balls fell feet short.
"We can't keep the ball in the park, and we can't hit them out," Collins said. "That's the story of this series for sure."
Gee made his way through six innings, during which he allowed four runs on four hits and four walks, tying a season high for free passes.
Strasburg allowed no earned runs while striking out eight by the time he walked off the mound at the end of the seventh. Nationals manager Matt Williams and Collins both credited Strasburg's fastball command, but as Wright pointed out, he had a lot more going on than just that.
"[Strasburg] threw three or four pitches for strikes in any count," Wright said. "When you can back that up with a 97-mph fastball, you're in for a long day, offensively."
These clubs don't meet again until mid-September in Washington, then again in New York in the penultimate series of the season. While those games will likely mean little to the Mets in terms of division standings, the value of playing and playing well will -- like many other aspects of the team's remaining season -- be with an eye toward next year.
Proving -- to themselves, to the Nationals, to the league -- they can beat the best team in the division could go a long way come Spring Training.
"We know they're a good team and we don't play them very well. There's no question about that," Collins said. "They've been a thorn in our side in the last two or three years, for sure. They do so many things to beat you. They can all run, they can all field, they can all hit the ball out of the ballpark. You really have to play your 'A' game to beat them."
Tim Healey is an associate reporter for MLB.com. This story was not subject to the approval of Major League Baseball or its clubs.