A's allow five runs in seventh to drop finale vs. KC
Bullpen tagged with Royals' rally after Samardzija's solid outing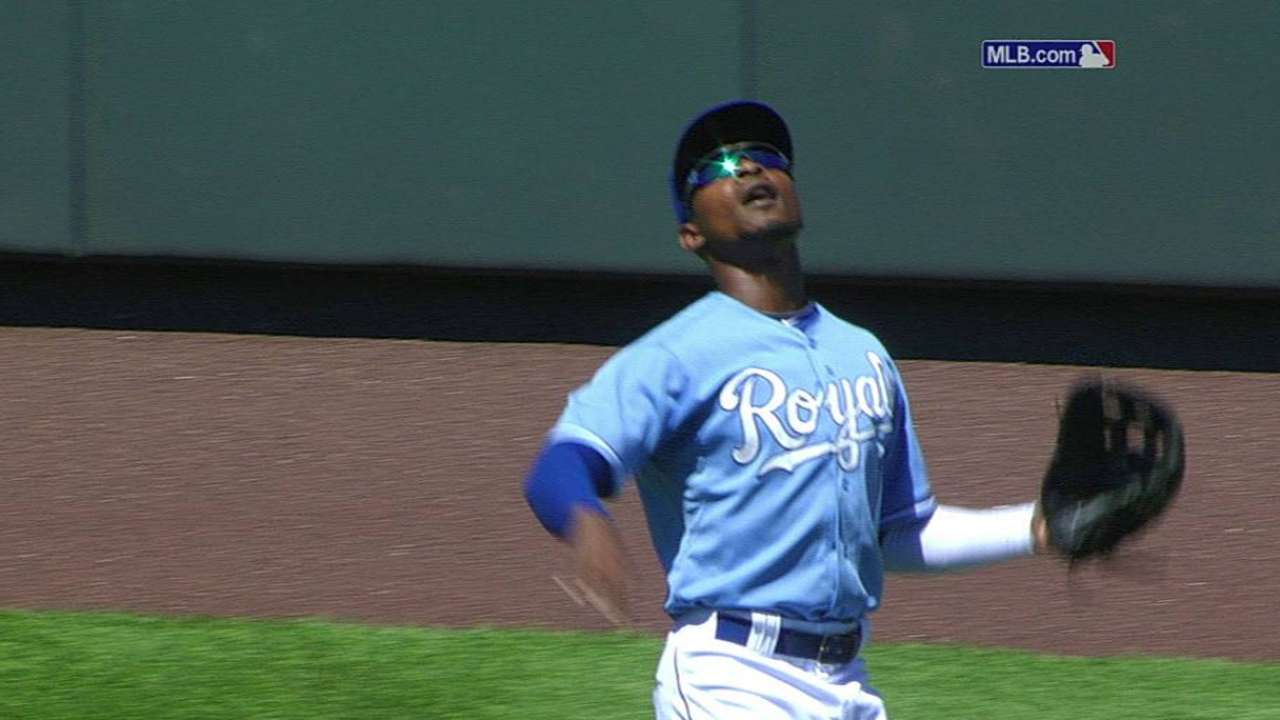 KANSAS CITY -- A hot-and-cold A's offense will gladly accept all the runs they can get these days, even if they're freebies, like the two that a sun ball helped deliver at Kauffman Stadium on Thursday.
But not even those could save them from dropping another to the Royals, who cashed in on a rare meltdown by the A's bullpen to come from behind with five runs in the seventh and hand the A's a 7-3 loss.
The red-hot Royals, winners of 18 of their last 22, bested baseball's best team, three games to one, this week to win the season series, 5-2. The two clubs could very well meet again in two months on a postseason stage.
The A's have to get there first. They continue their road trip in Atlanta on Friday clinging to a two-game lead over the Angels in the American League West.
"We knew exactly who we were playing coming in here," said Stephen Vogt. "Obviously their pitching staff is one of the best in baseball. They've shown that. And their lineup, they grind out at-bats. They're kind of similar to us in that no one's going to come out and wow you, but at the same time, one through nine, they are outstanding, solid hitters who grind out at-bats and make pitchers work.
"That's what I noticed this series, just how hard our pitchers were working, and that's a testament to the quality of at-bats they put together against us."
"They're doing everything right now, and that's why they're on this streak," said manager Bob Melvin. "They have a lot of different ways to beat you. If they're not swinging well, they have speed, and right now they are swinging well and have speed. They have pitching. They're hitting on all cylinders. They're tough to beat right now."
That doesn't make Thursday's disheartening loss any easier to swallow.
Starter Jeff Samardzija allowed just one earned run (two total) over his first six innings of work, but he immediately ran into trouble in the seventh, allowing back-to-back one-out hits to put runners at second and third for reliever Ryan Cook.
That's when the floodgates opened.
Cook, who entered with a 20-inning scoreless streak, quickly surrendered a game-tying base hit to Jarrod Dyson, followed by a first-pitch, two-run triple to Nori Aoki that put the Royals ahead, 5-3. A visibly frustrated Cook walked his next batter, Alcides Escobar, who later scored on Billy Butler's two-run single off Luke Gregerson.
"It happened pretty quickly, so I'm trying to bring in Cookie to get a strikeout," said Melvin. "He gets [Dyson], 0-2, has him where he wants him, just didn't get the changeup were he wanted it."
"My changeup's been the best pitch for me for a while now," said Cook. "It's been my putaway pitch to lefties and to righties, too. Right pitch, bad mistake. It's unfortunate, because I felt pretty good. I told myself to miss down, and I didn't. I missed middle. That's really all there is to it. I feel like I had all the momentum in that at-bat, too. Just a bad miss."
The A's mustered a pair of singles off Wade Davis in the eighth and loaded the bases in the ninth but were unable to get a run across either time, and the club finished the day 1-for-8 with runners in scoring position and a total of 10 left on base.
They're 7-7 in the month of August -- including 4-7 in games not started by Jon Lester, who they picked up on the final day in July. Lester has given the A's just what they expected: wins. But those have been hard to come by otherwise, amid an inconsistent offensive stretch by a lineup that's trying to cope without Yoenis Cespedes.
On Thursday, they broke a 13-inning scoreless stretch with a run in the fourth, courtesy of an Alberto Callaspo sacrifice fly, and Josh Reddick was credited with an RBI triple in the sixth on a two-out fly ball to center that Dyson lost in the sun.
Kansas City's outfielder more than made up for it.
"What are you going to do? Cook makes one bad pitch," said Vogt. "It was frustrating in the situation that it came in, but you also have to give them credit. So many times, bullpen guys have the short end of the stick, because every time they come in, they need to go three up, three down, and when they don't, everyone says, 'What's wrong with them?' It's not how this game works, and our bullpen is the best in baseball. We believe that. They've thrown so many great innings for us, and to have one hiccup today, I know I'm not worried, and I don't think anyone else is."
"We have all the faith in the world in those guys," Samardzija said. "It's just something that happened. You want to avoid those situations all together and take the decision out of their hands and go out and get a 1-2-3 inning.
"When I come out, we're still up one, but they're in the driver's seat, and you just can't put your team in that situation with a one-run lead."
Jane Lee is a reporter for MLB.com. This story was not subject to the approval of Major League Baseball or its clubs.