Webster buckles down, gets win thanks to rally
Pedroia caps seven-run rally in sixth with two-run, ground-rule double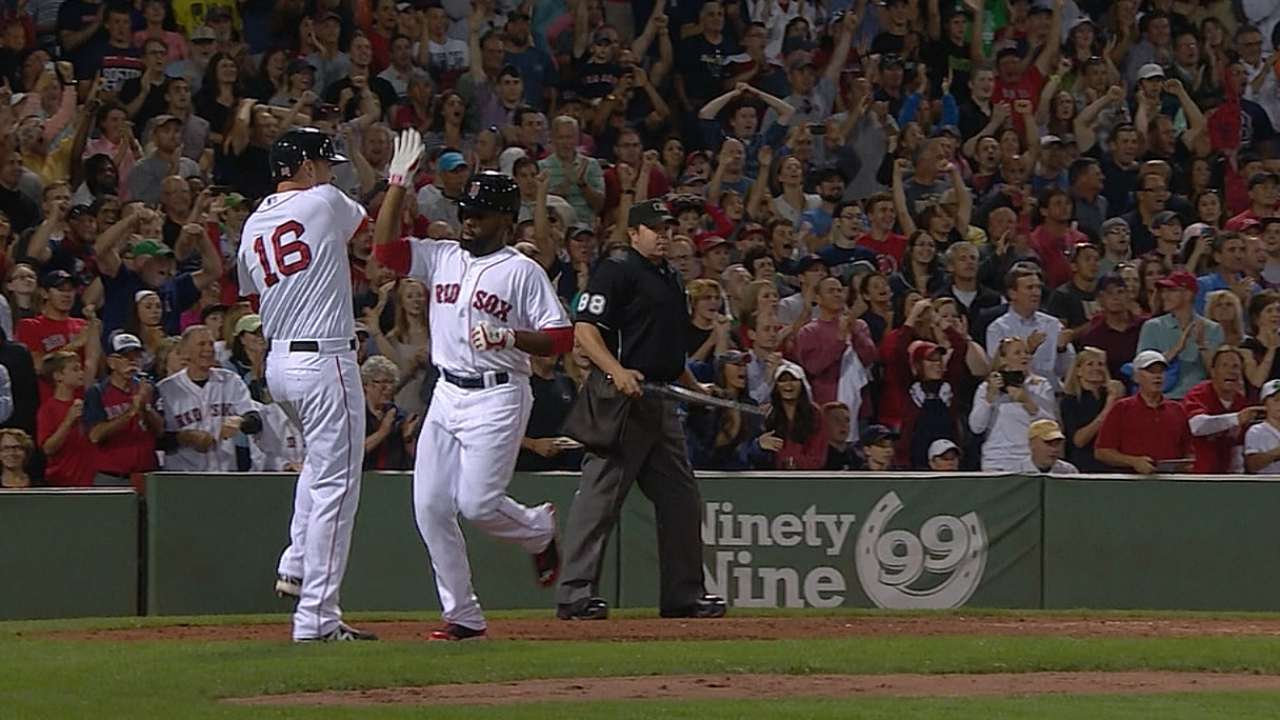 BOSTON -- Though a seven-run sixth inning was ultimately the catalyst for the Red Sox in Thursday's 9-4 victory over the Astros, an in-game recovery by starter Allen Webster was perhaps the noteworthy development of the evening.
In Boston's current place in the standings, the development of individual players is going to be a vital component down the stretch. And over his last couple of starts, Webster is looking like a pitcher who might be able to help the Sox in 2015 and beyond.
In the past, Webster would come unglued after moments like Thursday's second inning, when he walked the first two batters.
This time, the righty held it together, even when he was in a 4-0 hole heading into the bottom of the fourth.
"We're seeing some small gains here," said manager John Farrell. "When you compare it to two starts ago, where things might've gotten away from him a little bit … he did bend today, but he didn't break. That was an encouraging sign. I think more than anything, he'll wake up tomorrow knowing there's another win next to his name. Hopefully that's added confidence along the way."
Over six innings, Webster (3-1, 4.79 ERA) gave up five hits and four runs (three earned).
"Every outing, I learn something new each time," said Webster. "Going out there now, watching video, finding the key points when I miss, being able to recognize those as soon as possible."
It sounds different to hear talk of development at this time of year in a Boston baseball season, but that is the reality of the situation.
And the Red Sox are going about it the right away, as evidenced by Thursday's emphatic comeback from 4-0 down. Quietly, they've won five of their last six.
"We have a bunch of guys who are going out and we're trying to finish the season in terms of finishing strong," said Daniel Nava. "We know where we stand, but it doesn't mean that we can't go out there and give it a strong finish. I think there's a lot of guys trying to make a push also to open some eyes as well. There's a lot of guys who have a lot to play for."
Before the game, there was a feeling of nostalgia, as Roger Clemens, Pedro Martinez and Nomar Garciaparra were inducted into the Red Sox Hall of Fame, along with broadcaster Joe Castiglione.
Though they started slow once the game started, the Red Sox eventually game on.
The seven-run frame, the largest Boston has had all season, included two hits by Dustin Pedroia.
Five players from Farrell's starting nine had multihit games. Only Yoenis Cespedes (0-for-5) went home hitless.
"We came to life," said Farrell. "We were able to combine some base on balls with some base hits."
Astros right-hander Scott Feldman was left to field the brunt of Boston's in-game revival.
"Before that, he was in complete command of the game and really was commanding both sides of the plate and was doing a great job," Houston manager Bo Porter said. "In the sixth inning, he ran into a wall and couldn't get out of it."
Brock Holt led the charge by stretching a single into a double. Pedroia followed with a single. David Ortiz ripped an RBI single through the shift, and the deficit was down to two runs. Cespedes hit a grounder to second, but Ortiz made a nice takeout slide into second to keep Boston out of another double play.
Mike Napoli's single slimmed Houston's lead to 4-3. After Nava walked, Will Middlebrooks came through with an RBI single to tie the game.
And even though Jackie Bradley Jr. came to the plate in the midst of a 1-for-40 slump, Astros reliever Darin Downs walked him to force home the go-ahead run. Christian Vazquez (sacrifice fly) and Pedroia (two-run double) capped the damage in the inning.
Of late, Pedroia has been swinging a hot bat. Since July 29, he is hitting .379.
"Over the last couple of weeks, he's getting multiple hits a game," said Farrell. "He's seemingly in the middle of run-scoring situations for us. And I think anytime of late when he's really turned on some balls and pulled them into that left-field corner, I think that's an encouraging sign, because he's been pitched away so much over the last year-plus and he hasn't missed on the pitches on the inside part of the plate that have been strikes."
When the Astros tried to mount a comeback in the seventh, Nava short-circuited it. The right fielder camped under a medium-depth flyball to right from Jose Altuve and fired a bullet to the plate to nail Jake Marisnick for a 9-2 double play. It was an aggressive send by the Astros, but Nava made the play he had to.
"You know the outfield we have with those guys, so I know my arm isn't anywhere close to what those guys is," said Nava. "I thought maybe because of the depth he wouldn't go, but I guess you had to roll the dice and take a shot and make me get the throw down, hit my target, which is Vazquez. He did a good job of applying the tag. I understand why. At the same time, I was definitely surprised."
Ian Browne is a reporter for MLB.com. Read his blog, Brownie Points, and follow him on Twitter @IanMBrowne. This story was not subject to the approval of Major League Baseball or its clubs.