Braves fall just short after Harang struggles early
Atlanta brings go-ahead run to plate in ninth, but B.J. Upton strikes out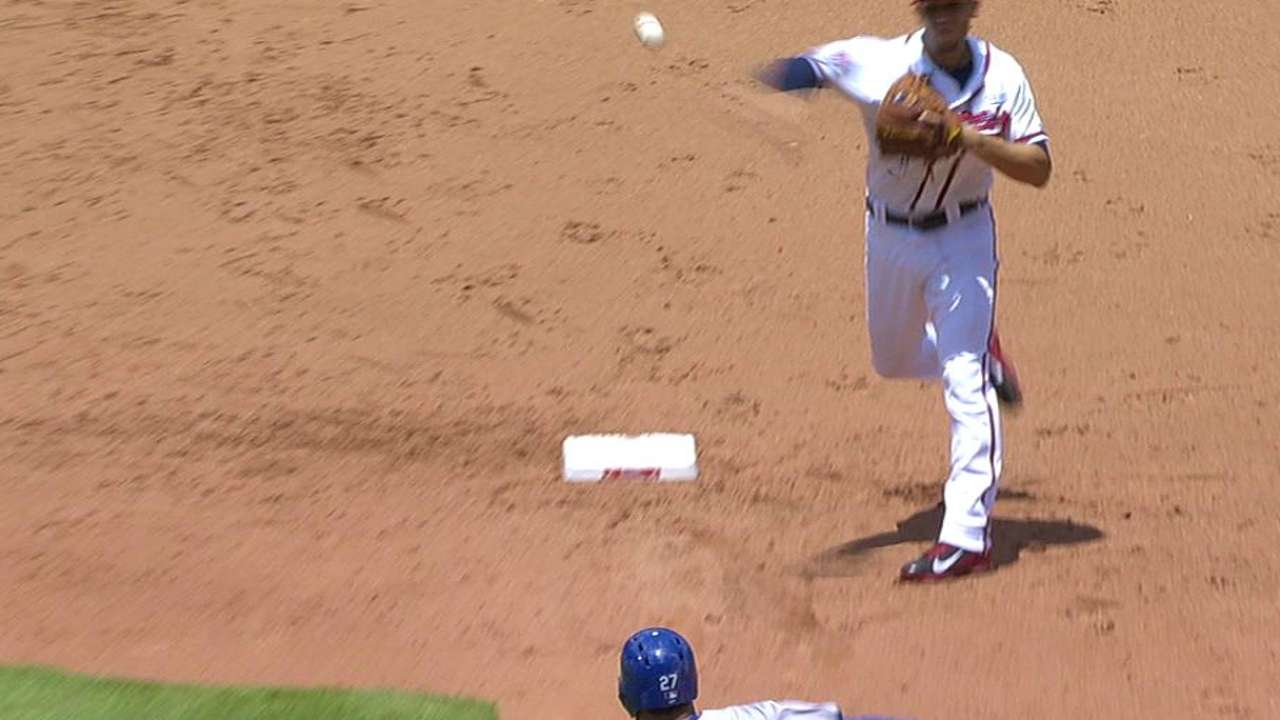 ATLANTA -- Given the struggles they have encountered for more than two weeks, the Braves could take solace in the fact that they showed some life as they attempted to erase the comfortable lead the Dodgers gained against an ineffective Aaron Harang on Thursday afternoon.
But after tallying three eighth-inning runs and seeing Freddie Freeman's two-out drive in the ninth fall just short of the right-field wall, the Braves concluded a 6-4 loss to the Dodgers by watching B.J. Upton strand two with his Major League-high 150th strikeout.
"We keep fighting, we're not going to give up," Freeman said. "We're still in this thing, we're still battling. We put together some great [at-bats] at the end of the game. We just came up short today."
While they might have strengthened their psyche with their late rally attempt, the Braves did not do anything to improve their spot in the postseason race. With 12 losses in their past 15 games, they now sit 5 1/2 games behind the first-place Nationals in the National League East. They will enter this weekend's series against the A's sitting at least 2 1/2 games back in the battle to get the NL's second Wild Card entry.
"I really like the effort of our club, especially being down 5-1," Braves manager Fredi Gonzalez said. "We didn't give up."
Long after Harang had surrendered a two-run home run to Drew Butera and fallen victim to the speed of Dee Gordon, who scored three times during the first five innings, the Braves began their comeback in the eighth against Brian Wilson. Freeman doubled to give Justin Upton a chance to deliver a two-run double that highlighted the eruption produced by the hosts.
Luis Avilan, who had been recalled from Triple-A Gwinnett a few hours earlier, tempered some of the excitement when he surrendered a ninth-inning run that was manufactured with Gordon's bunt single and Adrian Gonzalez's RBI double to deep center.
Freeman's ninth-inning double off Kenley Jansen fell approximately 10 feet shy of being a game-tying home run, but it provided the Braves runners at second and third with two outs. Because Justin Upton had exited after his eighth-inning double with a minor left hamstring strain, his older brother B.J. came to the plate in the do-or-die situation and completed his game-ending four-pitch strikeout.
"We've hit some balls hard that aren't falling in," Freeman said. "Some things just aren't going our way right now, but we've still got 41 games left and we can still make something of this if we just keep grinding and battling."
This was certainly one of this year's most forgettable outings for Harang, who allowed five earned runs and seven hits in 4 1/3 innings. Dodgers starter Roberto Hernandez limited the Braves to three hits and one run over six innings. Coincidently, this was Harang's worst outing since he matched up with Hernandez, who was then with the Phillies, on June 18 in a game that started at 12:10 p.m. ET -- the same start time as Thursday's contest. Harang allowed 13 hits and eight earned runs in five innings that day and then proceeded to post a 2.55 ERA in the nine starts that bridged these two ugly matchups against Hernandez.
"You're not going to go out and be sharp every time," Harang said. "It's just kind of coincidental that they happen to be on day games. You can't put an excuse on it. Noon games are definitely a little more difficult to prepare for, especially after a night game. That's what baseball is about. We have to adjust to our schedule and make things work when we need to. I wasn't able to do that today."
Harang's troubles began when Gordon opened the game with a bunt single and then advanced to third when Gerald Laird made an errant throw attempting to prevent a steal of second base. Yasiel Puig then drove in the game's first run with the first of his three singles.
Gordon, who leads the Majors with 54 stolen bases, struck again in the third when he drew a leadoff walk, swiped second base and scored on Gonzalez's single. Two innings later, the speedy All-Star second baseman singled and scored on yet another Gonzalez single.
"Dee Gordon beat us," Fredi Gonzalez said. "He got on base four times and scored four times. He's probably your most traditional leadoff hitter I've seen in a long time, a guy that can get on base with a bunt or a walk and create some havoc with his legs."
Mark Bowman is a reporter for MLB.com. This story was not subject to the approval of Major League Baseball or its clubs.