Gordon drives Dodgers' win from leadoff spot
Second baseman tallies three hits, scores four runs, steals two bases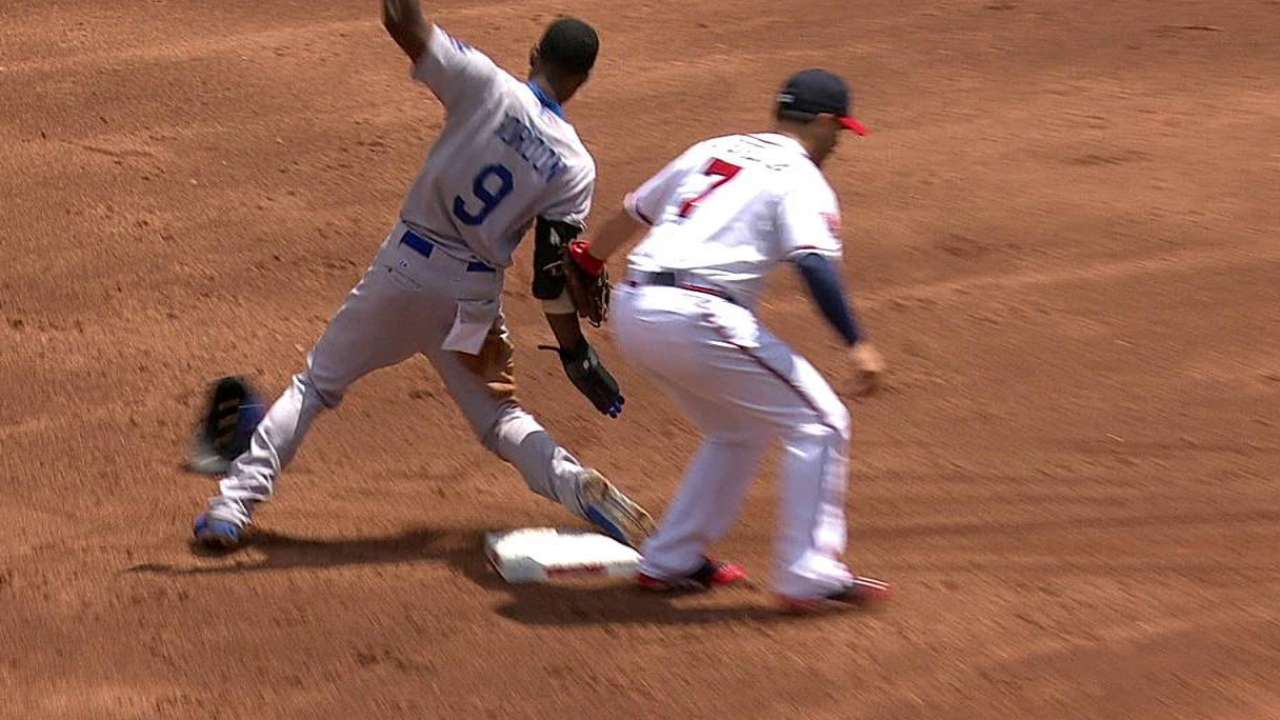 ATLANTA -- Dee Gordon notched three hits, scored four runs and swiped two bags to up his Major League-leading total to 54 as the Dodgers held on in a tight finish to defeat the Braves, 6-4, on Thursday afternoon at Turner Field.
Los Angeles has ended all nine of its road trips this year with a winning record.
Gordon was one of four Dodgers with multiple hits, crossing the plate courtesy of Yasiel Puig and Adrian Gonzalez, who tallied three knocks apiece. Puig brought Gordon home from third in the first, and Gonzalez plated Gordon from third in the third, from second in the fifth and again from second in the ninth.
"Dee Gordon beat us. He got on base four times and scored four times," Braves manager Fredi Gonzalez said. "He's probably your most traditional leadoff hitter I've seen in a long time, a guy that can get on base with a bunt or a walk and create some havoc with his legs."
A game like Thursday's was what Gordon needed after a rough couple of weeks at the plate. He was batting a respectable .250 (19-for-76) since July 25 entering Thursday, but he hadn't walked in any of his past 78 plate appearances.
"When you're not going so good, I think I'm doing a better job of not going outside of my game," Gordon said. "I had a rough week and a half, two weeks -- getting a hit, lining out and not having much to show for it. I just grinded it out and just tried to keep playing my game."
"I think his lack of change has really been, to me, a sign of confidence in what he's doing and maturity that says, 'I'm not going to go into changing everything just because I go a few days without getting a hit,'" Dodgers manager Don Mattingly said. "I think the lack of change is showing a maturity in him."
Gordon and the upstart offense did just enough to back a strong outing by Roberto Hernandez, who earned his first win as a Dodger and the team's National League-leading 70th victory, and a shaky bullpen performance.
Hernandez, who allowed two earned runs or fewer for the seventh time in his past nine outings, gave up one run on three hits in six frames before giving way to a relief corps that white-knuckled its way through the final innings. Atlanta notched eight hits against Los Angeles' bullpen and tagged Brian Wilson for three runs.
Kenley Jansen cleaned up Wilson's mess in the eighth by striking out Evan Gattis, but he gave up a single to Jason Heyward and a double to Freddie Freeman in the ninth that put the game's tying runs in scoring position. But Jansen ended the threat with yet another strikeout, fanning B.J. Upton to earn his 34th save.
"Today wasn't an easy day," Jansen said. "I feel like I didn't have my stuff, but I just battled mentally just to get myself out of that game."
Joe Morgan is an associate reporter for MLB.com. This story was not subject to the approval of Major League Baseball or its clubs.