Off to hot start, Feldman comes unglued in sixth
Staked to four-run lead, right-hander unable to contain Red Sox's bats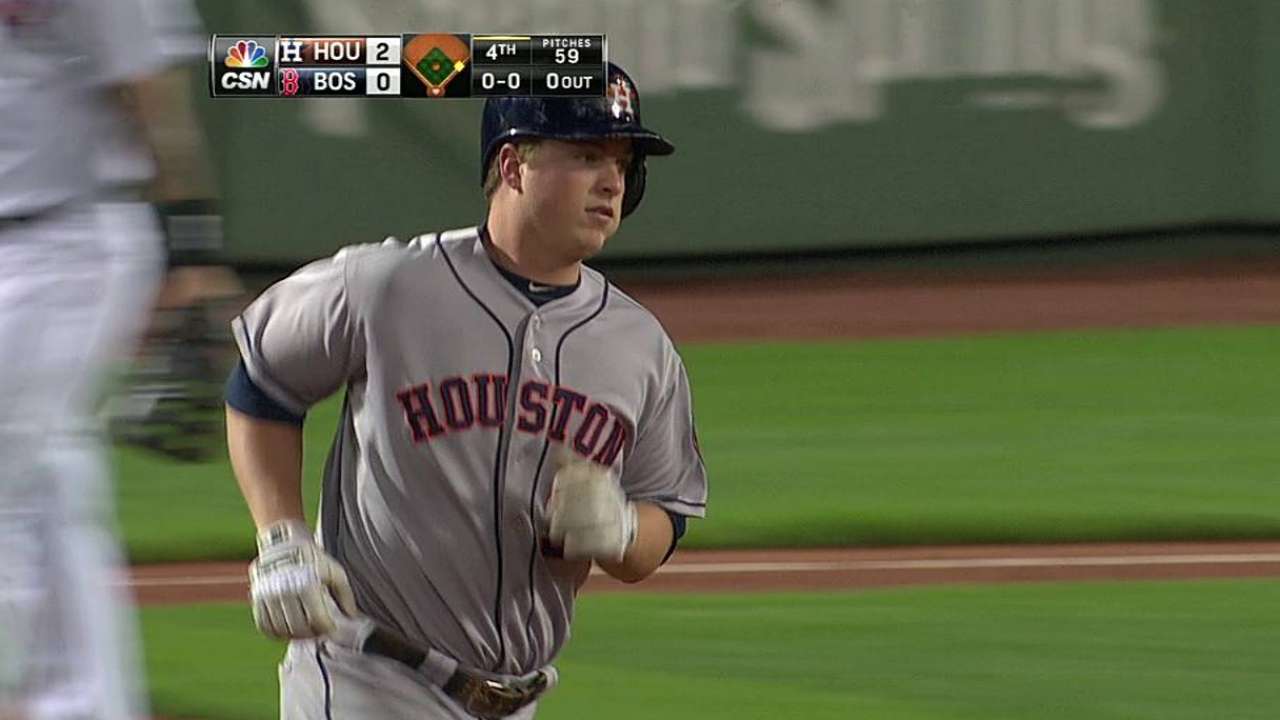 BOSTON -- At some point Thursday night, Astros starter Scott Feldman went from being a guy who could command four pitches to a ball of frustration who could only command his cutter. Against the Red Sox, that was a recipe for disaster.
The disaster came in the form of a nightmarish sixth inning in which the Red Sox sent 12 batters to the plate and scored seven runs, six of which were charged to Feldman, to come from four runs down and beat the Astros, 9-4, on Thursday night at Fenway Park.
The Astros, who have lost six in a row on the road, remain winless at Fenway, falling to 0-8 all-time.
"I just snowballed," manager Bo Porter said. "He was one pitch away from getting out of it, but they just continued to find holes and continued to keep the line moving."
Feldman wasn't exactly sure when his control began to betray him, except to say sometime before the sixth inning.
"Tonight, I started off the game, I think I was able to throw four pitches for a strike," he said. "I don't know what happened really. I started relying strictly on that one pitch and those guys are too good to do that. Even if you throw 100 [mph] and you've got only one pitch, it usually doesn't work. I've got to work on those for next time."
Matt Dominguez's two-run homer in the fourth inning staked Houston to a 4-0 lead, and Feldman roared through the fifth having allowed just one run and four hits.
The Red Sox wound up banging out 14 hits, with Brock Holt (2-for-4), Dustin Pedroia (3-for-5) and David Ortiz (2-for-5) combining to go 7-for-14 at the top of the order. Daniel Nava and Christian Vazquez also had two hits apiece.
"He was hitting the spots early and mixing and matching with his sinker and his cutter and curveball and throwing a couple of changeups," Nava said of Feldman. "I think we were just able to work some counts."
The forgettable sixth began with a Holt double, and Pedroia and Ortiz followed with singles, with Ortiz driving in Holt. Yoenis Cespedes hit a potential double-play grounder to first baseman Jon Singleton, who threw to second for an out. Feldman was late covering first, so no double play was turned.
"That's pretty bad," Feldman said. "It's probably at least a close play and it's pretty embarrassing."
Two batters later, Will Middlebrooks singled to center field with the bases loaded to tie the game, and Feldman's night was over. Feldman (6-9), who had won both of his previous starts, was rocked for seven runs and nine hits in 5 1/3 innings -- his shortest start since July 24.
"We did everything we needed to do to win the game tonight, except for my part," Feldman said. "That one's on me, for sure. Every starting pitcher loves pitching with the lead. It was great to see Matty come through the big hit there, but I just didn't pick him up."
Lefty Darin Downs came in and walked Jackie Bradley Jr. to force home the go-ahead run. Vazquez had a sac fly to make it 6-4, and Pedroia capped the outburst when he reached out and poked a 98-mph fastball from rookie Mike Foltynewicz down the right-field line for a two-run, ground-rule double and an 8-4 lead.
Porter said prior to the game he didn't want to use the hard-throwing rookie in tight games, but he brought Foltynewicz into a situation where they needed a strikeout.
"With [Josh] Fields, you're not going to bring him in that situation," Porter said. "[Foltynewicz] is the next best guy we have down there who could strike somebody out, so that's why he came into the game. You're also saying to yourself, 'If you stop the game right here, he's going to stay in the game and continue until offensively you get back into it,' or, 'He's going to pitch the rest of the way,' like he ended up doing."
Brian McTaggart is a reporter for MLB.com and writes an MLBlog, Tag's Lines. Follow @brianmctaggart on Twitter. This story was not subject to the approval of Major League Baseball or its clubs.