Jackson out of sorts as Cubs whiff vs. Brewers
Starter takes 13th loss after exiting in fifth; offense stifled by Fiers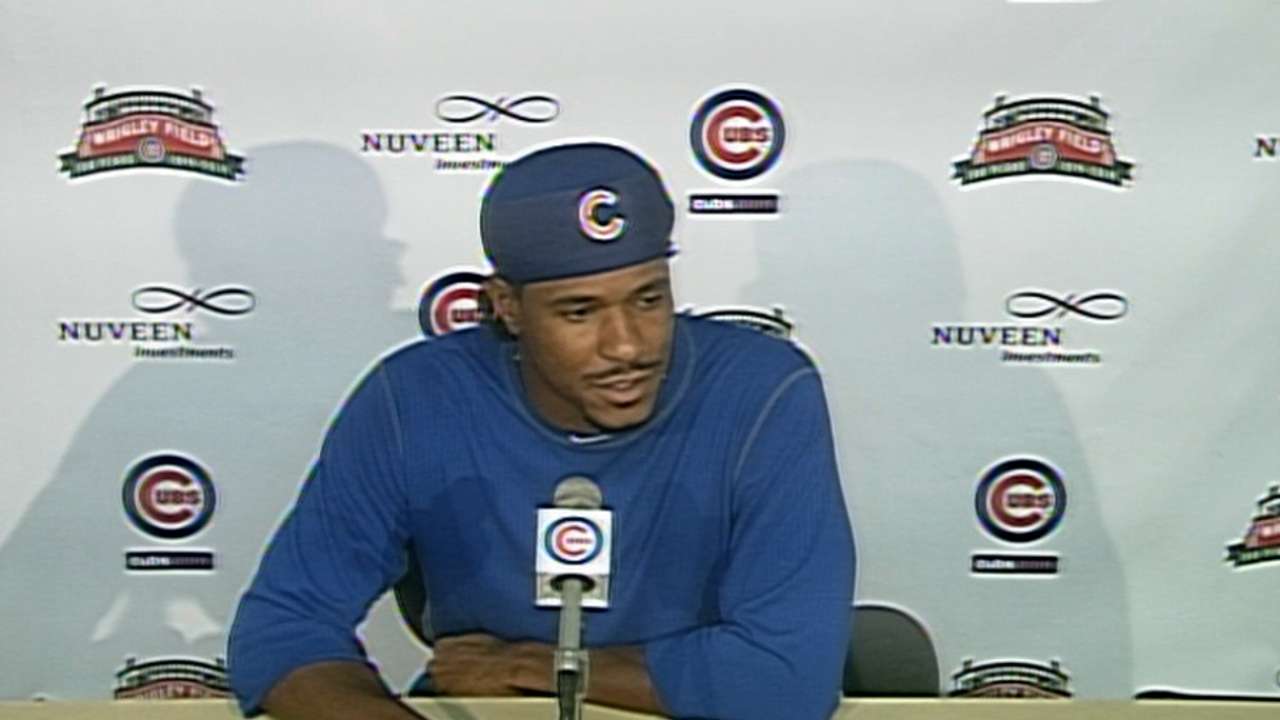 CHICAGO -- Edwin Jackson said he was thinking too much, felt like a "robot" and couldn't get in a good rhythm, which resulted in an abbreviated outing and another loss for the Cubs right-hander.
Cubs starting pitchers had posted seven straight quality starts, but that streak ended Thursday as the Brewers posted a 6-2 win over Jackson in front of 38,157 at Wrigley Field.
Mike Fiers struck out a career-high 14 batters over six innings and became the first pitcher with that many K's against the Cubs since the Diamondbacks' Curt Schilling fanned 14 on Aug. 22, 2003.
The only thing interrupting Fiers' K's were the jets from the upcoming weekend air and water show, which were practicing along the lakefront and buzzing the ballpark. Khris Davis and Mark Reynolds each hit solo home runs for the division-leading Brewers.
Jackson is an enigma. He has thrown a no-hitter, he's pitched in the postseason, and yet he's struggled since joining the Cubs. Last year, he led the National League in losses, with 18, and on Thursday, he suffered his 13th loss.
"At this level, you can't afford to get down," Jackson said. "Obviously, you're disappointed, clearly you don't like the way you pitched. Clearly, I know I'm a way better pitcher than I've been showing.
"You can talk about it all day, but you still have to go on the field and prove it. As far as confidence, I haven't lost any confidence. I don't walk around with my head down and don't expect anyone to feel sorry for me. You're a professional athlete, you're not going to feel sorry for yourself, and you don't want anyone to feel sorry for you.
"It's just a matter of continuing to battle and find that rhythm and find it early, and once you have it, to go with it."
Tempo is a problem for Jackson, who is very deliberate. He did retire the first two Brewers batters quickly, but then walked Jonathan Lucroy and Davis, and both scored on Scooter Gennett's double to right-center. Jackson now has served up 22 earned runs in the first inning of his 25 starts for a 7.92 ERA.
The Cubs right-hander was charged with five runs over 4 2/3 innings and his ERA rose to 5.74, highest among qualifying NL starters. It's the sixth time in 25 starts he's been unable to finish the fifth inning.
"I think a lot of things that we see is his tempo, to see if we can get him on the hill a little quicker, and see if he can speed up that process," Cubs manager Rick Renteria said. "We all know when you have someone who has a quicker pace, quicker tempo, the whole game seems to flow better."
In May, Jackson threw seven shutout innings against the Brewers. Not this time. When he can't find his rhythm, he doesn't have success, which is what happened Thursday.
"At the end of the day, you can't be on the mound thinking about mechanics," Jackson said. "It doesn't allow you to throw quality pitches or have the effectiveness on your pitches as you normally would. If you get too mechanical, you're kind of out there like a robot, like I was thinking about way too many things instead of simplifying: see the ball down, see the glove and throw the pitch."
What's next? The Cubs plan on calling up right-hander Dan Straily from Triple-A Iowa to start Saturday against the Mets and give the regulars a breather. The team is playing a stretch of 20 straight days. As of now, Jackson is scheduled to start Wednesday against the Giants.
"The organization has chances to look at guys, and they'll make moves they're going to make," Jackson said. "You have to worry about things you can control, and that's worrying about yourself and the things you can do once you have the ball."
Carrie Muskat is a reporter for MLB.com. She writes a blog, Muskat Ramblings, and you can follow her on Twitter @CarrieMuskat. This story was not subject to the approval of Major League Baseball or its clubs.