MLB.com Columnist
Jim Callis
Funkhouser leads list of top prospects on Team USA
Junior righty highlights top 10 college prospects; two CWS champs also on list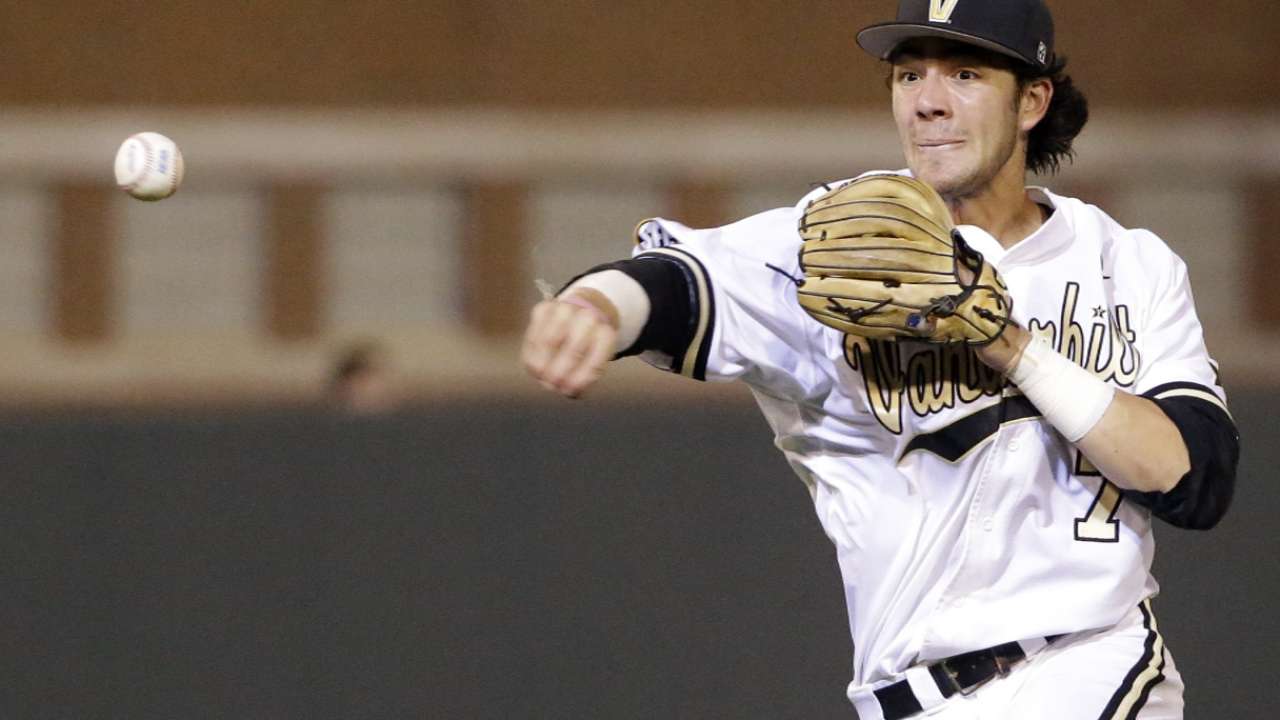 The U.S. national team attracts many of college baseball's top prospects every summer. Ten of the first 27 players selected in the 2014 First-Year Player Draft played for Team USA's 2013 college squad, led by top-10 selections Carlos Rodon (White Sox), Kyle Schwarber (Cubs) and Michael Conforto (Mets).
This year's edition was similarly loaded. Even with left-hander Nathan Kirby (Virginia) and righties Mike Matuella (Duke) and Riley Ferrell (Texas Christian) taking the summer off, Team USA had plenty of quality pitching. Starters Kyle Funkhouser (Louisville), Carson Fulmer (Vanderbilt) and James Kaprelian (UCLA) looked like first-rounders for 2015, as did Dillon Tate (UC Santa Barbara), a revelation as part of a dominant bullpen.
While the group of position players wasn't as strong, middle infielders Dansby Swanson (Vanderbilt) and Alex Bregman (Louisiana State) could be the first two college hitters drafted next June. Outfielder D.J. Stewart (Florida State) also has first-round aspirations, while first baseman/catcher Zack Collins (Miami) could go that high in 2016.
Team USA went 18-8-2 during the summer, winning the Honkbal Week tournament in the Netherlands before finishing by getting swept in five games in Cuba. Below is our ranking of its 10 best pro prospects:
1. Kyle Funkhouser, RHP (Louisville, Jr. in 2015). He helped Louisville reach the College World Series by tying for the NCAA Division I lead with 13 victories, then led Team USA with 36 strikeouts in 28 1/3 innings. Funkhouser is the best bet from the pitching staff to pitch near the front of a Major League rotation. His top pitch is his 92-96 mph fastball, and he also has a quality changeup and an effective slider. Funhouser has a strong 6-foot-2, 218-pound frame, and while there's some effort to his delivery, it's not alarming and doesn't prevent him from finding the strike zone.
"His now stuff isn't going to blow you away," a national crosschecker said. "But it's three pretty good pitches, he throws strikes and he's durable."
2. Carson Fulmer, RHP (Vanderbilt, Jr.). Part of Vanderbilt's CWS championship team, he transitioned from closer to starter at midseason. Fulmer has more electric stuff than Funkhouser, with a 93-97 mph fastball and a more dynamic breaking ball, and his changeup isn't bad either. Fulmer was the hardest pitcher to hit on Team USA, limiting opponents to a .141 average with one extra-base hit in 24 2/3 innings, and he led the staff with three wins and a 0.73 ERA. But he ranks behind Funkhouser as a prospect because he's smaller (5-foot-11, 195 pounds), features a lot more effort in his delivery and doesn't throw as many strikes, factors that could lead him to switch back to closing games in the long run.
"With his mound presence and stuff, he's got a chance to be a front-line closer in the big leagues," said Texas A&M head coach/Team USA pitching coach Rob Childress. "I'm not saying he can't start, but his presence within the team is special, and it's not just mound presence. To have that one or two times a week as a starter isn't as special as having it four or five times a week as a closer."
3. Dansby Swanson, 2B (Vanderbilt, Jr.). Named the Most Outstanding Player at the CWS, he played second base for the Commodores and for Team USA but likely will move to shortstop in 2015. Scouts believe Swanson has the quickness and arm strength to play the more challenging position, and if he can pull it off, that will separate him from Bregman. He's a more fundamentally sound hitter than Bregman and has plus speed, and while Swanson doesn't have as much right-handed pop, he can drive the ball into the gaps and to the opposite field.
"I love Bregman, but Swanson has more of an 'it' factor," said Eric Campbell, USA Baseball's general manager for national teams. "Swanson has more tools and he has the tools to play shortstop."
4. Alex Bregman, SS (Louisiana State, Jr.). The consensus Freshman of the Year in 2013, he wasn't as spectacular at LSU or with Team USA as a sophomore. Bregman still paced the college national team in runs (20), RBIs (17) and steals (10), and he still drew Dustin Pedroia comparisons for his all-around package of tools. Bregman is an aggressive right-handed hitter with pull power, and his instincts enable his average-to-solid speed and arm strength to play up on the bases and in the field. He's not as fluid as a typical Major League shortstop, so most scouts project him as a second baseman.
"Bregman always hits and he hits it hard," an area scout said. "He has some power and speed, and I think he has a chance to play shortstop."
5. Dillon Tate, RHP (UC Santa Barbara, Jr.). Team USA's four main relievers combined to allow one earned run in 51 1/3 innings of work, and none was more spectacular than Tate. After working just three innings as a freshman a year ago, he has positioned himself as a first-rounder for 2015. Tate overpowers hitters with a 92-98 mph fastball and a sharp 86-87 mph slider. His deceptive delivery features relatively little effort, he throws strikes and he has good size at 6-foot-2 and 185 pounds, so it's not out of the question that he could make it as a starter.
6. James Kaprelian, RHP (UCLA, Jr.). Part of UCLA's 2013 national championship team, he doesn't have Funkhouser or Fulmer's pure stuff but possesses superior pitchability. Though Kaprelian's fastball sat at 89-92 mph with Team USA, down a little from the spring, it remained effective because he continued to locate it in all four quadrants of the strike zone. He had the best changeup on the staff, one of the better sliders and also mixed in a curveball. Add in Kaprelian's command and solid 6-foot-4, 200-pound frame, and he's Team USA's safest bet to become at least a mid-rotation starter in the big leagues.
7. D.J. Stewart, OF (Florida State, Jr.). The Atlantic Coast Conference Player of the Year during the spring, he scuffled at the plate with Team USA but still intrigued scouts with his offensive potential. With his strength, bat speed, left-handed swing and patient approach, Stewart should hit for average. He has an extreme crouch at the plate, and some observers though he might tap more into his raw power if he adopted a more upright stance and pulled more pitches. Though Stewart is a good athlete for a 6-foot, 230-pounder, he's limited to left field.
8. Zack Collins, 1B/C (Miami, So.). Baseball America's 2014 Freshman of the Year, he has a carrying tool in his massive left-handed power and topped the collegiate national team with three homers in just 55 at-bats. "When Zack Collins hits the ball with a wood bat," Arkansas/Team USA head coach Dave Van Horn said, "it sounds a lot different than most guys." Collins' pop earns him some comparisons to Schwarber, who played with the U.S. squad last summer and went fourth overall in the 2014 Draft to the Cubs. The rest of Collins' game needs some work, as his swing can get long and he's just an adequate defender at first base. He has some arm strength but is raw behind the plate, and scouts would like to see him improve his conditioning.
9. Nick Banks, OF (Texas A&M, So.). He looked worn down at the end of his first year in college but still showed some of the best all-around tools on the squad. Reminiscent of former Aggies star and current Indians prospect Tyler Naquin, Banks is a very patient hitter who might translate more of his batting-practice power into game production if he added some loft to his left-handed stroke and got more aggressive when he's ahead in the count. A right fielder with solid speed and arm strength, he may be capable of playing in center.
10. Tyler Jay, LHP (Illinois, Jr.). Undrafted in 2012 as an Illinois high school senior who topped out at 90 mph, he now has a fastball that peaks at 97 and sits at 93-95 mph, even when he works on consecutive days. Jay isn't physical at 6-foot-1 and 170 pounds, but he's very athletic and has a very quick arm. Backing his heater up with a power breaking ball that has good depth, he didn't allow an earned run while striking out 21 in 16 2/3 innings for Team USA. Jay has enough of a changeup and enough command to consider trying him as a starter, though his body probably will keep him in the bullpen.
Jim Callis is a reporter for MLB.com and writes a blog, Callis' Corner. Follow @jimcallisMLB on Twitter. This story was not subject to the approval of Major League Baseball or its clubs.