Scherzer dominates with season-high 14 strikeouts
J.D. Martinez homers to support American League-leading 14th win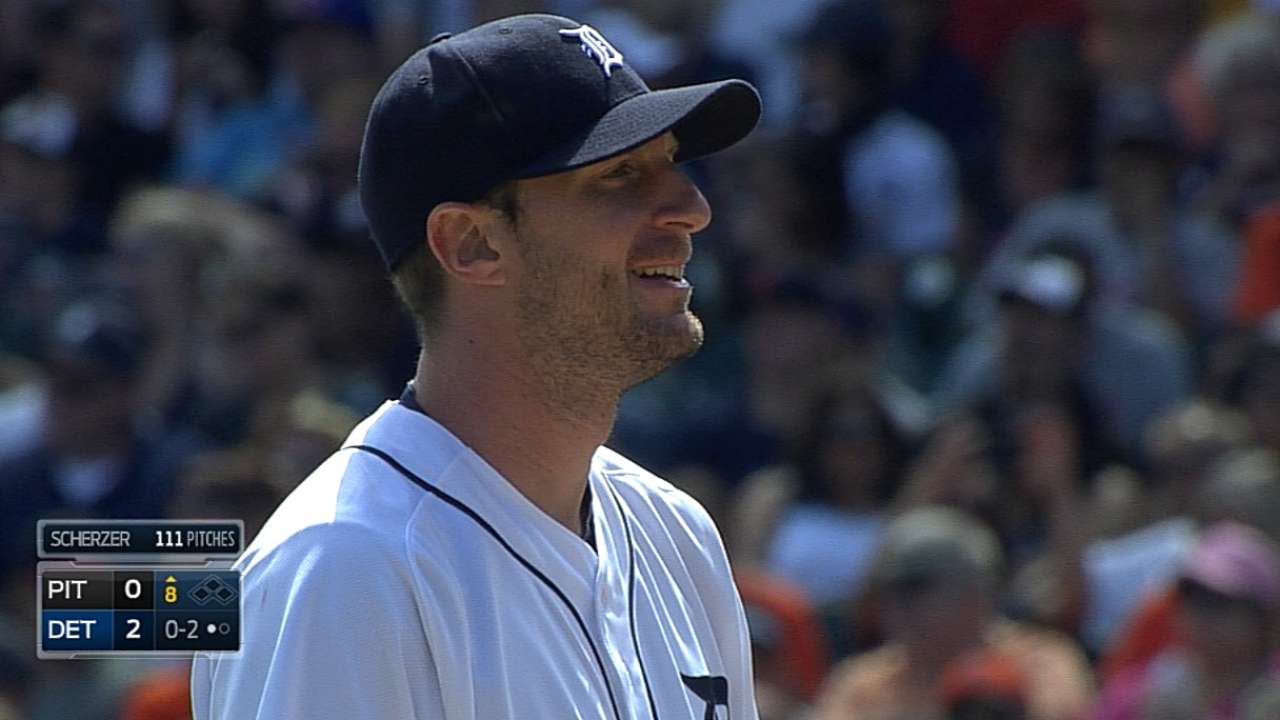 DETROIT -- Max Scherzer and Francisco Liriano combined for 23 strikeouts and a few well-struck pitches put in play.
"Liriano was matching me pitch for pitch, and he was pitching a great game today," Scherzer said. "That's when there are times that, yes, I'm pitching for a strikeout."
J.D. Martinez denied a run on one of few pitches hit his way, and scored a run on one that he hit.
"The silence in the dugout immediately when J.D. hit that ball," manager Brad Ausmus said of Martinez's fifth-inning solo homer in a 5-2 victory over the Pirates. "It was good to get the energy and life back into the dugout and into the players."
The combination seemingly put to rest the funk that had enveloped the Tigers for more than a week. It did not vault the Tigers back into first place, thanks to a Royals win over Oakland, their 10th win in their last 11 games. With the Mariners off Thursday, however, the Tigers enter their three-game weekend series holding the second American League Wild Card spot by themselves.
More important than standings was the feel. After a chaotic stretch of games that forced the Tigers to call up back-to-back starters from the farm system, send relievers up and down in line changes, and shuffle lineups in search of a run, they might have finally found their normalcy again with Scherzer on the mound and some offense behind him.
Scherzer (14-4) became the AL's first 14-game winner on his third try, moving into a five-way tie for the Major League lead, with one of his nastiest performances of the season, setting a season high with 14 strikeouts over eight innings of three-hit ball. But he needed more than that.
Scherzer had pitched seven innings or more with two runs or fewer in his last three starts, but he had one win because Detroit had scored three total runs in his previous two appearances. And as Liriano unfurled one nasty slider after another at flailing Tigers hitters, Thursday had every bit the same feel.
As Scherzer took the mound for the top of the fourth inning, he had struck out eight of the 10 hitters he faced, and allowed base hit to the other two.
"He pitched like a Cy Young Award winner," Pirates manager Clint Hurdle said.
At the same time, Liriano hadn't allowed a base hit, striking out five of his first 10 batters while allowing baserunners on a walk and his own fielding error.
"When a guy throws that hard and has a good changeup and a good slider like that, it's tough," Martinez said of Liriano. "You have to respect the fact that he'll throw -- bam -- 95 [mph] on you at any second. You just can't go up there looking for something soft and defend against the fastball. And that's why he's so good."
It took until the first out of the fourth inning, the 12th batter of the game, for Scherzer to get an out on a ball put in play. It might well have been the biggest out of the game.
After Travis Snider's ground-rule double led off the fourth, Josh Harrison sent a fly ball towards the left-field wall. Martinez ran it down as he went crashing in, holding on for the catch.
"He put a good swing on it. The wind was blowing out in that direction," Martinez said. "I knew it was going to carry. I was just going, going, going, try to just get there, have a chance at it."
Said Scherzer: "If that gets down, that's a run and they've got an inning going. That really helped keep the game where it was at."
Liriano (3-9) tried his best to keep pace, taking his no-hit bid into the fifth and overcoming his own first-inning error. His first hit allowed was the hit that doomed him.
Liriano had changed speeds and used his slider to fan Martinez his first time up, and he had thrown back-to-back changeups to set him up for another slider leading off the fifth, thinking he'd expect the fastball.
"The only difference in my at-bat from any other at-bat was he left the slider up," Martinez said. "That's where you want it."
As Liriano summed up: "I made a mistake. That's what you get."
Liriano gave up two runs on three hits over six innings with four walks and nine strikeouts. It marked his best outing against his old AL Central rivals since 2010, but it still dropped him to 5-9 against them.
Gaby Sanchez's pinch-hit two-run homer off Phil Coke put Pittsburgh on the scoreboard, but Torii Hunter's diving catch to rob Starling Marte helped quell the rally in the ninth.
Jason Beck is a reporter for MLB.com. Read Beck's Blog and follow him on Twitter @beckjason. This story was not subject to the approval of Major League Baseball or its clubs.