O'Leary joins 'Express Written Consent'
'Shark Tank' star talks business savvy, baseball while taking in Dodgers game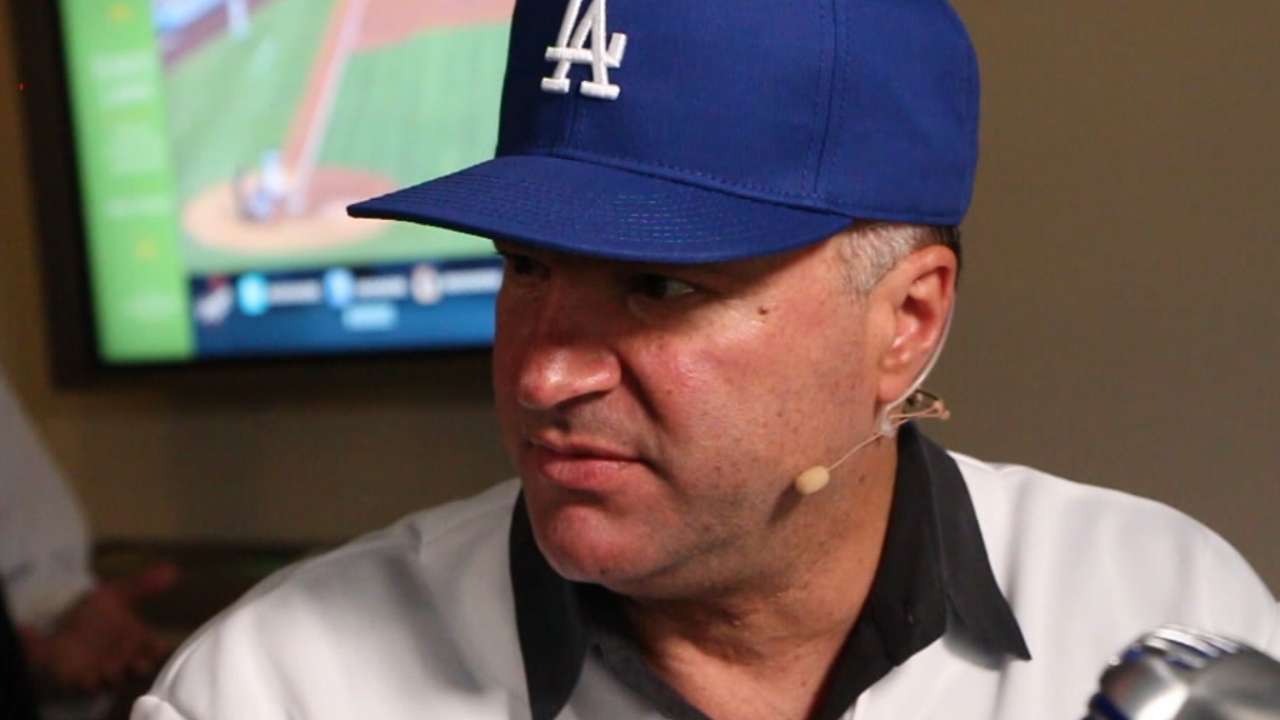 Take nothing away from Kermit and Miss Piggy, but this week, "Express Written Consent" just got a whole lot more cerebral.
That's the beauty of "EWC" -- one day, we're exchanging hilarious and ironic barbs with iconic frogs and pigs, and the next, we're picking the brain of an innovative venture capitalist who defines the term "self-made millionaire."
Kevin O'Leary -- investor, businessman -- and these days -- television personality, recently joined MLB.com host Jeremy Brisiel for a spin in the EWC booth at Dodger Stadium. O'Leary had just thrown out the ceremonial first pitch -- another indication of how ever-growing his brand is, especially with the popularity of his latest venture, "Shark Tank," which has exploded among the TV watchers in America.
O'Leary is one of several "Sharks" on the ABC hit reality show -- tough, multi-millionaire and billionaire tycoons -- who giving budding entrepreneurs the chance to chase their business dreams. The premise of the program centers around the Sharks searching to invest in the best businesses and products that America has to offer.
O'Leary should know. Having started out as, in his words, "a classic software story," he has had a keen eye for business ever since creating his brainchild, The Learning Company, in a garage in Toronto decades ago. He eventually sold the software company, which taught children reading and math, to Mattel for $4 billion, and ever since then, "I've had the bug. I love starting businesses."
You could draw many parallels between O'Leary's business philosophies and baseball. Startups, O'Leary explained, are tough. Most of them don't make it. In a pool of 10 deals, he surmised, two are going to go out of business right away. Six have the ability to stick around, without much growth. But those last two?
"You don't know how lightning's going to strike," O'Leary said. "And [then] 'Bam!' You're going to get 50, 100 times on your money. And it pays for all the mistakes you made."
Similarly, baseball, at least from a hitter's standpoint, is based on failure. A hitter will make more outs than he will get on base. In fact, if he hits consistently at a .300 clip, and he does it over the course of a significantly long career, he's probably Hall of Fame bound. Not bad for a guy who makes outs seven out of every 10 times to the plate.
But those other three? Bam!
"Most great entrepreneurs are people that have failed multiple times," he said. [For a baseball perspective, just replace "entrepreneur" with "Hall of Famer."]
They learn the sting of defeat, and they fear it. It motivates them to succeed, and maybe the third time around, they hit it out of the park."
That's what he's looking for on "Shark Tank" -- that one great idea that can catapult an average Joe into a life of success and riches.
O'Leary and his fellow Sharks -- billionaire Mark Cuban, owner of the Dallas Mavericks; real estate mogul Barbara Corcoran; "Queen of QVC" Lori Greiner; technology innovator Robert Herjavec and fashion and branding expert Daymond John -- seem to have struck a chord among the younger demographic, which has made the show a critical hit.
"The show has gone through some really amazing metamorphosis," O'Leary said. "Nobody thought business would work on television. We thought this thing would go on for one or two seasons and just die. In fact, no one watched it in the first two years."
In year three, however, things changed. Bam!
"Now, it's gone crazy," O'Leary said. "Nine to 18-year-old teenagers love this show. Families love it. I think what's great about it -- it teaches kids and families about what it takes to be an entrepreneur."
O'Leary -- referred to on the show by Cuban as "Mr. Wonderful" -- is originally from Montreal, but his baseball allegiances lie with Boston, where he moved to later in life.
But while he loves the Red Sox, O'Leary doesn't have any particular favorite players. Or, at least, none that he will admit to. While O'Leary is notoriously conservative and has ruffled more than a few feathers over the years with his unwavering economic opinions, he does have his limits. When it comes to athletes, he prefers to speak in generalities.
"I've learned to be political," he said. "Love the team, but never endorse the individual player."
Alyson Footer is a national correspondent for MLB.com. Follow her on Twitter @alysonfooter. This story was not subject to the approval of Major League Baseball or its clubs.