Dodgers fall to Braves on game-ending double play
Kemp unable to come through with bases loaded in the ninth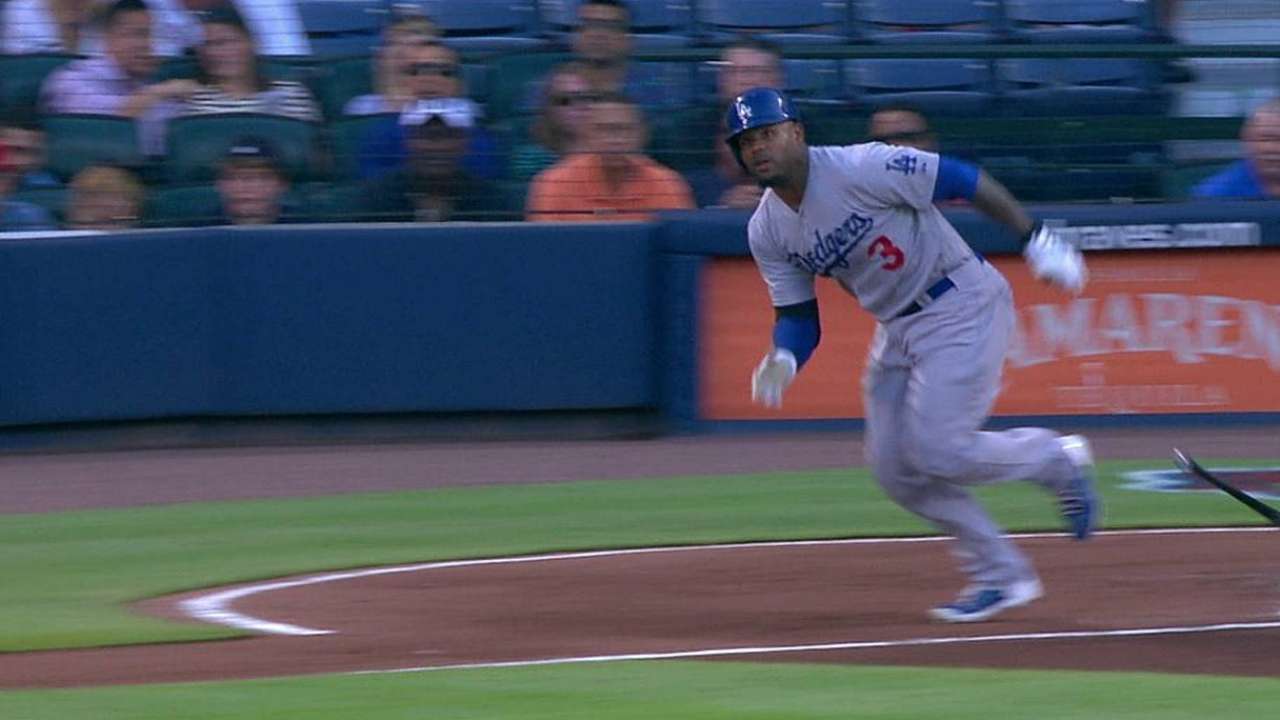 ATLANTA -- No National League team entered Wednesday with more than the 401 runs the Dodgers had scored with runners in scoring position. Los Angeles led the NL with 378 RBIs and ranked second with a .352 OBP in those situations.
The Dodgers' 6-for-17 line with runners in scoring position helped them claim victories from the Braves on Monday and Tuesday, but a 1-for-8 line in those spots after scoring two runs in the second proved costly.
The Braves got just enough production out of their slumping offense to back a strong outing by Ervin Santana, and Craig Kimbrel got Matt Kemp to ground into a game-ending double play with the bases loaded to down the Dodgers, 3-2, on Wednesday night at Turner Field.
"I thought we swung the bats really well, I felt like we were going to put some runs on the board, but after that two, we don't really do anything else," Dodgers manager Don Mattingly said. "... And then, really, we got where we wanted to be in the ninth."
Hyun-Jin Ryu took a hard-luck loss, giving up three earned runs in 5 2/3 innings before exiting the game due to a right gluteus muscle strain suffered while walking B.J. Upton with two outs in the sixth.
"I felt fine through the whole game except when I was facing B.J. Upton," Ryu said through a translator. "I felt it four pitches before I walked him, but I thought it was nothing serious, so I thought I could pitch out of it, but it just kept getting worse and worse. I regret that I didn't stop it right then."
Before exiting, Ryu battled, putting a runner on base in every inning he pitched but the third. He gave up six hits, walked two and threw first-pitch balls to nine of the final 19 batters he faced.
Ryu fell victim to two-out runs scored by the Braves in the fourth and the fifth. Andrelton Simmons notched his second RBI when he blooped a single to right in the fourth that plated Justin Upton, who reached base on one of Ryu's two walks.
One inning later, Ryu sandwiched a Jason Heyward base hit between two strikeouts before the lefty plunked Freddie Freeman and gave up what would be the game-winning RBI single to Justin Upton. Heyward might not have scored if Miguel Rojas had held onto a throw from right fielder Kemp, who nearly picked Freeman off before Heyward scored when Atlanta's first baseman made too wide a turn rounding second.
"I'm really proud of the way he battled," catcher A.J. Ellis said of Ryu. "Some of their hits, they found the holes with two outs."
"I thought Hyun-Jin was OK," Mattingly added. "He wasn't as sharp as we've seen him in the last few games."
The Braves' timely production erased the early 2-1 advantage generated by five hits in the first six at-bats against Santana to begin the top of the second. Kemp led off with a double and scored on a single by Carl Crawford, who is batting .448 (13-for-29) on the road trip. Crawford eventually scored the final Los Angeles run on a Rojas single. But the most crushing blow was the final one as Los Angeles loaded the bases with only one out in the top of the ninth for Kemp, who hit a sharp grounder to Braves second baseman Phil Gosselin that turned into the game's final outs.
The Dodgers stranded the final 11 men they put on base, six of whom were in scoring position, and suffered only their second loss in their past 11 one-run games.
"I thought Matt had a good at-bat," Mattingly said. "He gets ahead, he gets a breaking ball there. If that ball's in the hole, he's a hero. If he goes right at somebody, it turns into a double play. But I thought he had a good at-bat."
"It was huge," Ellis added of the Dodgers' near rally. "You always just want to put yourself in position, and more times than not, those guys are going to come out of it. I'd feel just as comfortable if I was in that situation and Kenley [Jansen] was on the mound that he'd get through it.
"It takes one break, one swing, a ball in the dirt getting by, a bleeder falling in and you're back in it. It was huge for us to kind of mount that rally, and I told him after the game, 'Same situation, bases loaded in a one-run game, I'll take Matt Kemp in that situation and take my chances tomorrow.'"
Joe Morgan is an associate reporter for MLB.com. This story was not subject to the approval of Major League Baseball or its clubs.