Ninth-inning escape makes winner of Braves
Facing bases loaded and one out, closer Kimbrel gets double play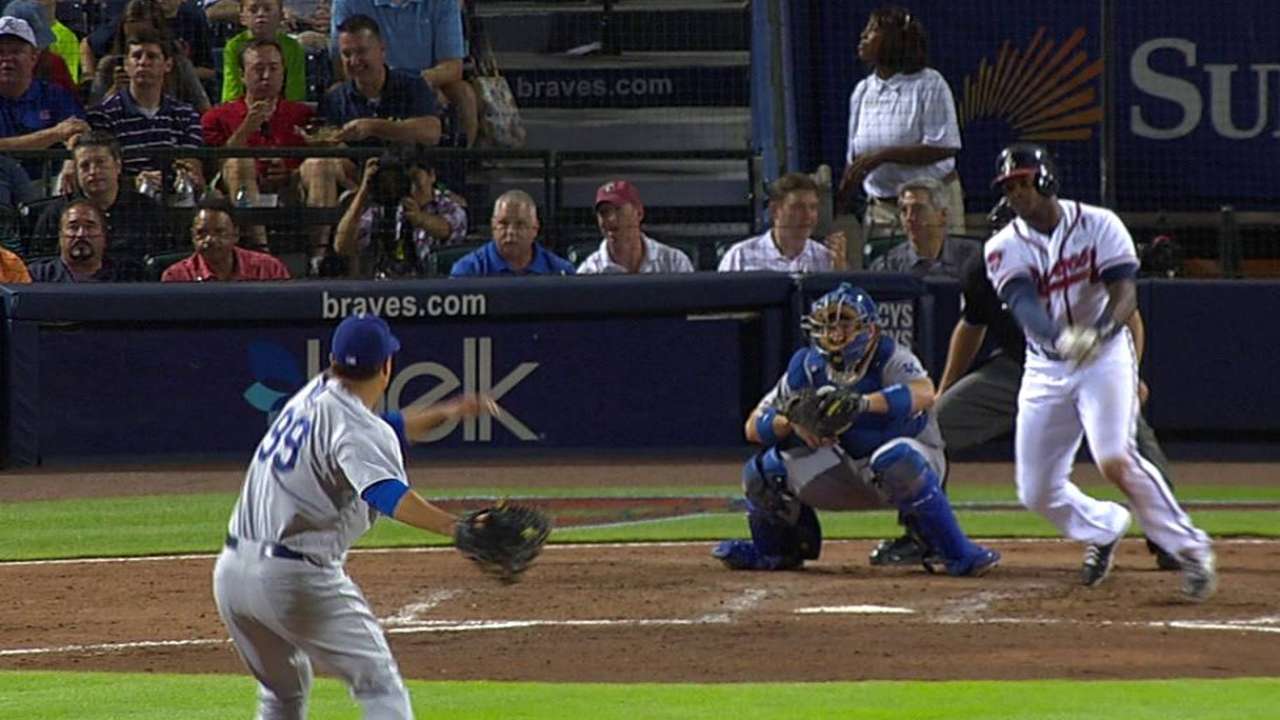 ATLANTA -- Given that they had lost 11 of their previous 13 games and fallen five games behind the first-place Nationals in the National League East race, the Braves could have arrived at Turner Field on Wednesday as a mentally beaten bunch.
Instead, the Braves showed tremendous fight as they manufactured runs with unselfish plate appearances and then watched Craig Kimbrel escape a bases-loaded threat that provided a stressful-and-thrilling conclusion to a 3-2 win over the Dodgers.
"We haven't been hitting like we're capable of," Braves shortstop Andrelton Simmons said. "We took advantage of people getting on base and moving them over and just doing the small things right, and we got a win."
When the Dodgers loaded the bases with just one out in the ninth against Kimbrel, the Braves had reason to wonder if they were destined to deal with yet another night of misery. But moments later they watched their All-Star closer get Matt Kemp to produce a game-ending double play that was skillfully turned by Phil Gosselin and Simmons.
After watching Simmons' throw beat Kemp to the first-base bag, Braves manager Fredi Gonzalez said he reacted like his team won Game 7. The usually reserved Kimbrel pumped his right arm twice before he aggressively hugged Evan Gattis and then hit his catcher's chest protector twice as they walked toward the mound to shake hands with their other teammates.
"We needed a win," Kimbrel said. "Every game we play, we're going to be playing as hard as we can. We know what kind of hole we're in and what kind of baseball we need to play to get out of it. We can't let games get away from us. That's what the emotion I showed tonight was."
With their third win in their past 14 games, the Braves kept themselves five games behind the Nationals and more importantly generated the kind of excitement they had lacked while scoring two runs or fewer in 13 of the previous 24 games played since the All-Star break.
As Braves starter Ervin Santana was completing six solid innings marred only by a pair of runs tallied in the second inning, the Braves were manufacturing runs and taking advantage of situations that had been squandered as they had hit .173 with runners in scoring position during their previous 13 games.
Justin Upton's two-out single off Hyun-Jin Ryu in the fifth inning proved to be the decisive contribution. But Upton's single might not have meant anything without the two solid plate appearances produced by Simmons, who was playing his first game since spraining his left ankle on Aug. 5.
"It's a do-whatever-you-can kind of approach," Simmons said. "Whatever it takes. That's where we're at. Whatever it takes to win ballgames and whatever it takes to score runs. We've got to do that. We can't sit on our ego."
Chris Johnson certainly didn't show any ego when he decided on his own to deliver the third sacrifice bunt of his career after Gattis opened the bottom of the second with a double. After advancing to third base, Gattis scored as Simmons was retired with a one-out chopper.
Simmons entered the night hitting .219 (7-for-32) with two outs and runners in scoring position. But none of those previous opportunities seemed to matter when he went the other way with a two-out bloop single that scored Upton with the tying run in the fourth inning.
"It was a good battle," Simmons said. "I'm happy I helped out a little bit."
Back in the leadoff spot for the first time since June 17, Jason Heyward fueled the decisive fifth inning with a one-out single. He advanced to second base when Freddie Freeman was hit by a pitch and then scored when Upton sent his game-winning single through the infield's right side.
Upton's sixth RBI of this homestand proved to be enough for Santana, who has gone 7-1 with a 2.95 ERA in his past nine starts. The veteran right-hander began this outing with a perfect first inning that included strikeouts of Dee Gordon, Yasiel Puig and Adrian Gonzalez. But his dominant start was blemished when he surrendered loud hits to five of the first six hitters he faced in the second inning.
The fact that Santana escaped that barrage surrendering just two runs was a benefit of the double play turned on A.J. Ellis' sharp grounder to third baseman Johnson. Santana ended his night by striking out Ryu with runners at the corners.
"Everybody battled," Simmons said. "Everybody did their thing."
Mark Bowman is a reporter for MLB.com. This story was not subject to the approval of Major League Baseball or its clubs.