MLB.com Columnist
Bill Ladson
Nats overcome miscues behind Zimmermann
Cabrera belts HR in Washington's 10th straight win at Citi Field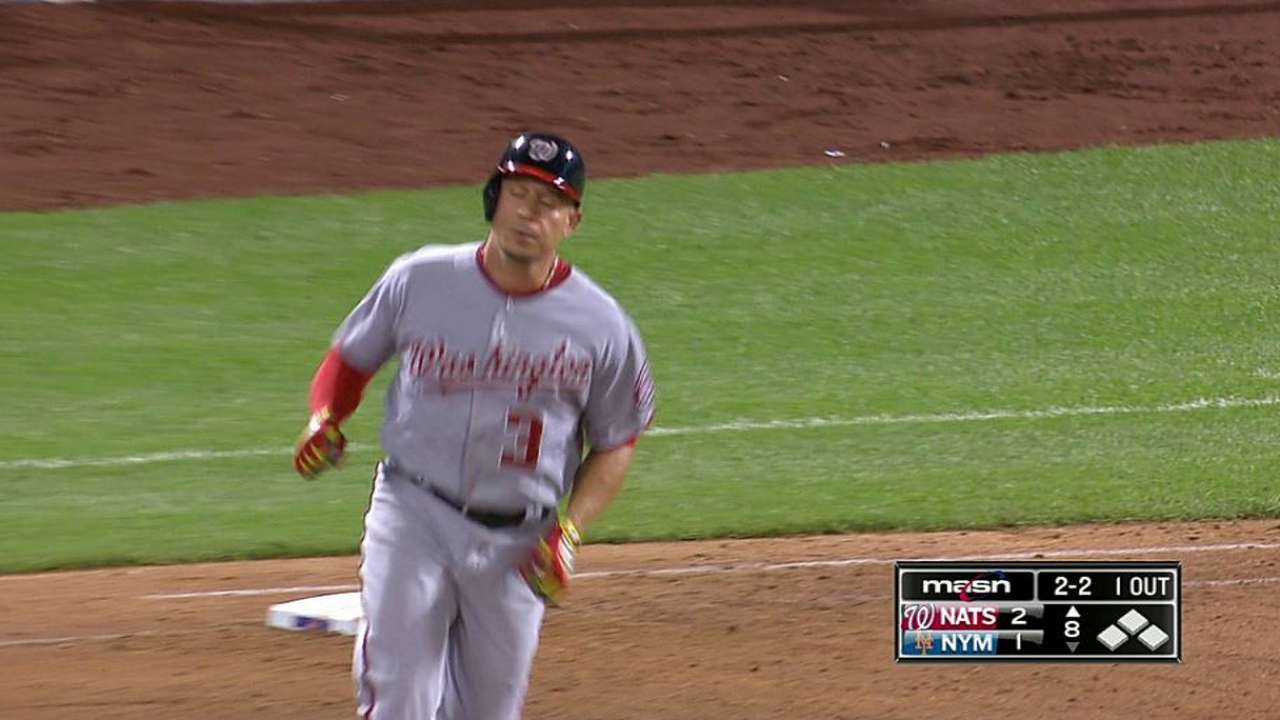 NEW YORK -- The Nationals played sloppy baseball on Wednesday night, but it didn't hurt them in the long run as they edged the Mets, 3-2, at Citi Field.
Washington made three errors in the game, and only one of them proved costly and that occurred in the fourth inning. With Jordan Zimmermann on the mound for Washington, the Mets had a runner on first with two outs, when Travis d'Arnaud hit a routine fly ball to left fielder Kevin Frandsen. It looked like Frandsen had a bead on the ball but dropped it, and Lucas Duda scored all the way from first on the play.
"It was an unfortunate play. I just dropped it. It's not being lazy or anything. I just dropped it. That stuff happens," Frandsen said. "It's one of those things you have to live with. But oh well, we came out on top."
Frandsen made up for the error in the seventh against right-hander Bartolo Colon. After Adam LaRoche's leadoff double, Ian Desmond singled to right-center field. LaRoche advanced to third on the play, while Juan Lagares' throwing error allowed Desmond to advance to second. Bryce Harper followed with a sacrifice fly to right field, scoring LaRoche. After Wilson Ramos singled, Frandsen came to the plate and hit a sacrifice fly to left field, scoring Desmond and making it a 2-1 game.
"You could dig yourself a hole or you can be a man when the team needs it," Frandsen said. "Fortunately, I had a chance to have a big at-bat. I got the guy in."
Zimmermann was excellent on the mound. He lasted 6 1/3 innings and allowed the unearned run in the fourth. But he had to exit the game in the seventh inning because of poor defense behind him.
Duda reached on an error by LaRoche at first base. LaRoche didn't know whether to field the ball on one hop or catch it in the air. The confusion allowed the ball to go past him.
"I don't know what I was trying to do. It was not the right thing," LaRoche said.
After d'Arnaud flied out to right field, Matt den Dekker singled. With Lagares at the plate, Ramos tried to pick off den Dekker at first base, but LaRoche wasn't even close to the bag and the ball went past him to put runners on second and third.
There were mixed signals on the play between Ramos and LaRoche, who even joked about the situation.
"Typically, I get [Ramos] through my earpiece and [the earpiece] must have shorted out," LaRoche said.
After hitting Lagares with a pitch to load the bases, Zimmermann was taken out of the game in favor of Drew Storen, who prevented the Mets from scoring by getting Wilmer Flores to hit into a fielder's choice and striking out Kirk Nieuwenhuis to end the threat.
"That's our 'pen. Drew is a huge piece of that. Our 'pen has been so reliable," Frandsen said.
By striking out Nieuwenhuis, it showed how effective Storen's changeup can be.
"It's a big pitch for me with lefties. ... In a big spot like that, I've been using it all year," Storen said.
In the eighth, Washington added to its lead when right-hander Jeurys Familia allowed a solo home run to Asdrubal Cabrera to make it a two-run game. Cabrera is now on a seven-game hitting streak.
"His approach is right. He got a slider tonight that he hit over the fence," manager Matt Williams said. "But you have seen three or four base hits the other way. That's key for him. He is comfortable in the 2-hole. He won't be there all the time, but he is comfortable there, too. That allows him to relax a little bit."
After Storen left the game, Tyler Clippard tossed a scoreless eighth, but it looked like Rafael Soriano was going to have a game similar to the one on July 28 against the Marlins. In that game against Miami, Soriano was only able to get one out before the Nationals lost the game in extra innings.
Against the Mets, Soriano pitched as if he was in the same situation. The first batter he faced was d'Arnaud, who homered over the left-field wall to make it a one-run game. den Dekker came to the plate and singled to center field. Lagares tried to bunt but popped up to Soriano. Wilmer Flores followed and singled to center field to put runners on first and third. After Eric Young Jr., pinch-running for Flores, stole second base, Washington pulled the infield halfway in. Eric Cambell then hit a ground ball to shortstop Ian Desmond, who threw to Ramos to get den Dekker at the plate.
However, the umpires initiated a crew-chief review to determine if Ramos illegally blocked the plate, a potential violation of Rule 7.13. After about a minute, the ruling was confirmed.
"I think that [Ramos] swipe-tagged [den Dekker] and kind of got out of the way. In past years, a catcher could just sit down on the plate, but he gave him some space and swipe-tagged him out," Williams said.
Soriano then picked up his 27th save after Curtis Granderson grounded out to end the game.
"I wanted to be up. I was confident for it," Granderson said. "Soriano made his pitch. I ended up getting a pitch that wasn't necessarily one I could do much with."
The Nationals felt lucky they won despite their bad defense. They remain five games ahead of the Braves in the National League East race. Atlanta won its game against the Dodgers, 3-2, at Turner Field.
"Over the last couple of months, the defense has been good. We are going to have games like [today] once in a while," Williams said. "The fact we were able to overcome it was key. We want to play clean baseball and don't give them extra outs. Any team can beat you with extra outs, especially against these guys. We were fortunate tonight. That happens. If you get in that situation, you just have to overcome it."
Since June 28, 2013, the Nationals are 11-1 at Citi Field, including a 10-win streak.
Bill Ladson is a reporter for MLB.com and writes an MLBlog, All Nats All the time. He also could be found on Twitter @WashingNats. This story was not subject to the approval of Major League Baseball or its clubs.