Masterson's mastery leads Cardinals over Marlins
Righty goes seven scoreless, adds first RBI in best start since trade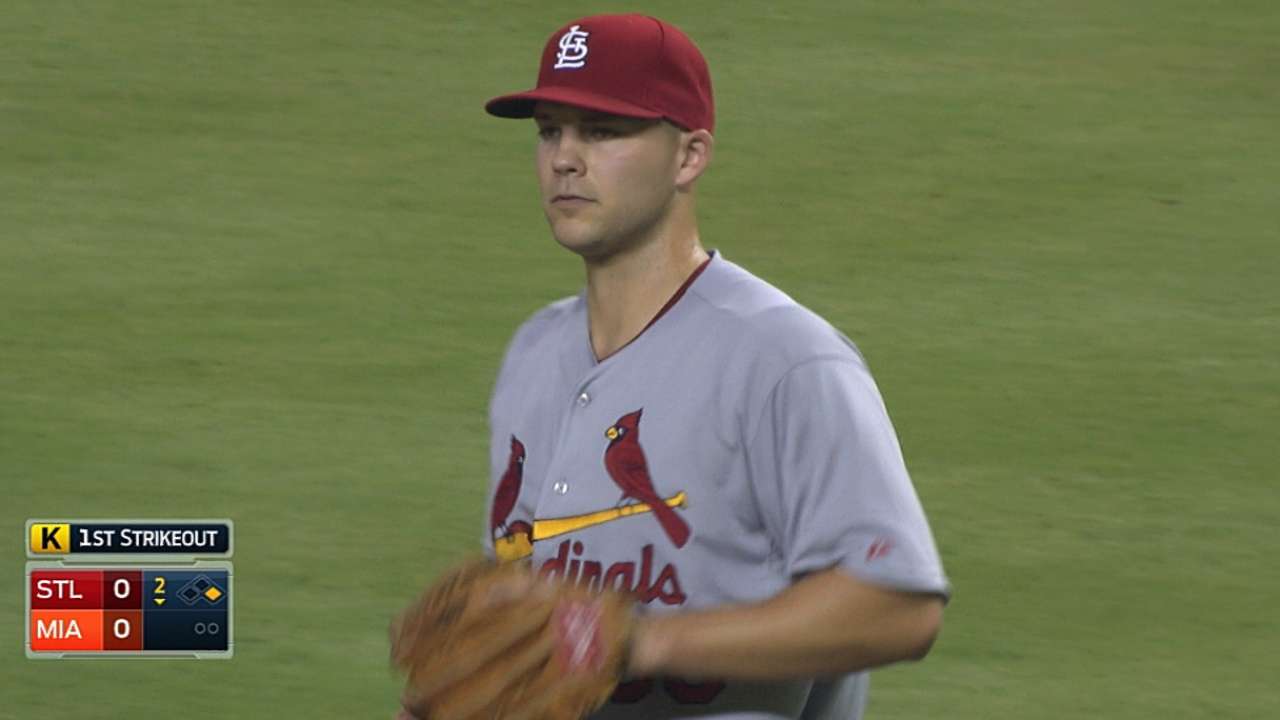 MIAMI -- Manager Mike Matheny said before Wednesday's series finale against the Marlins that he couldn't put a timeline on when Justin Masterson's success would carry over to the Cardinals. Matheny did, however, mention at various points in this series that his team had to approach every game with urgency.
And Masterson seemed to take that message to heart, compiling 12 groundouts and throwing just 91 pitches over seven scoreless innings in the Cardinals' 5-2 win over the Marlins at Marlins Park.
The right-hander struck out three and faced one batter over the minimum, throwing 57 pitches in his first five innings. The Marlins got three hits off Masterson, with the righty keeping them off the basepaths most of the night. He also kept them out of the air, as he didn't record a flyout.
The sixth and seventh frames were tougher than the rest. The righty needed 34 pitches to get through them despite facing only seven batters total. It's possible Masterson might have been tired, because he hadn't pitched more than six innings since a recent stint on the disabled list. In fact, the last time he threw seven innings was on June 19.
"But even in the seventh when he started to look like he might have lost his rhythm, he gathered it back together," Matheny said. "That leads us to believe that [tonight's performance is] something that's repeatable."
Following his two-inning, five-run outing on Friday, Masterson worked closely with coaches to fix some mechanical issues. The solutions came to fruition as he kept the Marlins off balance. Although some balls were hit hard, they went straight at his defenders, something he praised several times.
"The ball was coming out well," Masterson said. "And again, the ball was going at guys too. A few times the ball was hit hard, and it went right at somebody."
As if his performance on the mound wasn't enough, the former American League pitcher gave the Cardinals an insurance run on a chopper into shallow right for his first Major League RBI.
He didn't get a souvenir for his efforts, but he did record his sixth victory of the season.
"I'd much rather have that," Masterson said laughing.
The urgency carried over to first baseman Matt Adams, who wasn't in Tuesday's lineup so he could take a break from his second-half slump. In the third inning off Marlins starter Nathan Eovaldi, Adams hit a single that bounced off the mound and into right field. The hit allowed Matt Carpenter -- who was 3-for-5 on the night and recorded his 38th multi-hit game of the season -- and Jon Jay to score the first two runs of the game.
The Cardinals hadn't owned a lead since Sunday's 8-3 win over the Orioles, so someone in the dugout was quick to rejoice over Adams' hit.
"Somebody yelled real loud, 'Hey, we got the lead,' and that was a nice change of pace," Matheny said. "I think it was A.J. [Pierzynski]. Sounds like something he would say."
The other runs St. Louis scored off Eovaldi came courtesy of two Marlins errors. Holliday grounded into a forceout that could have been an inning-ending double play in the fifth. But Jordany Valdespin's turn at second base skipped up on first baseman Garrett Jones and into the stands, allowing Carpenter to score and Holliday to reach.
Then in the sixth, Oscar Taveras lined a ball through Valdespin's legs for another Marlins error. Taveras reached third on Jay's double and scored on Masterson's hit.
In the seventh inning, Matheny took Holliday out of the game because he'd been complaining of tightness in his left knee. Matheny wasn't sure when the flare-up occurred, but the outfielder is expected to play on Thursday.
After salvaging the series finale and finishing the road trip at 2-4, the Cards will return to Busch Stadium on Thursday, where they've won four of their last six.
Maria Torres is an associate reporter for MLB.com. This story was not subject to the approval of Major League Baseball or its clubs.