After Pineda's solid start, Yanks let one get away
Betances, Kelley stumble in eighth as NY falls eight games behind O's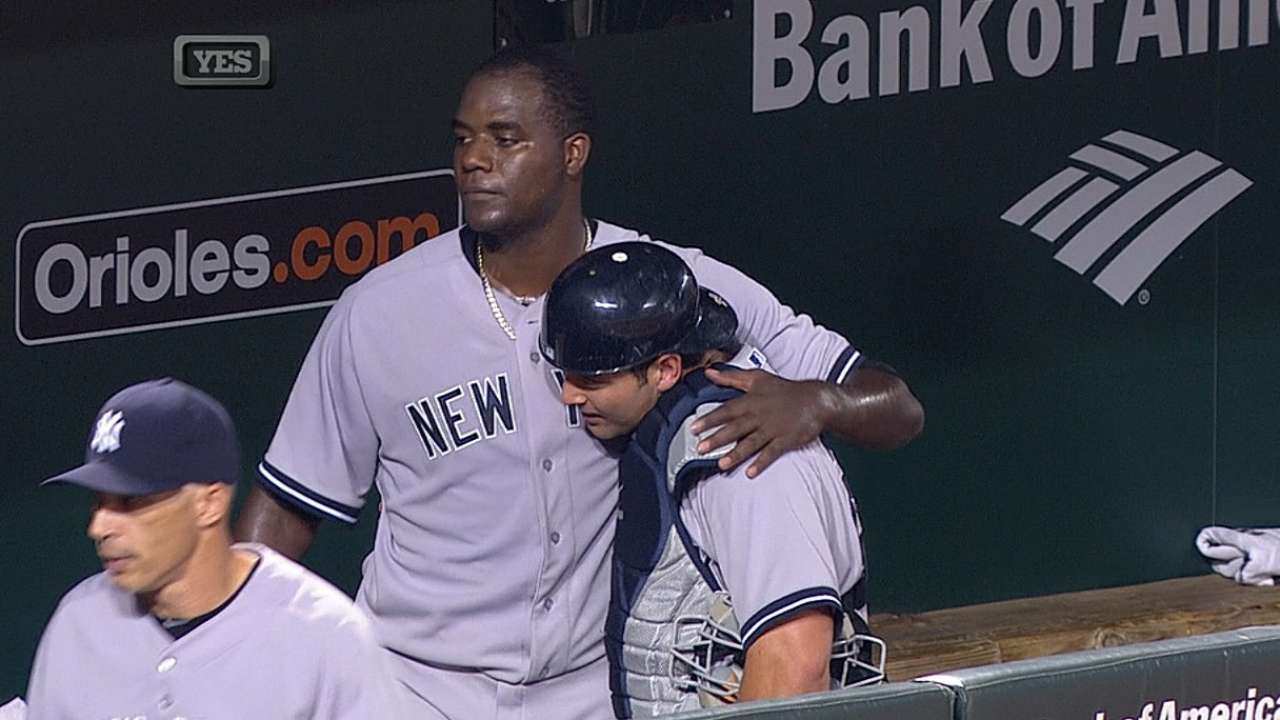 BALTIMORE -- The deep eighth-inning drive off Adam Jones' bat disappeared over the left-center-field fence to find a safe landing spot in the bullpen, and the Yankees' hopes of catching the Orioles in the American League East may have vanished with it.
Dellin Betances served up a game-tying Jonathan Schoop homer, spoiling his third inning of relief, and Jones blasted a go-ahead three-run homer off Shawn Kelley that sent the Yankees to a 5-3 loss on Wednesday at Camden Yards. The defeat dropped New York a season-high eight games behind Baltimore for the division lead.
"That's where we are? Well, I think we were more looking at that second Wild Card spot," Kelley said. "That's a little bit better number. That seems a little more achievable at this point, but we've got to win every day. We've got to go out there and we got to win series and we got to win in our division. We didn't get it done."
The Yankees have lost four straight games, and on a night when managing general partner Hal Steinbrenner warned a few blocks from Camden Yards that the team's consistency "needs to change," they fell 3 1/2 games behind the Tigers for the second Wild Card spot.
"We've got to start winning series again," Yankees manager Joe Girardi said. "We have not won the last two series and we've put ourselves in a little bit of a hole."
Michael Pineda returned to a big league mound for the first time since April 23 and came out of the gate firing, retiring the first 12 Orioles he faced, but the Yankees saw signs of fatigue in the fifth inning and cut his evening short after just 67 pitches.
"I'm feeling good," Pineda said. "I feel like I want to pitch more, but it's my first start."
Asking their bullpen for extra credit, Betances answered the call with two scoreless innings before he hung a slider to Schoop, who cemented his status as a bona fide Yankee killer this season with a fly ball into the first row of seats in left field.
"It was a slider that didn't do much," Betances said. "It was a terrible pitch, and he put a good swing on it."
Four of Schoop's 11 homers this season have come off Yankees pitching, against whom he is hitting .379 (11-for-29) with 11 RBIs.
"I don't know exactly why, but I think I put more emphasis, more focus on [those at-bats]," Schoop said. "I need to learn how to do that every at-bat."
The Yankees had David Robertson ready in the bullpen, and Girardi said that he planned to ask Robertson for a four-out save if Betances had retired Schoop. It never got that far, and Kelley couldn't keep the game tied, allowing a hit and a walk before Jones connected for his 23rd homer.
"We had a lead late, and that's one thing we've done well as a whole, as a bullpen," Kelley said. "A lot of that's on me tonight."
After his trip around the bases, television cameras caught Jones exchanging a few salty words with Yankees catcher Francisco Cervelli from Baltimore's dugout. Jones explained the back-and-forth, saying, "Two competitors. That's pretty much it."
"It's tough right now. They've been hitting really good," Cervelli said. "They have a couple hitters that are really hot right now. I give them a lot of credit. Maybe I put down the wrong fingers."
Cervelli's two-run homer in the third inning accounted for the Yankees' offensive production against Orioles starter Chris Tillman, who held New York to five hits over seven innings.
Darren O'Day was credited with the win in relief, pitching a scoreless eighth, and Zach Britton closed the game out for his 25th save despite allowing a run in the ninth.
It was an outcome that Girardi had to watch from the clubhouse; he had been ejected in the seventh inning by home-plate umpire Gerry Davis for arguing an interference call on Stephen Drew at first base.
Girardi said before the game that he thought Pineda could throw 85 pitches, but that leash proved to be shorter than advertised. Girardi said he saw Pineda's pitches start to elevate in the fifth, as Nelson Cruz doubled to open the inning for Baltimore's first hit.
"We thought he started to get the ball up a little bit," Girardi said. "[Seventy-two] pitches in Triple-A and 70 pitches here, there's a different intensity level. He got a ball up to Cruz, and I thought he got a ball up to [Ryan] Flaherty. He got a ball up to Schoop. We just thought he was done."
Cruz came around to score on Flaherty's sacrifice fly, the only blemish against Pineda, who struck out four without a walk. The start offered encouragement that the Yankees are a better team with Pineda, regardless of which objective they are now fighting for.
"We can do it. This is not done yet," Cervelli said. "We're going to play good baseball. [Thursday's] day off is going to help. We'll come fresh and ready to play."
Bryan Hoch is a reporter for MLB.com. Follow him on Twitter @bryanhoch and read his MLBlog, Bombers Beat. This story was not subject to the approval of Major League Baseball or its clubs.