O's rally past Yanks on homers by Schoop, Jones
One-run deficit in eighth turns into win; club eight games ahead of NY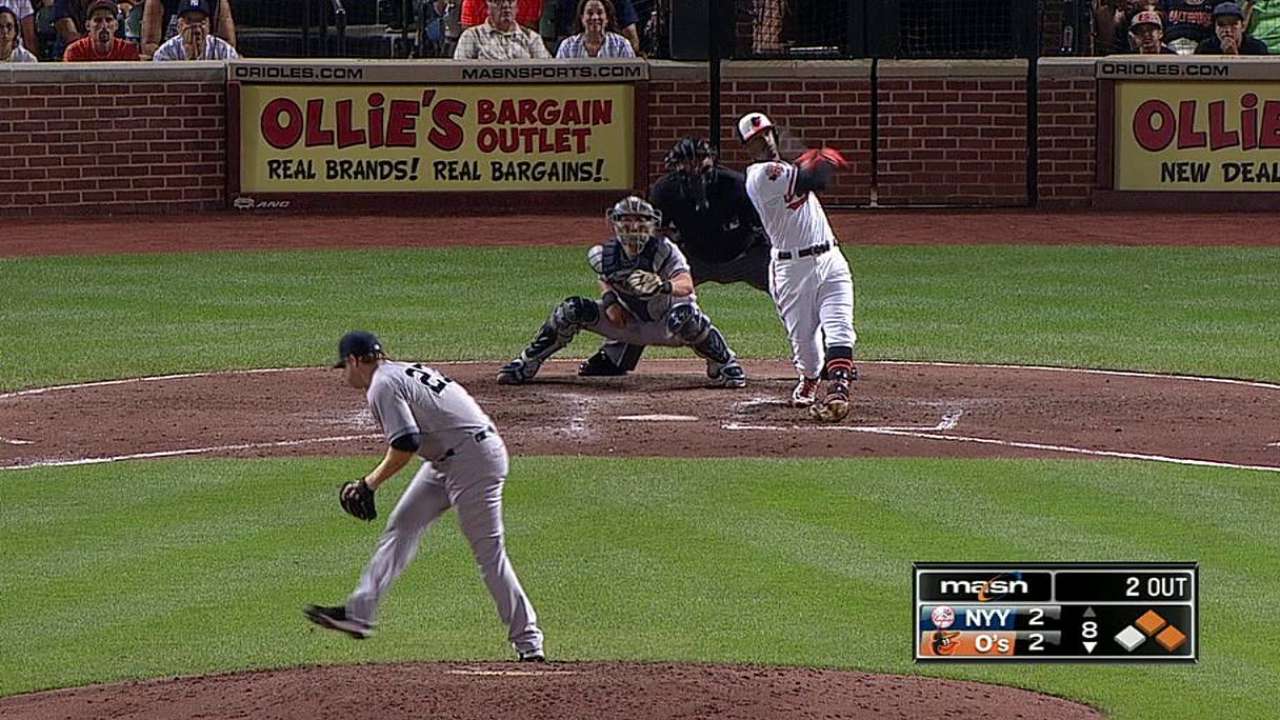 BALTIMORE -- When Jonathan Schoop came to the plate in the bottom of the eighth inning on Wednesday, Dellin Betances was dealing. Still, Schoop ignored the four strikeouts in 2 1/3 innings. He had a feeling about this at-bat.
He looked over at Manny Machado. "I might go deep off this guy," Schoop told him.
"And I did it."
The solo home run tied the game and started a four-run frame. Later in the inning, Adam Jones blasted a go-ahead three-run home run into the Orioles' bullpen and took a little extra time getting around the bases. In four batters, the O's turned a one-run deficit into a three-run lead and, eventually, a 5-3 win against the Yankees in front of 27,587 at Oriole Park at Camden Yards.
The win stretches Baltimore's (69-50) lead over third-place New York (61-58) in the American League East to a season-high eight games, and the O's have a season-high 7 1/2-game lead over the second-place Blue Jays.
"Big spot, big home run. ESPN game," Jones said. "I play the game with emotion, and big home run, big spot, nothing wrong with showing a little emotion here and there."
Schoop's blast, though, started the rally. The homer was his fourth against the Yankees this season, and his 1-for-3 night actually brought his batting average against the division rival down to .379.
"I wanted to do something special today," Schoop said.
With All-Stars J.J. Hardy and Machado both injured, this was a lift Baltimore needed.
Machado was placed on the disabled list with a right knee sprain prior to Wednesday's game. Hardy sat out his third straight with a left thumb sprain. Against the right-handed Michael Pineda, Schoop may not have normally even been in the lineup -- that's typically Ryan Flaherty's territory. But with the two infielders injured, Flaherty started at shortstop and Schoop manned second base. The O's trotted out a lineup with Delmon Young, Steve Pearce, Flaherty, Schoop and Nick Hundley as the final five hitters.
"You've got Manny out and J.J. out and [Matt] Wieters out, and guys kind of know that there's a little slack to be picked up there," manager Buck Showalter said, "and they take it personal."
Schoop carried the bottom of the order with the homer off Betances and the Orioles' offensive staples did the rest.
Outfielder Nick Markakis smacked a one-out single off Shawn Kelley (2-4), and Chris Davis, who made his first start as a No. 2 hitter, followed with a walk. A pitch later, Jones hit the go-ahead three-run home run.
"When we're down by one, we always feel we're just one pitch away, so that happened, and once we tie the game, all the marbles are up," Jones said. "First one to score one wins."
For the first four innings, Baltimore was baffled by Pineda. Making his first start since April 23, Pineda retired the first 12 batters he faced. But after five innings, 67 pitches and just one run allowed by Pineda, the Yankees went to their bullpen.
For two innings, Betances was virtually untouchable. He struck out four straight after letting the first batter he faced single. New York bench coach Tony Pena -- who took over as manager after Joe Girardi's ejection in the seventh -- tried to squeeze a third inning out of the relief pitcher, and that's when he ran into trouble. Schoop homered and the rally was underway.
"He's done it all year for us," Girardi said. "I don't think he wears it out there. He knows that if he makes his pitches, he isn't going to have a problem no matter what the score is."
Zach Britton shut the door in the ninth for his 25th save after starting pitcher Chris Tillman hurled seven innings of two-run ball and reliever Darren O'Day (4-1) tossed a scoreless eighth to leave the door open for an O's comeback and an eighth straight series victory.
For a comeback like this to come against the Yankees, long the Orioles' nemesis, was even more special. After taking both games of this rain-shortened series, the O's are 8-3 against the Yankees this season. The short-handed O's made a statement and kept rolling.
"We were down," Schoop said. "Pineda was throwing good ball and held us down, and then in the eighth inning here we come. We tie the game. We win the game. Jonesy comes up big there and we win the game. It's a good win. It's against the Yankees and it puts us more ahead."
David Wilson is an associate reporter for MLB.com. This story was not subject to the approval of Major League Baseball or its clubs.