Halos rally past Phillies for Weaver's 13th win
Kendrick's two-run single leads difference-making sixth inning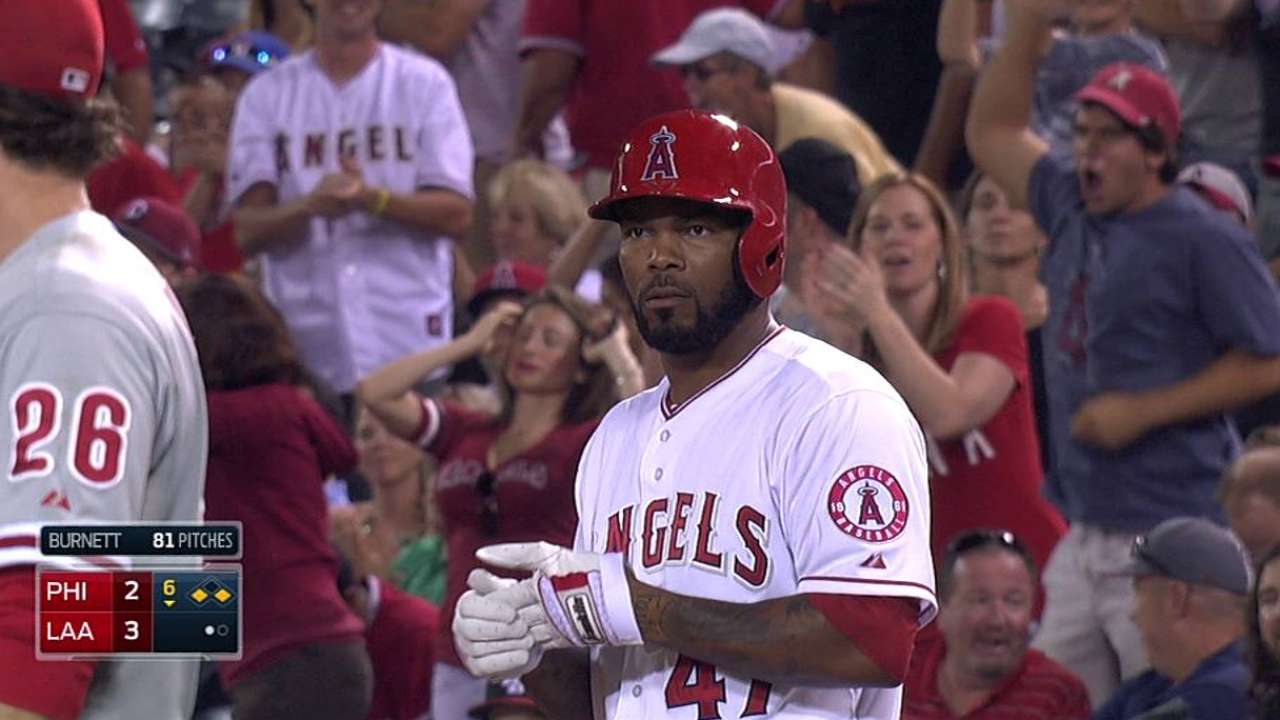 ANAHEIM -- Offense is still the backbone, the identity, of this Angels team. But even though the lineup has been fighting a general malaise since the All-Star break, the Angels haven't been crippled by it. They're holding their heads above water, because the starting rotation -- thin as it might be, unheralded as it might appear -- has remained steady and the bullpen has been a strength.
The latest example came Wednesday night.
Jered Weaver overcame elusive command to provide six innings of two-run ball, the offense scratched and clawed for four runs against a reeling A.J. Burnett and the back end of the bullpen held on, leading the Angels to a 4-3 victory that gave them nine in a row against the Phillies, including both ends of this two-game series.
"Being able to win games numerous ways is very important," Angels third baseman David Freese said, "because when you get to the postseason, that's what it's going to take. Every game you win, you're going to win it differently. You pick up each other. When you're not hitting, the pitching and defense can help you out and vice versa."
The Angels are averaging an American League-low 3.36 runs per game in the second half while batting at a .227 clip. But the rotation has provided a quality start in 11 of 25 games and the bullpen has allowed only 23 runs in 99 innings, good for a 2.09 ERA.
It's why the Angels have still managed to go 13-12 in the second half, and are 21 games above .500 heading into a 10-game road trip that starts Friday, and why they're only 2 1/2 games back of the first-place A's in the AL West.
It's why they think they have another gear left in them.
"Just keeping our heads above water since the All-Star break has been purely on our pitching staff, primarily our bullpen," said Angels manager Mike Scioscia, whose team is off Thursday before starting a three-game weekend series in Arlington. "At that some point, you have to start swinging the bats, get some runs early enough in games to give our pitchers a chance to get a little breathing room. But we're going to do whatever it takes."
On Tuesday night, Jerome Williams -- 11 days removed from giving up 10 runs in his previous start -- held the Angels scoreless through the first five innings until they broke out a seven-run sixth. On Wednesday night, Burnett -- with a 9.24 ERA in his previous three starts -- held the Angels to one run on two hits in the first five innings until they took the lead in the sixth.
Albert Pujols led off with a line-drive double, Josh Hamilton was hit by a pitch, Erick Aybar walked and Howie Kendrick lofted a fly ball to right field that drew chalk and plated two runs. The next batter, Brennan Boesch, beat out a potential inning-ending double play to give the Angels a 4-2 lead that proved to be the difference.
Weaver, two days removed from watching his wife deliver his first daughter, needed 66 pitches to record the game's first nine outs and finished giving up eight hits and a couple of walks. But he limited the Phillies to three hits in 10 at-bats with runners in scoring position.
"We weren't able to come up with the big bat to drive in the crooked number with the men on base throughout the game," Phillies manager Ryne Sandberg said. "I attribute that to some pretty good pitching. Weaver really mixed speeds real well. He added a little on, took a little off."
Weaver's fastball command wasn't there, but he started locating his offspeed pitches as the game went on, allowing him to retire his last seven batters and get through six innings with 97 pitches.
By that point, he had done his job.
"With the bullpen we've got, quality starts from a starting pitcher are pretty key," Weaver said. "If you can limit these guys to three runs or less in six innings, we've got those guys coming in behind us doing a heck of a job. I'm just trying to keep us in it. This offense is going to break through one of these days."
Perhaps it'll come in Arlington, the place that saw the Angels close out the first half with 33 runs in a four-game stretch. If not there, somewhere else. Eventually, the bats will get hot again, because you don't average more than five runs a game for an entire first half without some sustainable firepower.
While they wait, though, the Angels continue to persevere.
"This is a very quiet, confident group," Freese said. "A lot of these guys have been in this situation before, numerous times. And the guys that haven't, they have the [confidence] to get it done."
Alden Gonzalez is a reporter for MLB.com. Read his blog, Gonzo and "The Show", and follow him on Twitter @Alden_Gonzalez. This story was not subject to the approval of Major League Baseball or its clubs.