Burnett's gem is derailed by Angels' rally
Phils righty gives up three runs in costly sixth inning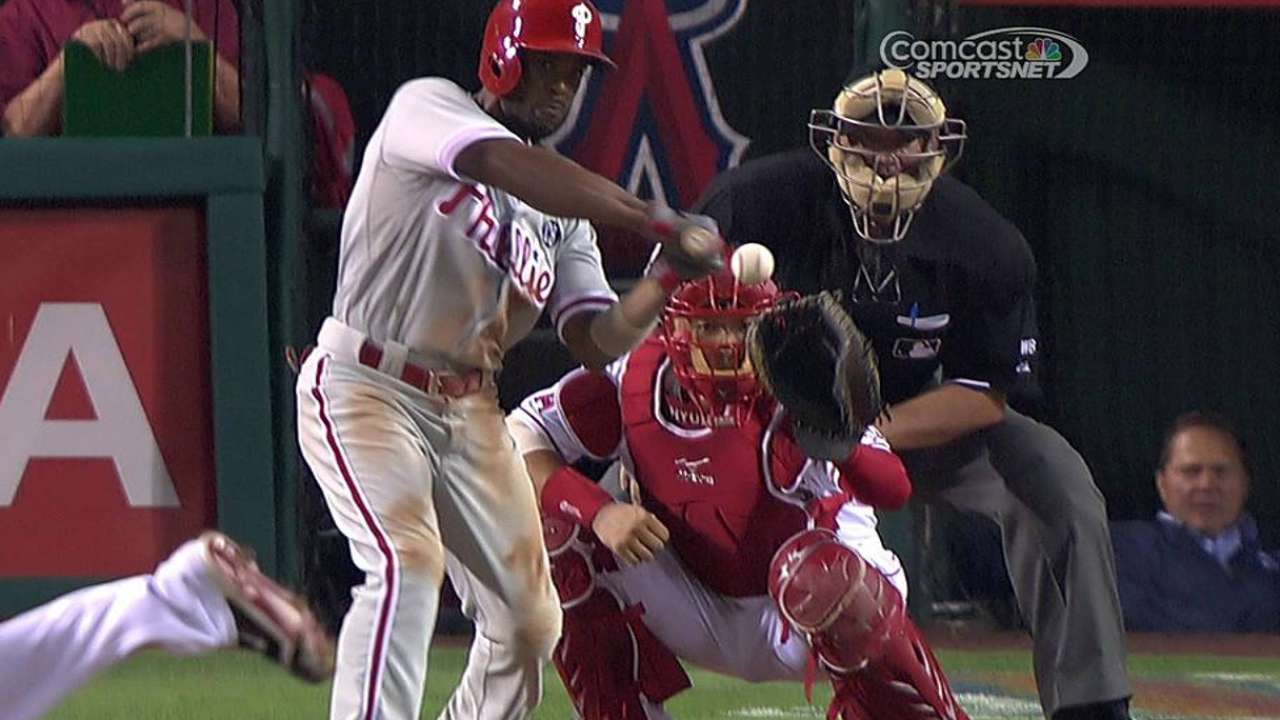 ANAHEIM -- A.J. Burnett almost sounded tired of himself following another rough start on Friday against the Mets.
He said it's time to move on and get better.
"I'm pretty sure they didn't bring me over here to be like this all year, inconsistent," he said.
Burnett had that turnaround performance in his sights Wednesday night before the sixth inning sunk him in a 4-3 loss to the Angels at Angel Stadium. Burnett had allowed one run and two hits through five innings, but the Angels scored three runs in the sixth to take the lead and send the Phillies to their 68th loss of the season.
"Yeah, I'm very discouraged," Burnett said. "I'm not going to lie. I'm not going to be happy. Man, I've got to bite my tongue. I'm a positive person, so the sun is going to come up. I'm going to figure out a way to battle and grind. That's all I can say."
Burnett allowed five hits, four runs, four walks and hit one batter in six innings to drop to 6-13 with a 4.35 ERA. He struck out four. The loss did not matter, in regard to the postseason race -- the Phillies are far removed from that -- but Burnett has a player option for 2015 worth $10 million that will kick in when he makes his next start (his 27th of the season), and he can reach as much as $12.75 million if he makes 32 starts.
If Burnett, who leads baseball with 72 walks, returns to the Phillies next year, a strong finish to this season would be welcomed.
"I don't feel snakebit," Burnett said. "It's in my control. Lock in. The season is not over. It definitely hasn't gone the wanted I wanted it to, or anybody else has wanted it to."
Burnett went 2-1 with a 2.06 ERA through seven starts through May 3, but 4-8 with a 4.63 ERA in his next 15 starts through July 23. Burnett threw eight scoreless innings July 23 against the Giants at Citizens Bank Park, but the 37-year-old also threw 131 pitches wrapped around a 59-minute rain delay.
That was the second-highest pitch count for Burnett in his career. He threw a career-high 132 as a 25-year-old in 2002.
He is 0-4 with an 8.20 ERA in four starts since.
"Not at all," Sandberg said, asked if Burnett has looked less crisp since then. "He was going pretty well there."
The Phillies took a 2-1 lead into the sixth thanks to run-scoring singles from Marlon Byrd in the third and Jimmy Rollins in the fourth. But Angels first baseman Albert Pujols hit a one-out double down the left-field line to get things started in the sixth.
Burnett hit Josh Hamilton with a first-pitch curveball to put runners on first and second, and Erick Aybar walked on five pitches to load the bases. Howie Kendrick followed and dropped a ball on the right-field line to score two runs and give the Angels a 3-2 lead.
Brennan Boesch's fielder's choice scored Aybar to put the Angels up, 4-2.
"The changeup to Pujols and the Hamilton curveball, first pitch," Burnett said, expressing what bothered him most in the sixth. "I don't mind my walks. I made my pitches after that. The bloop went in. I got a ground ball with the second baseman covering. That's part of baseball."
The Phillies cut the lead to 4-3 in the eighth when Grady Sizemore tripled and scored on a fielder's choice from Domonic Brown, but they would get no closer. The Phillies were 3-for-12 with runners in scoring position.
But free passes to Hamilton and Aybar proved to make the difference.
"Tonight it was a blooper, a jam shot, right down on the chalk," Sandberg said. "Walks tend to score one way or the other. Sometimes that gets the best of A.J. The way he was throwing I think it would have been tough for them to hit their way to three runs. That's how I'd look at that."
Todd Zolecki is a reporter for MLB.com. This story was not subject to the approval of Major League Baseball or its clubs.