Baez's first Wrigley homer leads Cubs to win
Rizzo follows Baez with 27th; Wada allows two runs over 6 2/3 innings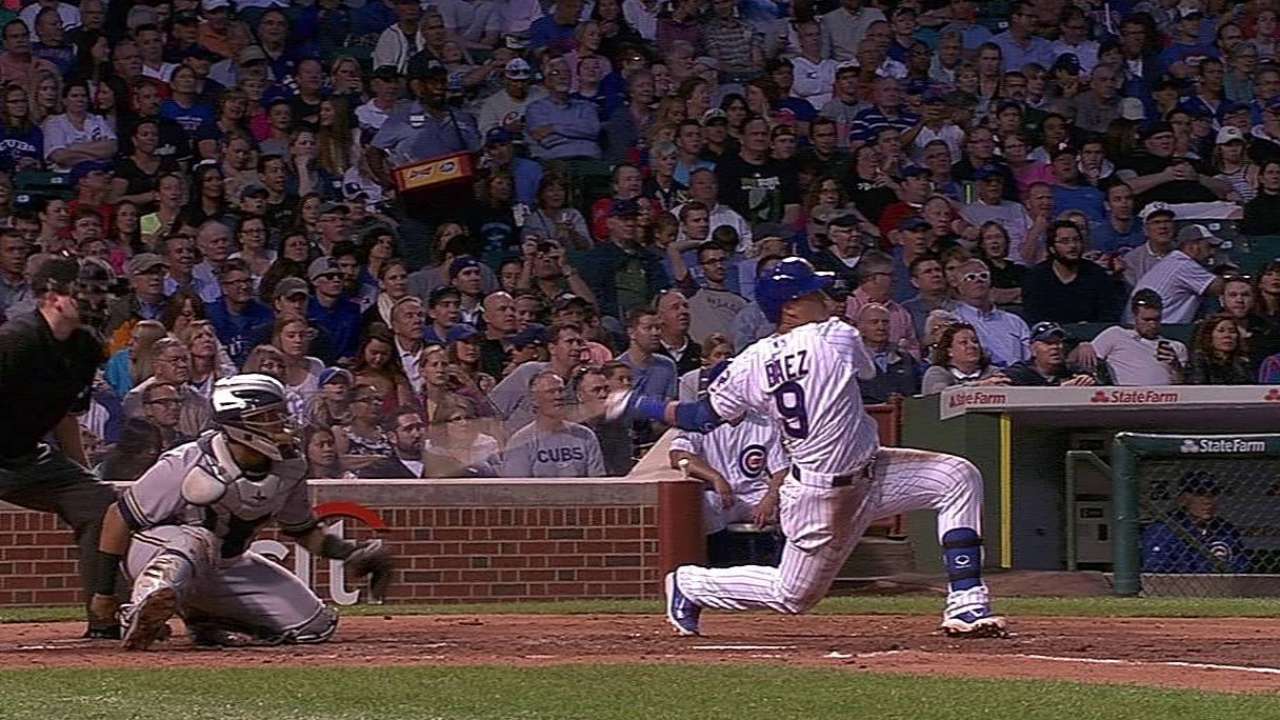 CHICAGO -- The ballhawks who patrol Waveland Avenue outside Wrigley Field must be giddy.
Javier Baez gave them reason to celebrate with his first home run at Wrigley, a towering shot that cleared the left-field bleachers, and Anthony Rizzo followed with his 27th of the season to power the Cubs to a 4-2 victory on Wednesday night over the National League Central-leading Brewers.
The fireworks came in the third against the Brewers' Kyle Lohse in front of 31,191. Chicago had taken a 2-0 lead in the first on a sacrifice fly by Rizzo and RBI single by Starlin Castro.
Baez, playing in his ninth big league game, led off the third by launching a 1-1 slider over the left-field bleachers for his fourth home run. Rizzo rocketed the next pitch, a curveball, from Lohse into the right-field seats for his second homer in as many games, and 27th of the season, second in the NL to the Marlins' Giancarlo Stanton, who has 31.
"The second pitch [of the inning] to Javy was a homer, and I fed off the energy of the crowd right there," Rizzo said. "It was probably a ball, but I went down and got it. Luckily, I got it up high enough."
It's the fifth time the Cubs have hit back to back blasts this season, and the first time Baez and Rizzo have done so. Cubs fans are hoping for many more by the pair.
"It feels great," Baez said. "I hit the ball pretty good. As soon as I hit it, everybody went crazy. I knew it was gone because I hit it really good."
Lohse then served up a single to Castro and struck out Luis Valbuena. Brewers manager Ron Roenicke and an athletic trainer went to the mound to check on the right-hander, who finished the inning, striking out both Arismendy Alcantara and John Baker. But Lohse apparently tweaked his right ankle in the third, and was lifted.
Cubs manager Rick Renteria was impressed at how Baez made adjustments during the game.
"His strength is swinging the bat in terms of what he can produce," Renteria said. "He showed you he can drive the ball the other way in situations, so he's making adjustments. He's aware of what he's got to do. It just takes time. He's 21 years old. They're pitching him pretty tough, too."
During the game, Renteria didn't join in the dugout dance the players do after Rizzo homers. But after the game ended, the Cubs manager could understand the fans excitement.
"Sitting back, you look at them and say, 'I've got a 21-year-old and a 24-year-old doing the things they're doing,' and yeah, it's pretty exciting," Renteria said.
"There's reason to be excited here," Rizzo said, "but I'm not going to get caught up in it. We have 50 games left to prove to everyone that we're going to be good very soon."
Tsuyoshi Wada posted the seventh straight quality start by a Chicago pitcher despite giving up two runs on back to back home runs by Rickie Weeks and Martin Maldonado with two outs in the seventh. Cubs starters now have a 2.09 ERA in that stretch, serving up 11 runs over 47 1/3 innings.
Last year, Wada started using a two-seam fastball when he realized his four-seamer wasn't enough to get Major League hitters out. He now possesses what Renteria called "sneaky life" to his fastball. Roenicke said Wada's fastball "jumped" and surprised his hitters early.
"It was the first time we faced him," Milwaukee's Carlos Gomez said. "I don't think we're going to have the same luck next time we face him."
"He was very strong in his execution and made his pitches," Renteria said of Wada. "He seems to have some deception. His fastball plays 88, 89 [mph] on the board, but to the hitter, he's throwing balls that are getting by very good hitters. The deception factor he has is very important."
What did Wada do that was so effective?
"I think [Kyle] Hendricks pitched a very good game yesterday which threw the hitters off, and I just followed [catcher John] Baker's lead and he called a very good game," Wada said.
On Tuesday, Hendricks posted his fifth straight quality start in the Cubs' 3-0 win over the Brewers. Hendricks and Wada both are candidates for spots in the 2015 rotation. The Cubs do plan on pursuing pitching this offseason, although general manager Jed Hoyer said they aren't necessarily looking for an ace.
"Pitching, in general, is something we're aggressive on, and the better that pitching is, the more desirable it is," Hoyer said before the game. "I don't want to characterize it as 'No. 1 quality' or whatever. We know we have to have pitching, and we know we have an imbalance and I think that will be our main area of focus in the offseason."
That's because they know they don't have to worry about hitting.
Carrie Muskat is a reporter for MLB.com. She writes a blog, Muskat Ramblings, and you can follow her on Twitter @CarrieMuskat. This story was not subject to the approval of Major League Baseball or its clubs.