Lohse injures ankle in loss to Cubs
Weeks, Maldonado hit back to back homers in seventh inning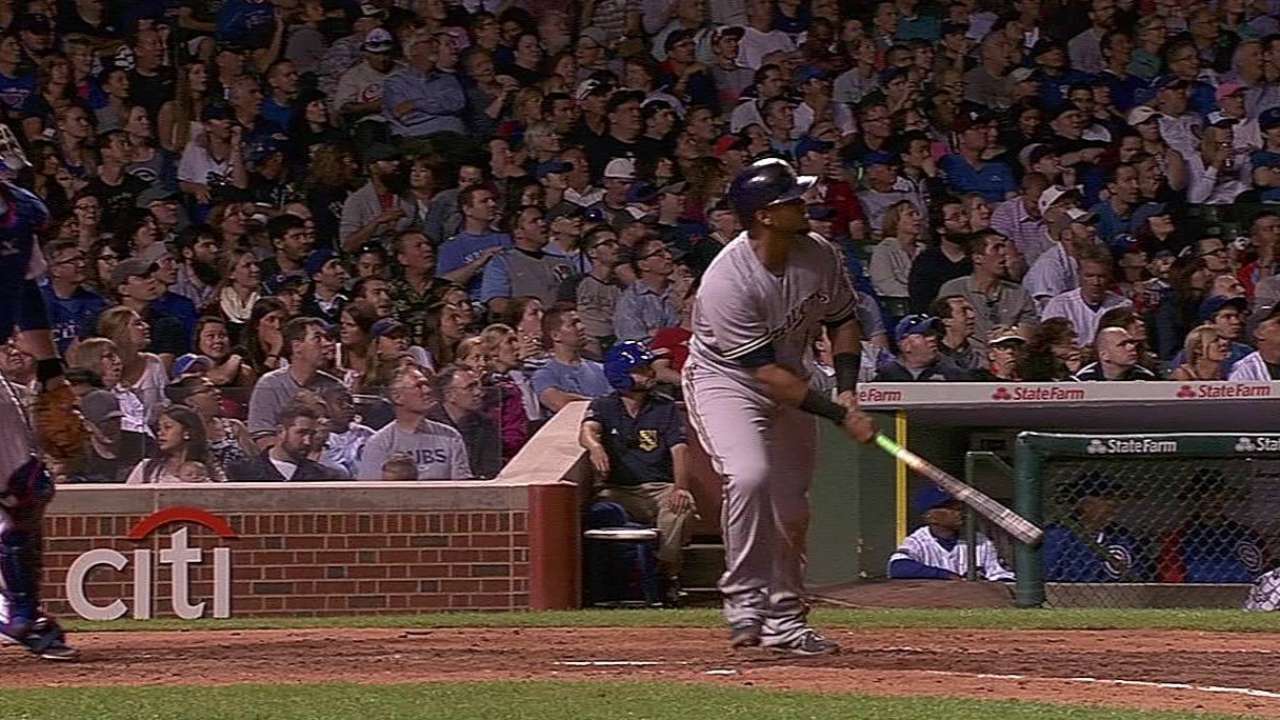 CHICAGO -- Kyle Lohse has been getting by on a bum ankle with arm strength and athletic tape, but conceded after having a setback during Wednesday's 4-2 loss to the Cubs that it may be time to re-think that strategy.
Lohse surrendered back-to-back home runs after aggravating a sprained right ankle, and the Brewers' suddenly slumping offense was unable to recover, needing late homers from Rickie Weeks and Martin Maldonado to avoid being shut out for the second straight night by an unfamiliar Cubs pitcher.
As it was, Chicago left-hander Tsuyoshi Wada settled for a quality start and his second Major League win, while Lohse contemplated whether he would be able to make his next scheduled start on Tuesday against Toronto.
"I was able to make the adjustment, make the pitches to get through [his previous start against] L.A. and today," Lohse said. "It didn't feel right from the start, then kind of tweaked it trying to check that swing and from there I just couldn't push off the way I want to. I just need to be careful.
"I was really sore after the last start because I was making adjustments. Last time I pitched I was throwing probably all upper body and today was probably the same. I probably could have kept going, but it's one of those things where you just have to be smart about that and not hurt something else."
The injury is considered by all parties to be a minor one, but a pitcher altering his mechanics can lead to trouble. Lohse tweaked the right ankle he originally rolled on Aug. 2 in St. Louis while batting against Wada in the top of the third inning, and returned in the bottom of the frame to allow home runs to Javier Baez and Anthony Rizzo on successive pitches, opening a 4-0 Cubs lead.
Baez's homer sailed over the left-field bleachers and onto Waveland Ave. Rizzo's was a line drive to the basket in right field. While neither breaking pitch was egregiously misplaced, Lohse wondered aloud whether his inability to properly drive off the mound was affecting the sharpness of his slider (Baez) and curveball (Rizzo).
Through a visit from head athletic trainer Dan Wright, Lohse remained in the game and escaped further damage, but did not return for the fourth inning. Marco Estrada took over and gave Brewers batters an opportunity to mount a comeback by pitching four scoreless innings with two hits.
"We'll stay on the treatment that we've been doing," Lohse said, "and figure out if we can do something to enable me to do the things I need to do to make pitches."
Asked whether he was confident Lohse will make his next start on schedule, Brewers manager Ron Roenicke responded, "I'm not 'confident,' but I think he will."
The upcoming schedule works in the Brewers' favor. An off-day Monday either allows Lohse an extra day of rest before he pitches against the Blue Jays at Miller Park on Tuesday, or allows the Brewers to skip Lohse and simply use others on regular rest in that series. The team is then off again on Aug. 21 and 28.
Milwaukee mustered little against Wada, who allowed only three hits and no runs in his first six innings of work. Weeks finally put the Brewers on the board with a two-out home run to left field, and Maldonado followed with another homer to almost the same spot, chasing Wada from the game.
Three Cubs relievers finished what he started, combining to hold the Brewers to a single baserunner over the final 2 1/3 innings.
"I think [Wada's] fastball surprised us," Roenicke said. "I know the first inning all of our guys were behind the ball. Somewhere he has a little more life than you think."
"It was the first time we faced him," said Carlos Gomez, who was late against Wada to end a first-inning strikeout and finished 0-for-4. "I don't think we're going to have the same luck next time we face him."
The Brewers fell to 18-12 in games started by opposing left-handers. They entered the day with the National League's second-best record against southpaws.
Wada started using a two-seam fastball last year when he realized his four-seam fastball wasn't enough to get the hitters out. He now possesses what Renteria called "sneaky life" to his fastball.
"He was very strong in his execution and made his pitches," Cubs manager Rick Renteria said of Wada. "He seems to have some deception. His fastball plays 88, 89 on the board, but to the hitter, he's throwing balls that are getting by very good hitters. The deception factor he has is very important."
The Brewers avoided losing ground in the National League Central; with a Pirates loss, the Brewers' lead remained 1 1/2 games.
Adam McCalvy is a reporter for MLB.com. Read his blog, Brew Beat, and follow him on Twitter at @AdamMcCalvy. This story was not subject to the approval of Major League Baseball or its clubs.