White Sox frustrated by obstruction call in loss
Giants' seven-run seventh starts with review overturning out at home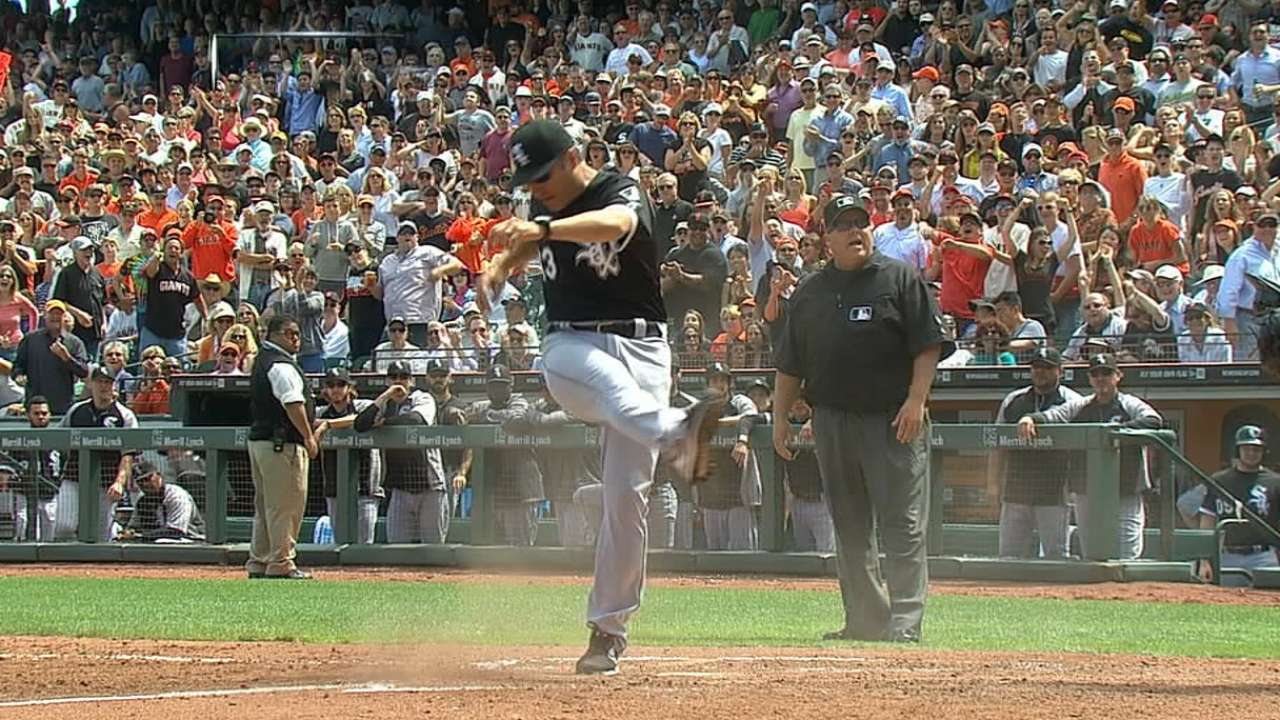 SAN FRANCISCO -- An hour after Robin Ventura cemented his place in the Major League Meltdown Hall of Fame, the White Sox manager and his players were still as baffled by the game-altering call that sparked a seven-run seventh for the Giants as they were when the ruling sent Ventura into full Lou Piniella mode.
"You look at the spirit of the rule of what they're trying to do and what it's actually doing, and it's a joke," an already-showered Ventura said after Chicago's 7-1 loss at AT&T Park on Wednesday afternoon. "It's a tossup every time a play happens at home plate. We just didn't handle the rest of it, but playing baseball, we made the play. They don't take into consideration that the guy was out by a long shot. I obviously don't agree with it.
"We got hosed today."
With runners on the corners and one out in a 1-0 game in the seventh, Joe Panik's bat shattered on a dribbler toward Jose Abreu, whose throw home easily beat the would-be tying run, Gregor Blanco. Tyler Flowers tagged Blanco out, but Giants manager Bruce Bochy requested a crew-chief review, believing that Flowers was blocking the plate. After a review of four minutes, 55 seconds, it was deemed he did, with the tying run being awarded. Ventura bolted out of the dugout and kicked dirt over home plate numerous times en route to an ejection, which was the 10th of his career and third this season.
Ventura issued a challenge on a similar play late in Tuesday night's game. The original call was upheld, and afterward Ventura referred to the rule as "vague." He repeated himself Wednesday.
"It's too vague," Ventura said. "You can have him go stand in the grass, catch it, then run over and jump on the guy when he's coming in? I don't know."
The White Sox bullpen, aided by right fielder Adam Dunn calling off center fielder Leury Garcia and promptly dropping a fly ball, followed the manager's lead with a meltdown of its own as Chicago proceeded to allow six more runs in the inning.
Still, it was the first-year rule -- "whatever it is," as Dunn said after the game -- that had the visitor's clubhouse angry and frustrated.
The new rule, 7.13, states that "a runner attempting to score may not deviate from his direct pathway to the plate in order to initiate contact with the catcher (or other player covering home plate)."
Along with the rule, Major League Baseball and its players agreed to a pair of comments umpires use for interpretation. The first says players who make an effort to avoid barreling a catcher are not in violation of the rule. The second comment says that "unless the catcher is in possession of the ball, the catcher cannot block the pathway of the runner as he is attempting to score."
The runner shall be declared safe if the catcher violates that provision, and therein lies the rub. While Flowers was positioned with a leg in front of the plate as he awaited the throw, the Sox believe the runner was out by so much that he was not impeded prior to Flowers receiving the throw.
"I don't think anybody has an understanding of this rule," Flowers said. "If you go by the black-and-white rule, I guess they got it right, but you also got to put into context. ... I could go on for a while.
"I had two seconds to get from behind home plate to catch a ball and make a tag and I'm supposed to be able to make sure I don't block the plate, catch the ball and make the tag, all within two seconds on an infield dribbler? That's just not realistic."
Added Dunn: "I still don't know what the rule is. Can't light him up. Can't block the plate. If you do block the plate, you can run him over? I don't know. It's stupid. They make these rules up and try to explain these rules that you can ask 25 guys in here and get 25 different answers about."
One thing they could agree on is sympathy for starter Jose Quintana, who'd dominated the Giants to the tune of just two hits through six innings. When the dust finally settled at the end of the seventh, Quintana was saddled with four earned runs in 6 2/3 innings and the loss.
Dunn supplied Chicago's lone run when he hit a towering blast well into McCovey Cove off former White Sox teammate Jake Peavy to give Chicago a lead. The submerged shot was the first by a White Sox player in AT&T Park's history. The one-run-on-five-hits total extended Chicago's streak of three or fewer runs to eight consecutive games.
That's definitely not what will gnaw away during their flight back to Chicago, though.
"Jose [Abreu] makes a great baseball play," Dunn said. "There are two outs. Quintana is pitching his [butt] off; everything's going great like it's supposed to. And then we get this whatever-it-is rule and it completely changes the whole game."
Ryan Hood is an associate reporter for MLB.com. Follow him on Twitter @ryanhood19. This story was not subject to the approval of Major League Baseball or its clubs.