Review helps Giants open floodgates vs. White Sox
Tying run awarded on catcher obstruction in big seventh inning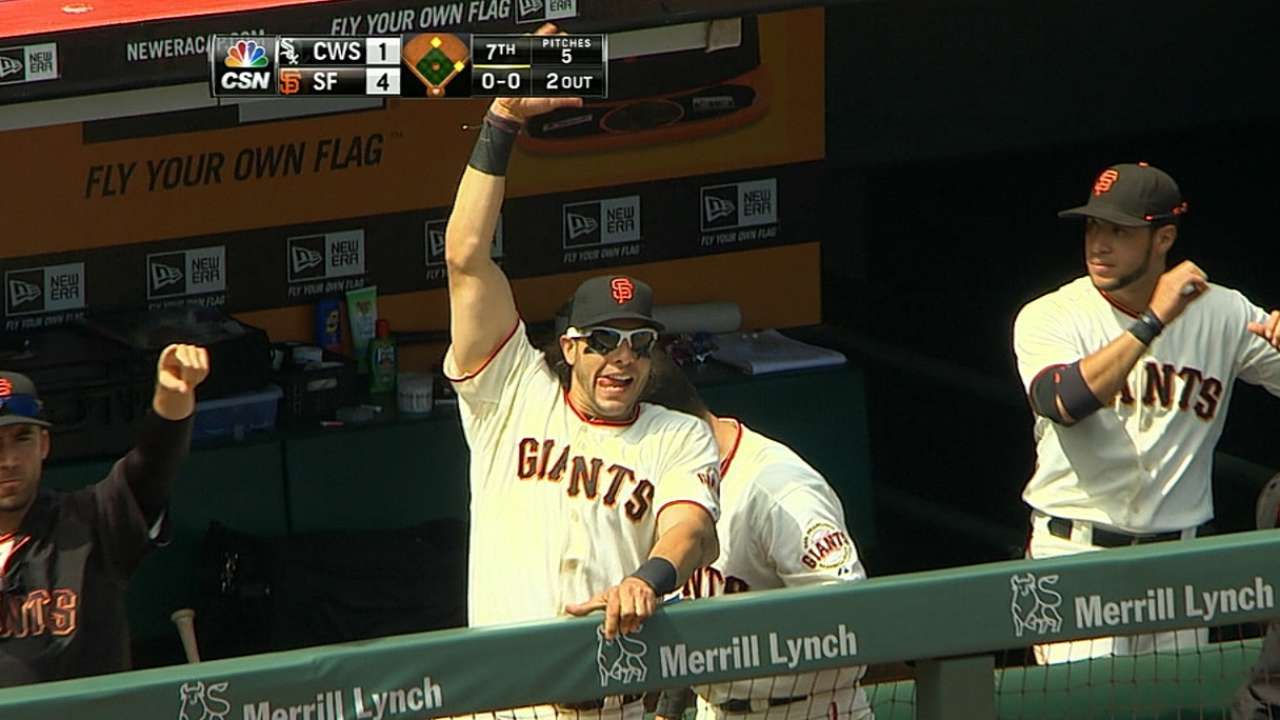 SAN FRANCISCO -- Receiving a break wasn't enough for the Giants. Capitalizing on it was the major challenge they faced.
For one of the few times in recent weeks, they succeeded. The result was Wednesday's 7-1 Interleague victory over the Chicago White Sox that ended the Giants' five-game losing streak and gave Jake Peavy his first win in a San Francisco uniform.
Offensively challenged during their descent from first place in the National League West, the Giants seized upon an overturned umpiring call to amass seven runs in the seventh inning. All but one run scored with two outs and after the decision was reviewed.
Angel Pagan's two-run single off reliever Ronald Belisario launched the six-run addition the Giants built after the review. Pagan's hit was recognized as the inning's turning point, since it set up RBI singles by Hunter Pence and Buster Posey and right fielder Adam Dunn's three-base error on Pablo Sandoval's fly ball that chased across two runs.
Result: The Giants' seven-run inning was their biggest since an eight-run outburst at San Diego on Aug. 17, 2012. It was their most fruitful inning at home since another seven-run bonanza in the eighth inning of Game 2 of the 2010 World Series against Texas.
"We needed something like that," outfielder Gregor Blanco said, referring to Pagan's hit. "I don't think we've been struggling as a team, but we've been putting pressure on ourselves."
Playing his sixth game since ending a 44-game hiatus on the disabled list with back pain, Pagan insisted that he felt no pressure leading up to his big hit.
"In that situation, you got to want it," he said.
White Sox starter Jose Quintana blanked the Giants on two hits through six innings before they sustained their rally.
With runners on the corners and one out in the seventh, Joe Panik tapped a grounder to first baseman Jose Abreu, who quickly threw home. Pinch-runner Blanco was plainly tagged out. But Giants manager Bruce Bochy requested an umpire's review, citing the anti-collision rules instituted this year and maintaining that catcher Tyler Flowers denied Blanco a sufficiently clear path to the plate while awaiting Abreu's throw. Analysis of video replays backed Bochy's opinion. Blanco's run counted, tying the score, 1-1.
Bochy didn't apologize for the odd nature of the Giants' turnaround.
"Sometimes it takes something strange to break out the offense," he said after San Francisco scored one more run in the seventh than in its previous three games.
Several Giants revealed that they discussed their resolve to sustain this type of effort during a players-only meeting Tuesday. The prevailing theme of the meeting was reaching the postseason, even if capturing the league's second Wild Card spot ultimately were to become San Francisco's lone option.
"I think the dog days will end," Pagan said, "and they'll end right now."
The Giants' odds of playing into October may have improved with Peavy's fortunes. Making his fourth start since being acquired from Boston on July 26, the right-hander gained career win No. 134 by surrendering four hits in seven innings and limiting Chicago to one run, Dunn's fourth-inning clout into McCovey Cove.
Peavy thus broke his personal five-start losing streak. This also ended a stretch of 12 consecutive games that his team lost in games he pitched.
"It was just a conversation piece," Peavy said, shrugging off his lucklessness. "Everything has an expiration date."
Chris Haft is a reporter for MLB.com. Read his blog, Haft-Baked Ideas, and follow him on Twitter at @sfgiantsbeat. This story was not subject to the approval of Major League Baseball or its clubs.