Tigers' resurgent bats pick up Farmer in debut
Castellanos smacks RBI triple, go-ahead homer to lead Detroit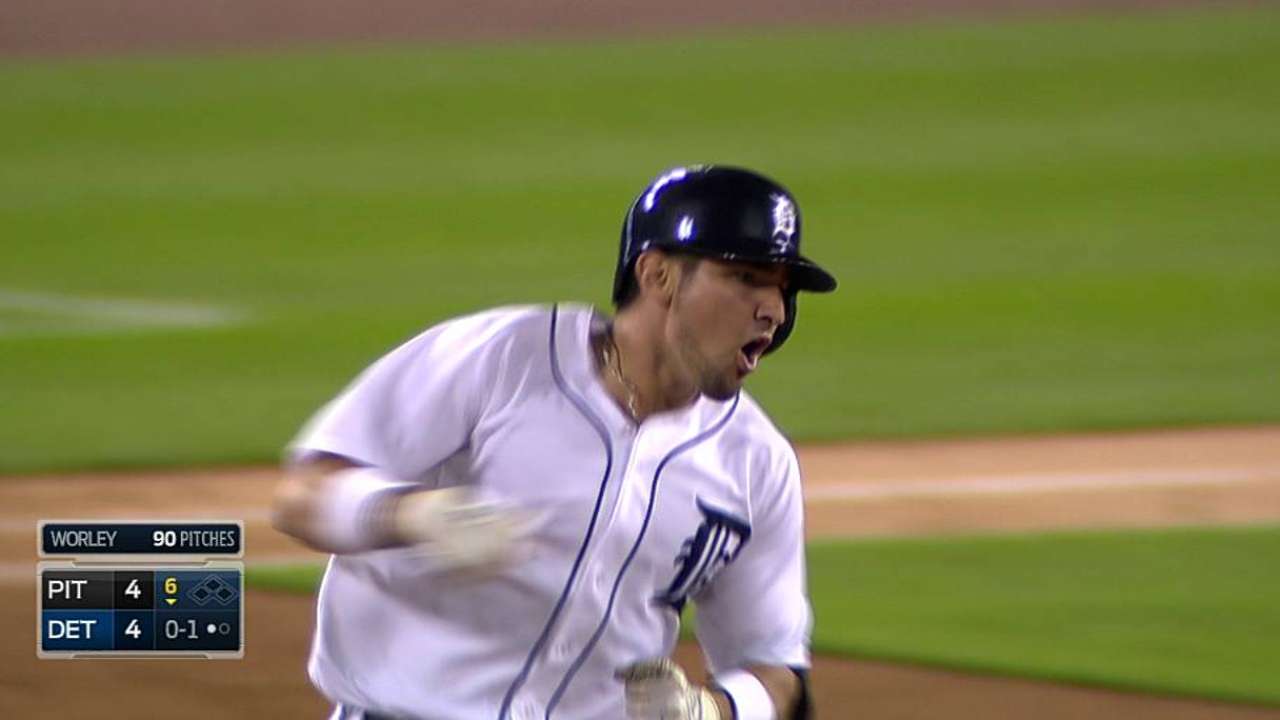 DETROIT -- On a night that seemed set to sum up the chaos of the past few days around the Tigers, they found their footing. They also found their bats.
Three weeks after Buck Farmer was pitching in low Class A West Michigan, he made his Major League debut with a no-decision. Unlike recent trends, the Tigers' offense made sure four runs allowed for a starter wasn't a guarantee of defeat.
Alex Avila's leadoff homer ignited a game-tying, three-run rally in the fifth inning before Nick Castellanos' solo shot put Detroit ahead for good, ending the Tigers' four-game losing streak with an 8-4 win over the Pirates on Wednesday night at Comerica Park.
It wasn't enough to vault the Tigers back into first place, thanks to a 3-0 Royals win over Oakland. Kansas City remains a half-game ahead in the American League Central. Realistically, it isn't enough yet to say Detroit's offense, which struggled through the majority of its just-completed nine-game road trip, is back in full swing.
Still, for many reasons, it was crucial.
"Certainly, we needed the win," manager Brad Ausmus said. "The win was important. But the last week of play is not indicative of our offense. I think the last 4 1/2 months of play are more indicative of our offense."
Considering the Tigers were looking at a star-studded rotation with Rick Porcello at the back of it two weeks ago, the fact that a kid with just two starts above A-ball was getting a start in a playoff race wasn't indicative, either.
It was a direct result of Detroit's 19-inning loss Sunday in Toronto, where Porcello pitched two-plus innings in relief. Considering the jump, Farmer's biggest advantage going in seemed to be that the Pirates would have a hard time finding footage of him.
For that matter, the Tigers didn't have much background, either.
"First time I met him was two hours before the game," catcher Alex Avila said. "Hey, how ya doing? What do you throw? OK, let's go get 'em."
It sounded like a recipe for disaster. Farmer and the Tigers made it work.
"Early on, he was effective. Later in the game, he made a couple mistakes," said Travis Snider, whose two-run homer was the one crushing hit off of him. "Overall, he gave his team a chance to win, so you've got to tip your cap on that one."
Farmer held the Pirates hitless his first time through the order before giving up five hits the next time through. He retired five of the final six batters he faced before Blaine Hardy, whose three scoreless innings in Sunday's marathon loss went unrewarded, tossed two innings of scoreless relief.
"Hardy was the guy who showed up well for them," Pirates manager Clint Hurdle said.
The way the Tigers' offense had been struggling, a 4-1 deficit after four innings seemed like a vast gap. The way they began swinging against Pirates starter Vance Worley, however, the deficit was gone by the end of the fifth.
Alex Avila's 10th home run of the year was his second in as many nights, but just his second all year at home. Miguel Cabrera barely missed a three-run homer two batters later, flying out to the warning track in front of the out-of-town scoreboard in right-center field, but settled for a sacrifice fly.
Martinez hit respectably well on the Tigers' 2-7 road trip, but drove in just three runs in the nine games. He matched that total Wednesday, starting with his game-tying RBI single through the middle.
After Castellanos' loft to left earned him his ninth home run of the year and pulled Detroit ahead, Martinez added on in the seventh with a bases-loaded, two-run single off reliever Stolmy Pimentel.
"Really, we got the big hit we've been looking for," Ausmus said.
Worley entered the night with just three earned runs allowed over 28 innings in his previous four starts, but took the loss with five runs, three earned, on nine hits over 5 1/3 innings.
Jason Beck is a reporter for MLB.com. Read Beck's Blog and follow him on Twitter @beckjason. This story was not subject to the approval of Major League Baseball or its clubs.