Young Padres finding stride, sweep Rockies
Liriano hits first career homer; Kennedy nets first home win since July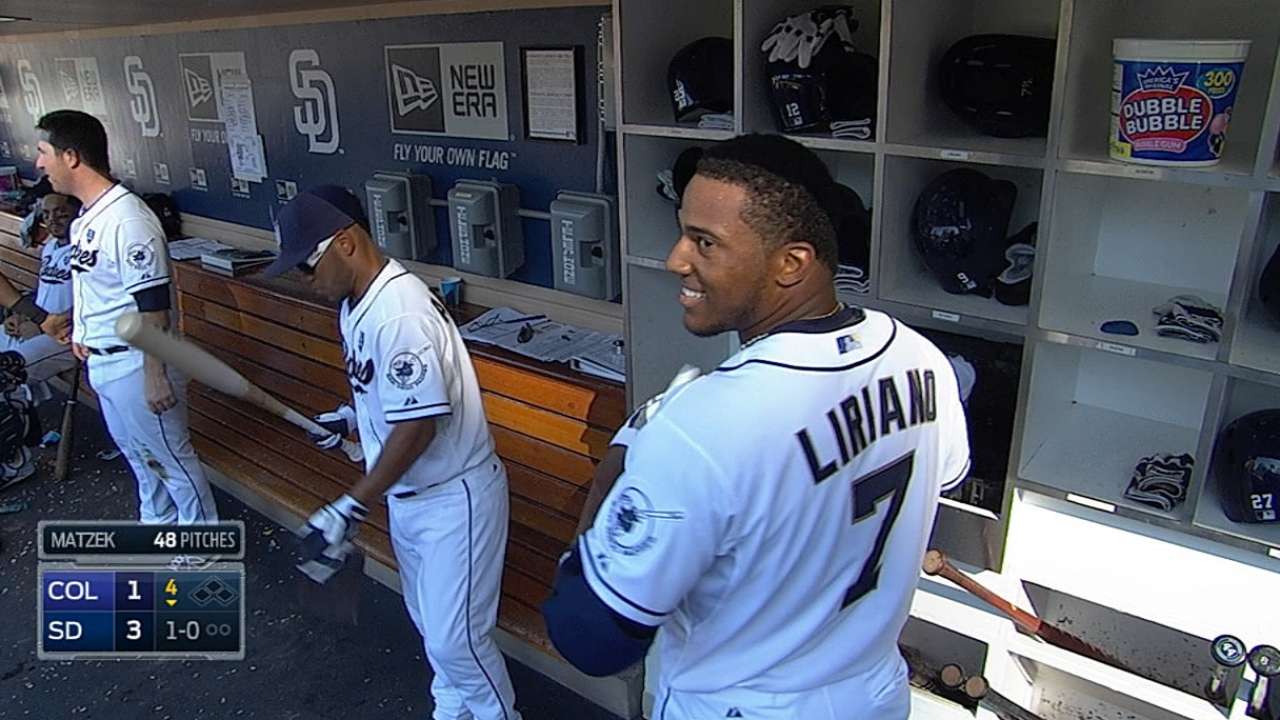 SAN DIEGO -- With the Padres likely -- though not definitely -- out of the playoff race this season, Rymer Liriano gave San Diego fans a glimpse of the club's future in his debut series this week. And just as the entire team has given plenty of reasons for optimism with its play in the second half, Liriano provided more hope on Wednesday.
Liriano launched his first career homer, a no-doubter that reached the third deck of the Western Metal Supply Co. Building beyond left field, helping the Padres complete a three-game sweep of the Rockies with a 5-3 victory at Petco Park.
"I feel excited to crush that homer," said Liriano, the Padres' No. 6-ranked prospect. "Some people say I never hit the fastball in, [so] it made me feel really good to hit that fastball."
The Padres (57-62) have won five straight and hold the National League's best record since the All-Star break at 16-8 behind a suddenly resurgent offense that's averaged 4.5 runs during that span.
"I wish I could tell you that there was something to it, but we're just playing better all around," said Padres manager Bud Black. "Our at-bats are better, for sure, as a group. And things are starting to turn."
Liriano's 427-foot blast gave the Padres a 3-1 lead in the fourth. Colorado responded with two runs off starter Ian Kennedy its next time up to knot the score, but San Diego came right back and plated a run a piece in the fifth and sixth to go ahead, 5-3, holding on late for the final tally.
Jedd Gyorko, who had his first four-hit game this season, led off the fifth with a double before advancing on a Rene Rivera groundout and scoring on a sacrifice fly from Yasmani Grandal to help San Diego retake the lead for good.
"Our offense is producing and making those plays," Kennedy said. "Jedd led off with a double, but we also got him over and got him in. That's the main thing we weren't doing early on in the year."
Black's decision to slot Yangervis Solarte in the leadoff spot for the first time since joining the Padres paid immediate dividends, as Solarte hustled out an infield single in the first that was initially ruled an out before it was overturned on a manager's replay challenge. Solarte came around to score on an RBI single by Rivera, but he left later with a mild oblique injury in the seventh, replaced at short by Alexi Amarista.
Kennedy (9-10) earned his first home victory since July 1, turning in a quality start with six innings and allowing three runs on six hits with two walks and eight strikeouts.
"My secondary pitches weren't there, [so] I tried to rely on the fastball command," Kennedy said. "I made some mistakes with my changeup, gave up a couple runs that way. But for the most part, physically, I was pretty happy how I felt. Best I've felt in a while."
Tyler Matzek (2-8) lost his fourth straight start for Colorado despite setting a new career high with nine strikeouts. He gave up five runs on eight hits with two walks, and he's still looking for his first road win in the Majors.
Abraham Almonte gave Kennedy some insurance in the sixth with a solo homer, his first since being acquired by the Friars on July 31 in the Chris Denorfia trade. That long ball came right after Almonte completed an impressive 8-3 double play in the top half of the frame to deflate the Rockies (46-74).
Almonte made a running catch in right-center before spinning and throwing to first to double off Corey Dickerson, who inexplicably stopped just short of the bag as the perfect one-hopper arrived.
"Everytime you do something to help the team win, you feel excited. … I think I got lucky, though," Almonte said, grinning.
That's fitting for a team fueled by youngsters and journeymen who suddenly seem to be getting all the right breaks.
"Things even out during the course of the season," Black said. "You look at some of those games early, there was some tough luck. And now it's sort of spinning back our way. So we got to take advantage of that."
Will Laws is an associate reporter for MLB.com. You can follow him at @WillLaws. This story was not subject to the approval of Major League Baseball or its clubs.