Napoli delivers big blow as Sox take short set
Mujica steps in to lock down save; Cespedes exits with hand contusion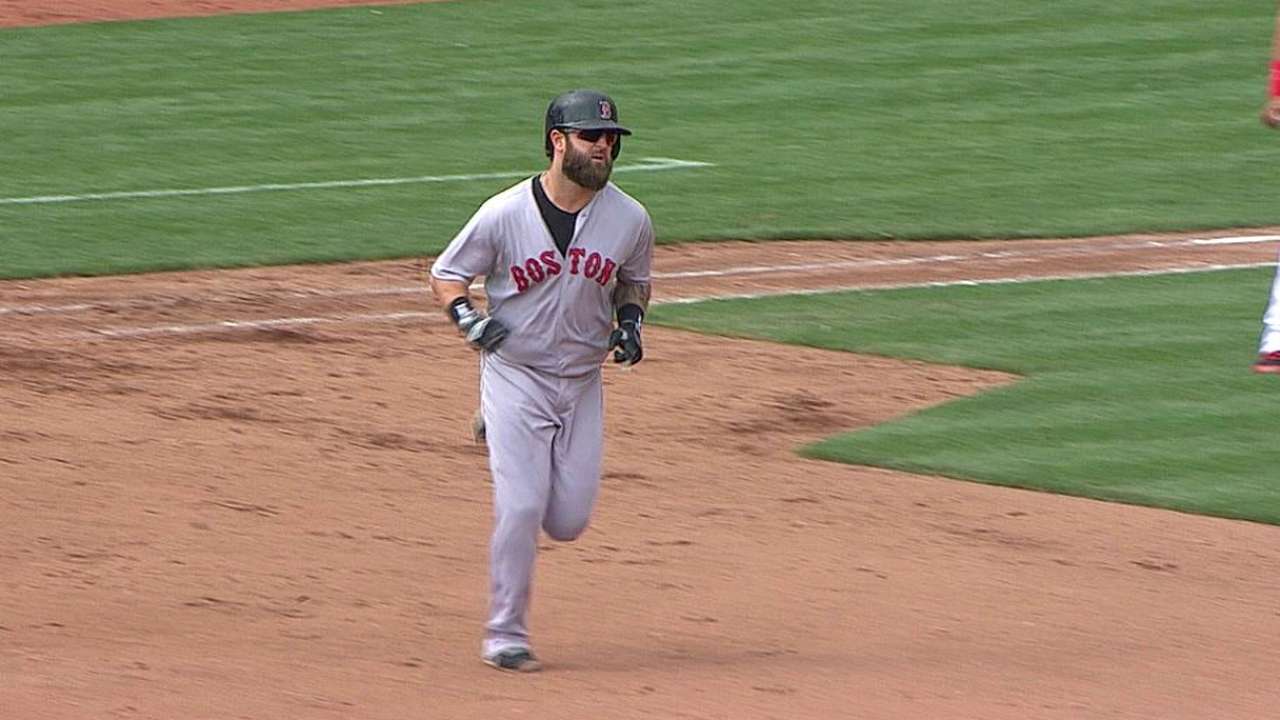 CINCINNATI -- Give the save, Edward Mujica's third of the season, to his right hamstring.
Thrust into action on a day in which Koji Uehara was getting some well-deserved rest, Mujica's leg happened to be in the perfect spot to knock down a grounder back toward the box by Kris Negron.
Mujica retrieved the baseball and threw to first to end a 5-4 victory over the Reds on Wednesday afternoon at Great American Ball Park.
It was a nice recovery for Mujica after giving up back-to-back singles to open the ninth.
Reds manager Bryan Price was so adamant to get a bunt down that he had Ramon Santiago try three times. Santiago fouled off all three of them, the last of which was strike three for the first out of the inning.
"What shows through is that [Mujica] didn't get too far ahead of himself, didn't try to do too much, and continued to throw strikes," said Red Sox manager John Farrell. "Fortunately, we get the three foul balls and it changes the whole complexion of the inning."
After recording 37 saves for the Cardinals last season, Mujica still knows how to pitch with a closer's mentality. But he certainly didn't mind the help that Santiago gave him.
"That out right there was a big out for me, because I think he's going to swing the bat so I'm trying to throw a fastball away and see if I can get a ground ball double play," said Mujica. "He bunted again, fouled it off."
Mike Napoli's two-run homer to right-center in the fifth snapped a 3-3 tie, ultimately paving the way for the victory.
"I was in a hitter's count and just trying to get a pitch I could drive. Got one I could handle, put the barrel on it," said Napoli.
After losing two out of three in St. Louis, the Sox bounced back by taking two out of three in Anaheim and winning both games in Cincinnati to finish the trip with a 5-3 mark.
"Yeah, it was nice, a winning road trip," said Napoli. "We're playing better baseball. I feel like there were a couple games we could've came away with, too. We're playing better baseball, the young guys are learning and we're playing the game the right way. That's what we need."
Making his second Major League start, Anthony Ranaudo earned his second win. The righty went six innings while scattering eight hits and four runs. He walked one and struck out one.
"It was great to get a win and finish off the series," said Ranaudo. "I don't think I threw my best, but I tried to command the zone and fill up the zone. They put some balls in play. Ultimately we got the win, and it was a good win to finish the road trip."
Yoenis Cespedes, fresh off clubbing a 433-foot, game-winning homer on Tuesday, left the game in the seventh inning with a right hand contusion. But Farrell said the move was just precautionary, and Cespedes tried to stay in the game.
The Red Sox supplied Ranaudo with a pair of runs before he even threw a pitch. Brock Holt opened the game with a walk, moved to second on a wild pitch and scored on an RBI single by Daniel Nava. A fielder's choice grounder by Napoli scored Nava.
Ranaudo kept it there until the third. Negron opened the rally with a walk. Todd Frazier, who played high school baseball against Ranaudo in New Jersey, drilled a one-out ground-rule double. Devin Mesorasco's sacrifice fly made it a 2-1 game.
The Reds did some louder damage in the fourth. Skip Schumaker hit his second homer of the season to tie it, and starting pitcher Mike Leake ripped a solo shot to left to make it a 3-2 game in favor of Cincinnati.
"Yeah, I know he went to Arizona State and he hit all three years there," Ranaudo said of Leake. "I knew he swung the bat really well. He took some pretty good swings off me his first at-bat, too. I tried to get ahead with a fastball, and he did a good job connecting with it, obviously."
But Boston bounced right back.
Again, it was Holt starting a rally, this time with a double to left. With one out, Cespedes drilled an RBI single to left. Up next was Napoli, who went deep for the 15th time this season.
"He hits a fastball down and away from Leake that with his power the opposite way, and in this ballpark, was a pretty good combination," said Farrell. "For the second time on this trip, he's hit a decisive home run, and overall puts a good finish on a successful trip."
Ian Browne is a reporter for MLB.com. Read his blog, Brownie Points, and follow him on Twitter @IanMBrowne. This story was not subject to the approval of Major League Baseball or its clubs.