Reds drop familiar one-run contest in series finale
Leake hits solo homer, surrenders five runs over five innings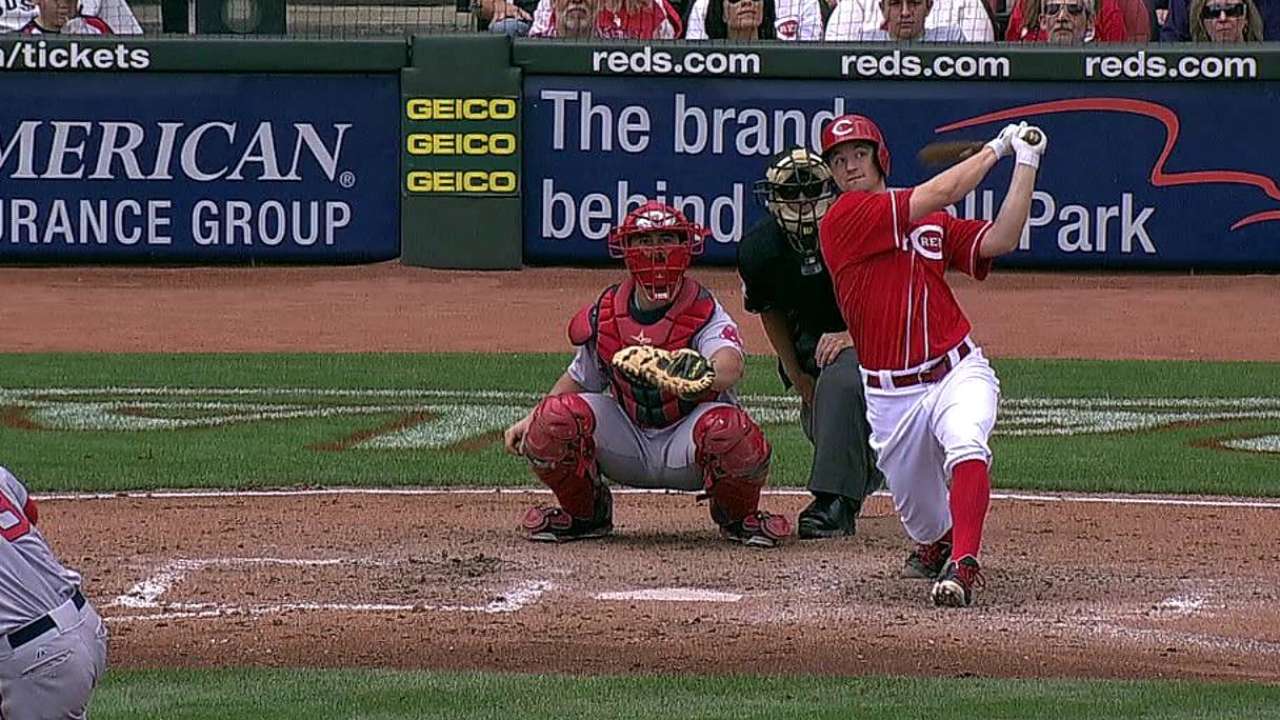 CINCINNATI -- A one-run loss often provides the most postgame discomfort, the most tossing and turning and plenty of times, the "what if" question will be uttered.
With a 60-60 record this season, the Reds have lost one-run games a Major League-most 28 times. That included both games of their two-game series vs. the Red Sox, which ended in a 5-4 defeat Wednesday at Great American Ball Park.
"You almost always have regrets in a one-run loss," Reds manager Bryan Price said. "Something you don't do as a manager or a play that's not made or something that seems insignificant that ends up being a game changer. We've had far too many of them. At this point in time, it's a difference-maker in where we are right now in the standings is the ability to win the close game."
Cincinnati has lost four of its last five games, with all four being one-run defeats. Now 9-16 since the All-Star break, 10 of the losses have been by one run. The Reds also dropped all four games of the season series to Boston by -- you guessed it -- one run.
Multiple times on Wednesday, the Reds had chances to alter the final outcome -- none more opportune than in the ninth. Edward Mujica was on to close the game for the Red Sox with All-Star closer Koji Uehara unavailable. Skip Schumaker, who homered in the fourth inning, led off with a line-drive single to right field for his third hit of the day. Zack Cozart, who fouled off two sacrifice bunt attempts, lined a single into left field to represent the go-ahead run.
A disastrous conclusion followed. Ramon Santiago fouled off three straight bunt attempts for the strikeout. Price greenlit the two-strike bunt attempt to try to get two runners into scoring position rather than having Santiago swing away.
"I just felt like, in that situation, force them to make a decision whether they wanted to play ultra-aggressive and have runners at second and third and play in," Price said. "Or potentially concede that ground ball and be willing to go into extra innings and potentially give us the opportunity to win the game with two runners in scoring position."
Billy Hamilton followed with a flyout to center field and Kris Negron grounded to Mujica for the final out as Cincinnati finished 0-for-7 with runners in scoring position.
"Every game against the Red Sox kind of ended like that," Schumaker said. "We keep getting our chances and can't capitalize with runners in scoring position. We keep having guys on and it feels like we're going to have big innings. We just haven't been able to do it for whatever reason."
There were other missteps. In the Red Sox's two-run first inning, Hamilton missed the cutoff man on Daniel Nava's RBI single up the middle against Mike Leake. That enabled Nava to take second base and later score from third base on Mike Napoli's fielder's choice.
Boston's lead was 2-1 in the fourth when Schumaker hit a one-out solo homer to right field off rookie pitcher Anthony Ranaudo. Two batters later with two outs, Leake's second homer of the season cleared the left-field wall for the lead.
Then Leake gave the lead right back to the Red Sox in the three-run fifth. Brock Holt hit a leadoff double and scored on Yoenis Cespedes' one-out RBI single to left field. Napoli followed by pushing a 2-0 pitch the opposite way for a two-run homer to right-center that put Boston ahead by two runs.
"Any time you score runs and go right back to giving them up the next inning is not ideal, especially when you give up a three-run inning," Leake said.
Leake, who gave up only three earned runs over his previous 20 2/3 innings in three starts, was done after five innings on Wednesday. He allowed five earned runs and eight hits with one walk and three strikeouts.
The Reds' bullpen picked up the slack with four scoreless innings and eight strikeouts. But including Todd Frazier's sacrifice fly in the fifth, Red Sox pitchers retired 12 of 13 until the fateful bottom of the ninth.
Through 16 games of a 20-game stretch against opponents with losing records, the Reds have failed to capitalize or make up ground in the National League Central or Wild Card standings.
"We're playing hard, we're just falling short enough to lose by a run or two, and we've got to be better," Price said. "We're four and a half months into it, we've got to find a really good final six weeks of the season."
Mark Sheldon is a reporter for MLB.com. Read his blog, Mark My Word, and follow him on Twitter @m_sheldon. This story was not subject to the approval of Major League Baseball or its clubs.