A's bats can't back Kazmir's solid start in KC
Veteran lefty tagged for early two-run homer over seven innings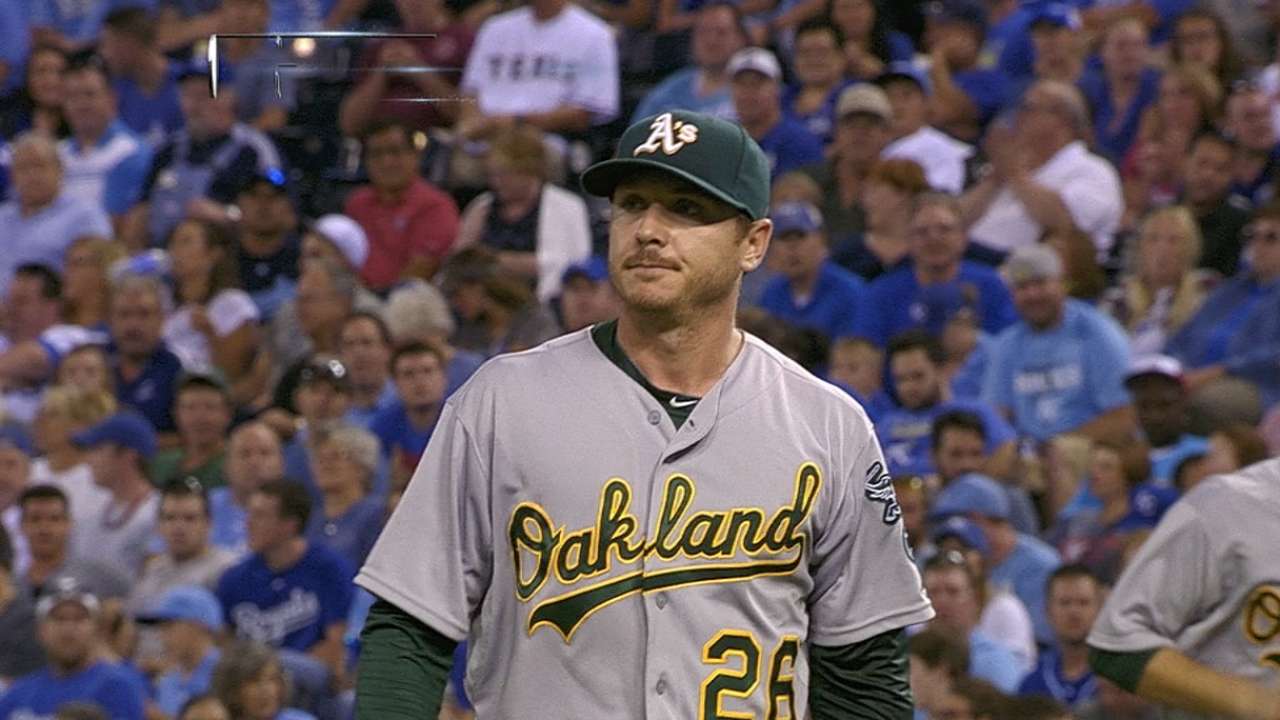 KANSAS CITY -- For the second time in three days, baseball's best team managed just three hits against baseball's hottest team.
The A's 3-0 loss to a dominant Jason Vargas and the Royals on Wednesday night was just another reminder that this offense can frustrate as much as it can excite.
"At times, you're going to get well-pitched games against you, and today was one of those," manager Bob Melvin said. "I don't think our approach today was any worse than what it was yesterday. It was counteracted today by a guy who pitched a great game."
Just 24 hours prior, the A's busted out for a season-high 20 hits to plate 11 runs. They appeared to pick up right where they left off by getting hits from three of their first six batters on Wednesday, but not one reached thereafter.
Vargas proceeded to retire each of his next 23 batters to tie the bow on his first shutout of the season and sixth of his career. Two have come against the A's, who were last victim to one on Sept. 24, 2013, when Vargas was with the Angels.
"He just does a good job of pitching to all quadrants of the zone and using all of his pitches all the time," Josh Donaldson said. "He's one of those guys, it's hard to just sell out on a certain pitch. Just does a good job of manipulating the zone, and when he's on, he's tough.
"He was pretty darn good today."
The sun said its goodbyes not long before Vargas did, with the lefty getting the job done in just 2 hours and 6 minutes, giving the Royals their 17th win in their last 21 games. The A's, meanwhile, have scored three runs or fewer in 11 of their last 16 games, going 8-8 in that span but maintaining baseball's best record at 73-47.
Scott Kazmir was handed the tough-luck loss in this one, after giving up three runs on seven hits -- including Omar Infante's two-run homer in the third -- with one walk and three strikeouts in seven solid innings. He had allowed a combined nine runs in his last two starts spanning 12 2/3 innings.
Infante's home run was Kazmir's only mistake of the night, as the Royals relied on small ball to get their third run across in the fifth.
"One pitch," Melvin said. "Other than that, really gives up nothing. He did his job."
"I was trying to go low and away, a sinker low and away, and it ended up staying belt high, middle in," Kazmir said. "I wanted to do what I did the third at-bat, he rolled it over to shortstop. Just didn't have the location.
"But I felt good. I was able to add and subtract from my fastball, but the important thing was I was getting my changeup back. That's positive going forward, definitely. I felt like the last couple games it's been inconsistent and I've gotten hurt on it."
There were few other positives on this night.
The A's forced 23 pitches out of Vargas in the first inning, but he needed just 74 the rest of the way.
"To an extent, if a guy's pitching a good game, that first pitch you get might be the best one," Melvin said. "He was just on it today. Sometimes, you can out think yourself and be a little too patient and, suddenly, you're 0-2. He pitched well."
If it's the first pitch or the sixth pitch, you have to be ready for a pitch to show up in your area, but he just did a good job of keeping us off-balance all night," Donaldson said. "You have to have your plan. Some days it works out, some days it doesn't.
"We've faced some pretty good guys, and you got to understand, too, when we come into town teams are ready and they're out to prove something, as we are. We're out to play our best game, and other teams understand that they're going to have to be on top of ours to beat us, and today they were."
Jane Lee is a reporter for MLB.com. This story was not subject to the approval of Major League Baseball or its clubs.