Vargas blanks A's as Royals hold Central lead
Lefty's three-hit shutout keeps KC a half-game ahead of Detroit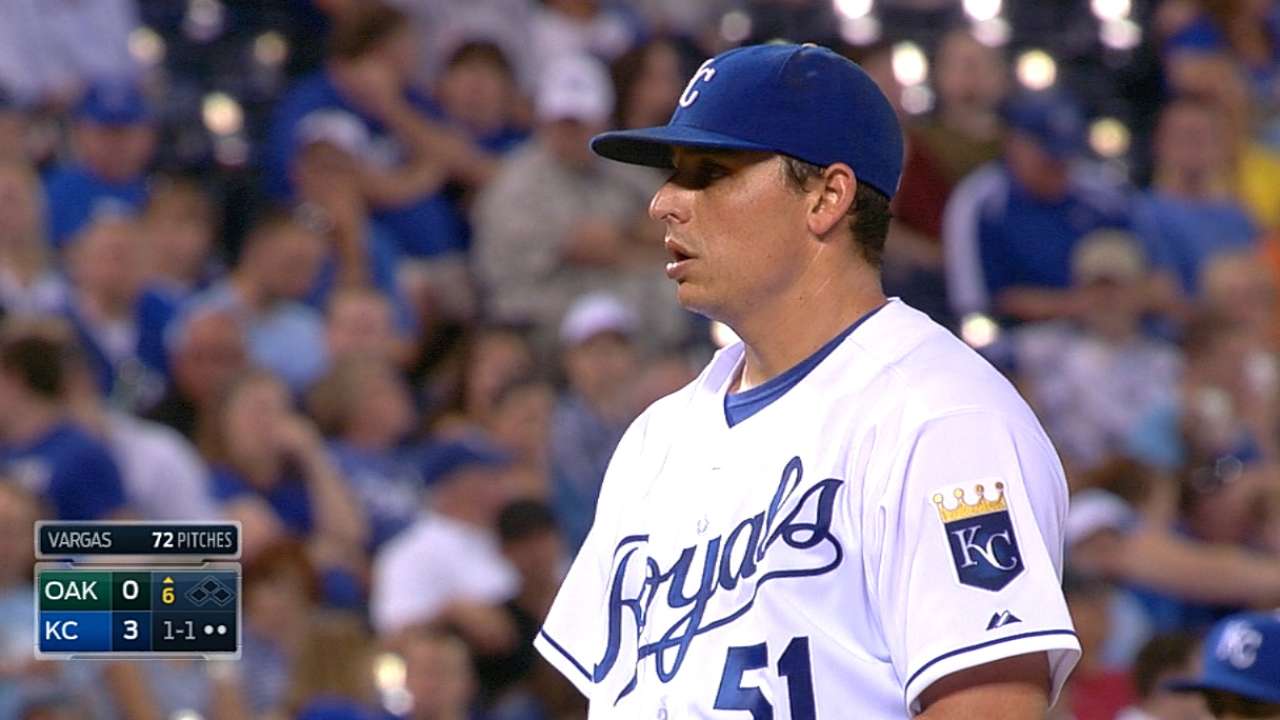 KANSAS CITY -- Jason Vargas got the Royals back on the winning path -- and in a big hurry.
Vargas mowed down the Oakland Athletics with a complete-game three-hitter, 3-0, on Wednesday night to keep Kansas City in first place and keep 21,099 fans at Kauffman Stadium in a happy zone.
Just three starts removed from an appendectomy, Vargas dispatched the A's with surgical precision. After giving up a third hit to start the second inning, he induced a double play to begin a string of 23 consecutive batters retired -- right down to the last out of the game.
"We made an adjustment," Vargas said. "We saw that they were kind of trying to lean out and get themselves a pitch out over the plate or be able to stay on that changeup that's away. We threw some good ones and they got some hits or put them in play."
So, he began throwing more fastballs with great effect.
Vargas cut down the A's in 2 hours and 6 minutes, the Royals' swiftest game since 2011.
"He got back to being who he was. We thought it would take him two starts before he got sharp again and, luckily, it proved to be right," Royals manager Ned Yost said. "He was just dynamic, he was in complete control, he was commanding both sides of the plate. His changeup was unbelievable."
The A's had snapped Kansas City's eight-game winning streak on Tuesday night. But this was the Royals' 17th victory in their last 21 games since July 22.
The Royals have won four out of six games from Oakland, possessor of the Majors' best record (73-47), and can win this four-game series on Thursday afternoon.
Vargas didn't need a lot of offense, but the three runs he got were sufficient to let him finish the game and rest the bullpen.
Omar Infante hasn't hit a lot of home runs this year but when he has, it's been a good sign for the Royals. He's banged six so far and the team is 6-0 in those games.
No. 6 came in the third inning, a two-run shot off left-hander Scott Kazmir. Infante dropped a 2-0 fastball into the left-field bullpen, also scoring Nori Aoki, who had singled.
The homer was Infante's first since June 27 against the Angels, 149 at-bats ago.
"Yeah, long time, huh?" Infante said. "I feel happy because I made good contact on that pitch."
Christian Colon, in the lineup at third base for Mike Moustakas, opened the Royals' fifth inning with a safe bunt to third base. Aoki's sacrifice moved him along as did Infante's infield hit and Salvador Perez's sacrifice fly.
That was the third run which meant that even though the bullpen backend of Kelvin Herrera, Wade Davis and Greg Holland was ready to go, they could get a second straight night off. Always a good thing.
"Anytime you've got a three-run lead, Vargy's throwing good and the three guys we've got in the 'pen are down there, you feel pretty good," Yost said.
This was the third complete game by KC starters in the last seven games. Jeremy Guthrie and James Shields also went the distance. Vargas, with his 97 pitches, was the most efficient.
To put that in perspective, those were the fewest pitches by a KC pitcher in a nine-inning, complete-game shutout since Tim Belcher dispatched Toronto with 90 pitches on Sept. 2, 1996.
"Vargas just does a good job of pitching to all quadrants of the zone and using all of his pitches all the time," said the A's Josh Donaldson, who had a double in the first inning. "He's one of those guys it's hard to just sell out on a certain pitch. Just does a good job of manipulating the zone, and when he's on, he's tough."
There was great jubilation earlier in this Royals season when, in June, they reeled off a 10-game winning streak. But they immediately faltered and lost seven of their next nine games.
Yost doubts that will happen again.
"This is a total different feeling. It's hard to explain why," he said. "There's just a real energy -- and I'm not saying there wasn't energy then -- and a real sense of confidence inside that locker room. Like they're not going to let anything deter them."
The Royals have won six consecutive series -- over Chicago, Cleveland, Minnesota, Oakland, Arizona and San Francisco. Now, a seventh is possible, again over the A's, on Thursday.
"We went into the series at Oakland and it looked like a daunting task. Three tough games against that pitching, that team that has that defense," Yost said. "Arizona's been tough on us in the past, you know the Giants are tough and then back four with these guys. That's a tall order."
Perhaps it can be filled.
Dick Kaegel is a reporter for MLB.com. This story was not subject to the approval of Major League Baseball or its clubs.