MLB.com Columnist
Bill Ladson
With Fister dealing, Nats power past Mets
Taylor shines in debut, hitting one of Washington's four HRs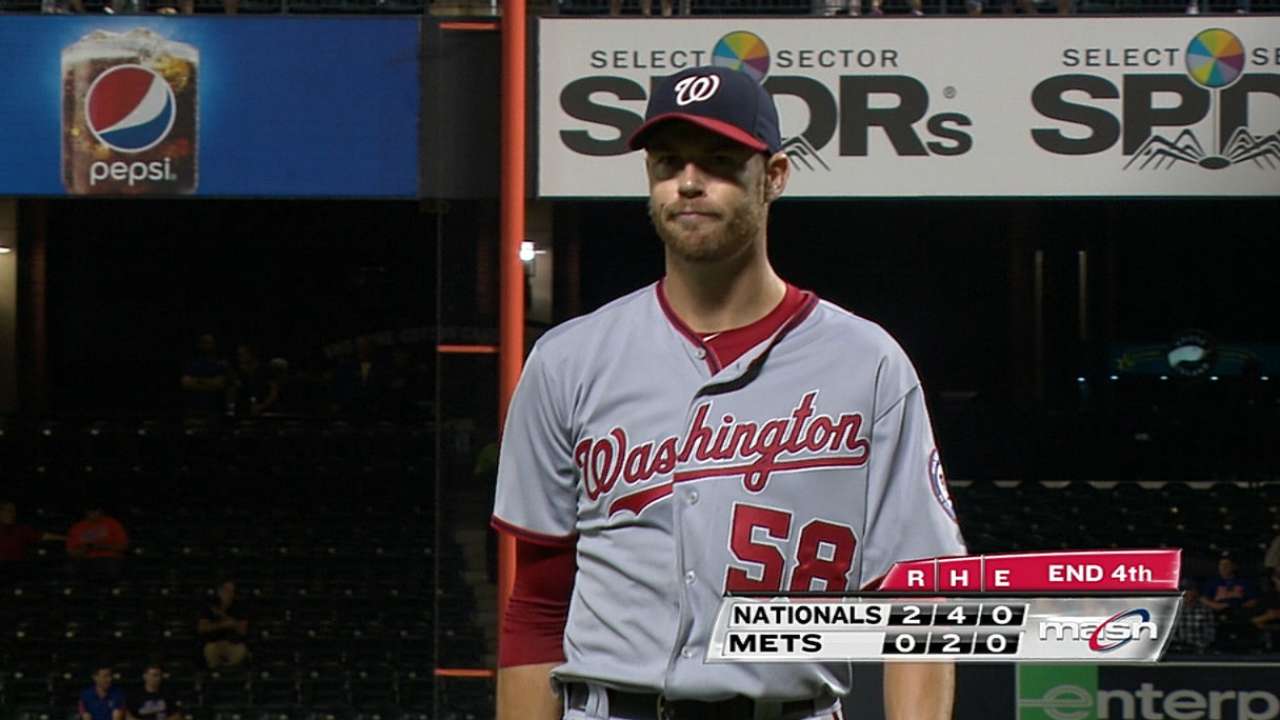 NEW YORK -- Right-hander Doug Fister showed Tuesday night why he is the ace of the Nationals staff. He pitched seven shutout innings and guided the team to a 7-1 victory over the Mets.
Washington now has a five-game lead over the Braves in the National League East race. The Dodgers defeated the Braves, 4-2, at Turner Field.
Fister, who now has a team-leading 12 victories, started the game by retiring nine of the first 10 hitters he faced. After that, he allowed six hits the rest of the way and struck out a total of three batters. Fister said location was the reason he was successful on this night. The ball was down for the most part.
Even more impressive, nothing affected Fister -- not the rain nor the 25-minute delay in the third inning.
"Doug throws what he wants when he wants and where he wants," Mets manager Terry Collins said. "So when you go up there, and you're looking at our lineup [batters] 4-9, they're all pretty young, and he can carve you up. And he does."
However, Fister refuses to pound his chest on what he has accomplished this year. Instead, he gives credit to his teammates. After his disastrous debut with the Nationals on May 14 against the Athletics, Fister is 12-2 with a 2.01 ERA.
"This is a team game," Fister said. "I can only do so much. I can only release the ball. After that, everybody else has control. That's what we do. We're a team here. That the kind of atmosphere, the kind of mentality [we have]. That's the precedent that we set."
Asked if Fister was the ace of the staff, manager Matt Williams said, "I think on any given day, any of [of our pitchers] could be, but Doug just continues to go out there. He is given the ball and does well. That's good for us. He has been throwing the ball really well."
New York had chances to score against Fister in the sixth and seventh innings, but they couldn't get the job done.
In the sixth inning, Daniel Murphy and David Wright singled with one out, but Lucas Duda and Travis d'Arnaud both flied out to end the threat. An inning later, Juan Lagares and Wilmer Flores also singled with one out, but pinch-hitter Kirk Nieuwenhuis and Curtis Granderson followed with flyouts.
It marked the 11th time in 17 starts that Fister has pitched at least seven innings.
"Overall, there were some good things and some bad things. The best thing was our offense came out and opened things up early," Fister said. "Our defense was right on par tonight. That's what we look at -- playing good baseball together. We are working together and sacrificing the things we need to do."
The Nationals gave Fister plenty of run support starting in the second inning off right-hander Rafael Montero. On the first pitch, Bryce Harper hit a long two-run homer over the left-field wall.
Washington then played home run derby in the sixth. Anthony Rendon led off with a homer. After Adam LaRoche drew a walk, Ian Desmond swung at a 2-0 pitch and hit his 20th home run of the season, over the left-field wall. It's his third straight season with 20 homers.
"It's difficult to do," Williams said about Desmond's accomplishment. "He also steals some bases for us and his defense has been fantastic. So, he is certainly one of our leaders on the club and he wants to play every day."
Three batters later, with Carlos Torres on the mound, Michael Taylor, making his Major League debut and filling in for the injured Jayson Werth, hit a two-run shot over the right-field wall to give Washington a seven-run lead. Taylor went 2-for-4.
"It's fantastic. He has worked really hard. He has taken all the BP and worked his way to get here," Williams said. "It's gratifying for everybody. The bench was excited on the first base hit, and the homer, even more excited. Good for the kid and certainly a memory he'll remember forever."
Taylor was humble and shy when he was approached by the media after the game. Behind him were the two balls in his locker -- one for his first base hit, which was a single to center field, and the home run ball.
Taylor admitted that he was nervous before the game. After he collected the first hit, Taylor said he felt numb. But he was able to slow things down and enjoy the rest of the game.
"I was trying to breath and I was trying to relax," Taylor said. "Before the game, a lot of guys were talking about how it was the same game. Go out there and do the same thing and just enjoy the moment."
Did it feel like the same game for Taylor?
"A little bit. It's definitely a bigger stadium. It's pretty much the same," Taylor said.
Ross Detwiler pitched the final two innings for Washington and allowed a run on two hits.
Bill Ladson is a reporter for MLB.com and writes an MLBlog, All Nats All the time. He also could be found on Twitter @WashingNats. This story was not subject to the approval of Major League Baseball or its clubs.