Montero unable to contain Nats in spot start
Rookie allows five runs on three HRs as Fister stifles Mets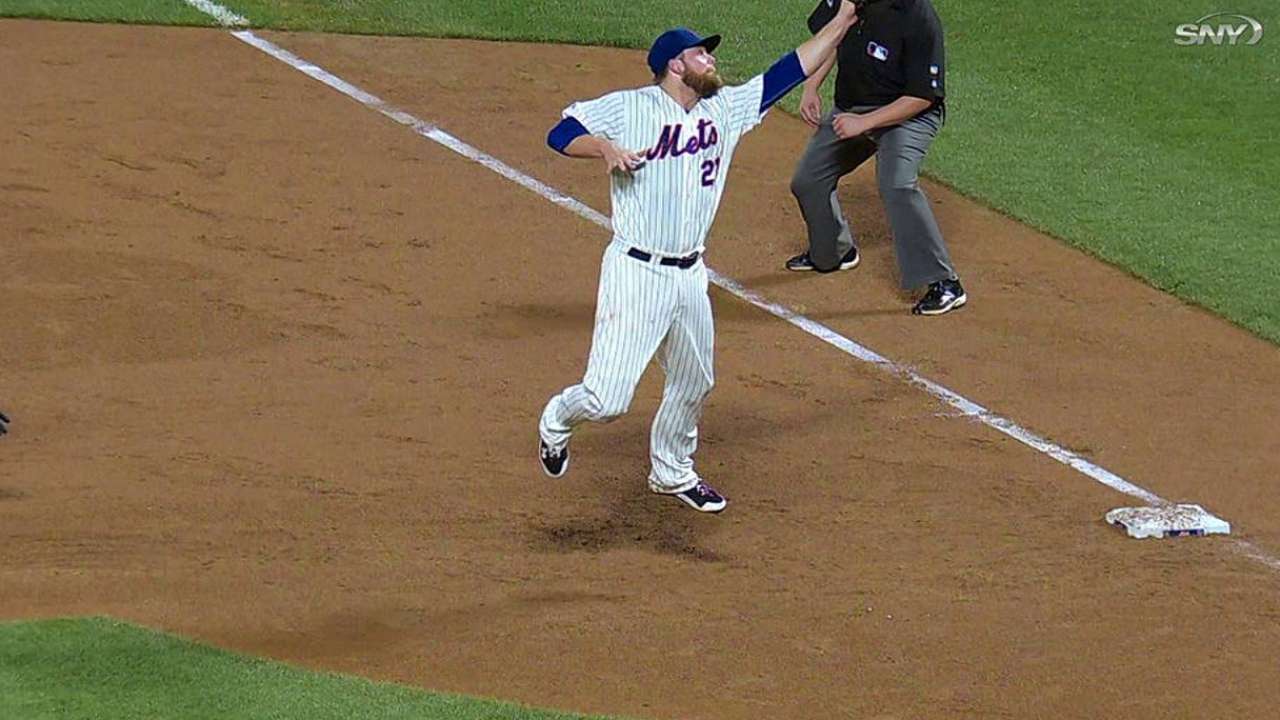 NEW YORK -- One of the more popular notions surrounding the Mets of late is that their pitching depth is an organizational strength, and all of the questions that come along with it are generally positive -- who should be in the starting rotation next season, who could the club package for a big bat, who needs more Minor League seasoning. It's easy to get excited about.
And then there are weeks like this one and nights like Tuesday to provide a little perspective. On the heels of Jeremy Hefner's setback from Tommy John surgery and the news that Matt Harvey's progression from the same operation might be slowed, Rafael Montero -- representing the Mets' top spot-starter option in place of Jacob deGrom -- provided another reminder that Triple-A success doesn't necessarily materialize immediately in the Majors.
Montero allowed five runs in five innings as the Nationals won, 7-1, at Citi Field in the opener of the three-game series between the National League East rivals. Three of Washington's seven hits against the rookie right-hander landed beyond the wall in left field.
"They're very concerning," manager Terry Collins said of the homers. "You have to keep the ball in the ballpark. I know he's not afraid to throw it over the plate, but [Montero has to] make better pitches."
After a rough start -- five of the first 11 Washington batters reached base -- Montero had seemingly settled down when he retired the first eight hitters following a 25-minute rain delay in the third inning. That streak ended when Anthony Rendon pulled a down-and-in slider over the wall in left to lead off the sixth. Two batters later, Ian Desmond did the same -- another slider, this one a little more over the plate -- to extend Washington's lead to 5-0 and end Montero's night.
Desmond's blast was the eighth homer Montero has allowed in 25 innings in the Majors. He allowed half that many in 74 innings with Triple-A Las Vegas.
"The batters here are a little bit better," Montero said through an interpreter. "I wouldn't say anything was different in the sixth inning, other than that slider I threw [to Desmond]. It just kind of landed somewhere else than where I wanted it to."
Montero's outing, his first in the Majors since a four-start stint with the big league team in May, served as another indication that sometimes a club's pitching depth might not be as deep as it seems.
Tuesday afternoon, general manager Sandy Alderson made note of the Mets' eight candidates for the starting rotation heading into Spring Training 2015. But with Montero's ineffectiveness, plus unanticipated injuries like deGrom's rotator cuff tendinitis, it's almost as if "pitching depth" is an oxymoron.
"That's why you stockpile pitching. Because you can't ever have enough," Collins said Tuesday afternoon. "There's a lot of talk about dumping our young pitching. You better have some young pitching down the road because when it starts breaking down and it's all gone, we're going to regret it."
The Mets offense didn't help matters Tuesday. It fell victim to Doug Fister and his sinker for the second time in a week, managing seven hits but failing to advance a runner past second base in Fister's seven scoreless innings. That came fresh off Fister's 7 1/3 innings of one-run ball against the Mets last Wednesday.
"Doug throws what he wants when he wants and where he wants," Collins said. "So when you go up there, and you're looking at our lineup [batters] 4-9, they're all pretty young, and he can carve you up. And he does."
Added Fister: "The best thing was our offense came out and opened things up early. Our defense was right on par tonight."
Eric Campbell helped the Mets break through in the eighth when he lifted a pinch-hit sacrifice fly to center to plate Daniel Murphy.
It was hardly a consolation given that Bryce Harper did more damage with one swing of the bat in the second inning. With Desmond on first, Harper took a first-pitch fastball on the outside edge of the plate the other way for a fly ball that carried and carried until it landed in the fifth row of seats in left.
It proved to be a sign of things to come for Montero.
"You see he's got the weapons that he can be successful here with," Collins said. "But he's got to locate them better, he's got to learn when to use them, mix them up a little bit. … When you're throwing it in the middle of the plate and you're throwing it up like that, you're going to get hit."
Tim Healey is an associate reporter for MLB.com. This story was not subject to the approval of Major League Baseball or its clubs.