Haren keeps up turnaround against Braves
Dodgers right-hander allows two runs; Kemp plates go-ahead run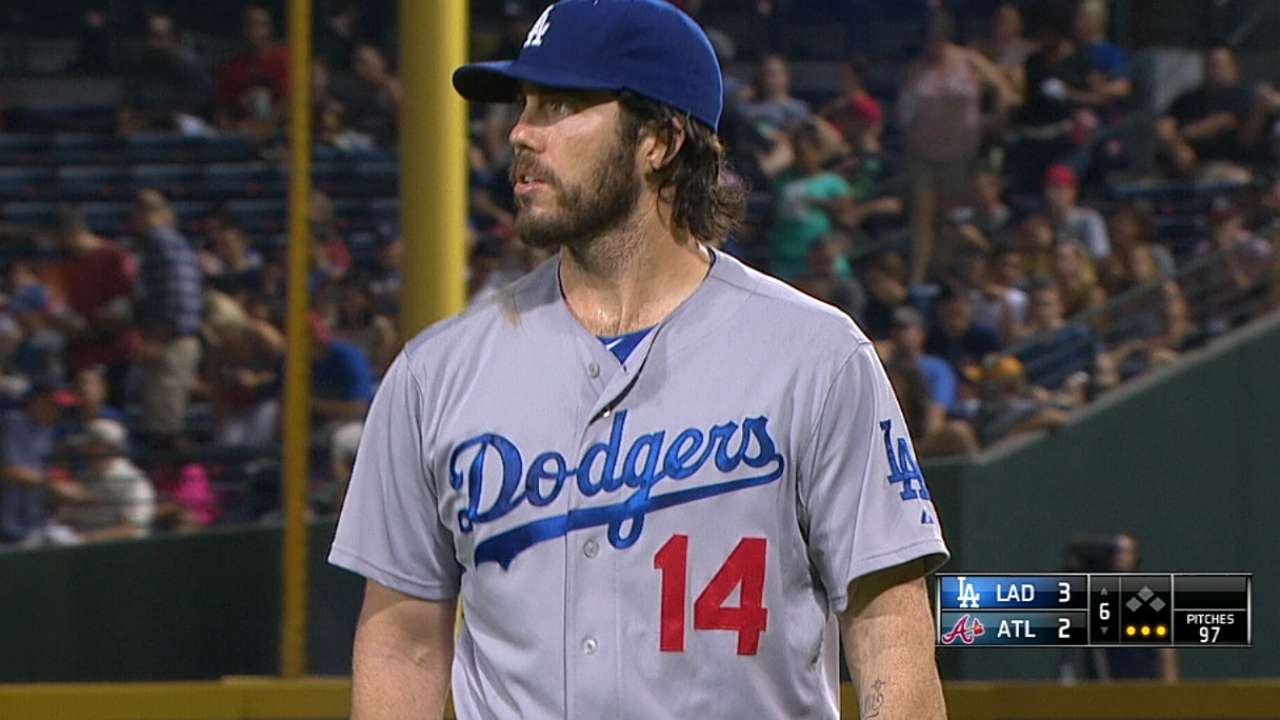 ATLANTA -- On Aug. 1, what had looked like a promising comeback season for Dan Haren through the season's first two months was in shambles.
He had just been shelled by the last-place Cubs, the latest blowout in a stretch during which he had a 6.52 ERA and only two quality starts in 11 outings.
His 4.76 ERA was on track to be his worst since he compiled a 5.08 mark during his rookie season in 2003, as Haren had given up 26 earned runs on 36 hits in his past 23 1/3 innings over a stretch of five starts dating back to his first turn of July.
Haren credited Dodgers manager Don Mattingly for helping him get through the prolonged slump.
"He pumped me up, though, a little bit," Haren said of his skipper. "He said I'd done a good job for the team, I got a bunch of wins and they feel good with me. That felt good. Going through a rut like I was, I was pretty much off the Internet and ESPN and MLB. There's no need to see any negative reinforcements. It was good to feel something positive from him."
So when the right-hander limited the Angels to one run in 7 1/3 innings on Aug. 6, and then held the Braves to two runs in six frames as part of the Dodgers' 4-2 win on Tuesday night at Turner Field, Haren was obviously relieved.
"I felt definitely the heat of not doing well for so long," Haren said. "The self-doubt is going to creep into my mind. It was just weird how it happened. I was unsure how many starts left I would have, but it was pretty bad coming to the field and having so many bad starts in a row. How many starts did I have left? Who's to say if maybe I did bad in Anaheim, I'd throw out of the bullpen. I don't know."
"The one thing you can't ever question is, 'Is Danny going to be ready? Is he going to give you everything he's got?'" added Mattingly, who said the Dodgers never discussed removing Haren from the rotation. "It's going to be everything that Danny has when he pitches. That's something you can always be confident in."
Haren fanned seven and earned his 10th victory, marking his 10th consecutive season with double-digit victories thanks to an offense that singled its way to victory. The first-place Dodgers notched nine singles, upping their total this series to 19.
The biggest was a two-out bloop by Matt Kemp in the top of the fifth that found the leather of Tommy La Stella's glove before hitting the outfield grass, bringing home Carl Crawford for the go-ahead run.
Darwin Barney gave the Dodgers an early lead with an RBI single in the second, but Haren surrendered an RBI double to Justin Upton in the third and a solo homer to B.J. Upton in the fourth that put the Braves ahead entering the fifth.
B.J. Upton is 4-for-22 with four homers against Haren since the beginning of 2008.
But much like Kevin Correia sparked the Dodgers' decisive three-run sixth on Monday, Haren followed suit with a one-out single in the fifth on Tuesday. He went to third on a Crawford double before scoring the tying run on a Yasiel Puig groundout. Kemp followed with his RBI bloop to saddle Mike Minor with the loss.
Minor gave up three earned runs on eight hits over 6 2/3 frames, giving way to an Atlanta bullpen that let another run cross in the ninth courtesy of an Emilio Bonifacio error that allowed Barney to reach second before he advanced to third on an Adrian Gonzalez groundout and scored on a David Hale wild pitch.
"I've been watching this team from the other side for a long time and we're very versatile on offense," Barney said. "A lot of guys can hit the long ball obviously, and when a guy is pretty effective [like Minor], we got our hits and got the job done.
Nursing a 3-2 lead, the bullpen stretched but never broke as Los Angeles collected its 10th victory in its past 13 meetings with Atlanta, including last year's National League Division Series. Kenley Jansen slammed the door for his 33rd save.
Mattingly summed it up simply: "Happy with that game tonight."
Joe Morgan is an associate reporter for MLB.com. This story was not subject to the approval of Major League Baseball or its clubs.