Rockies' bats quiet behind solid Flande
Rookie southpaw goes six; Dickerson homers in third straight game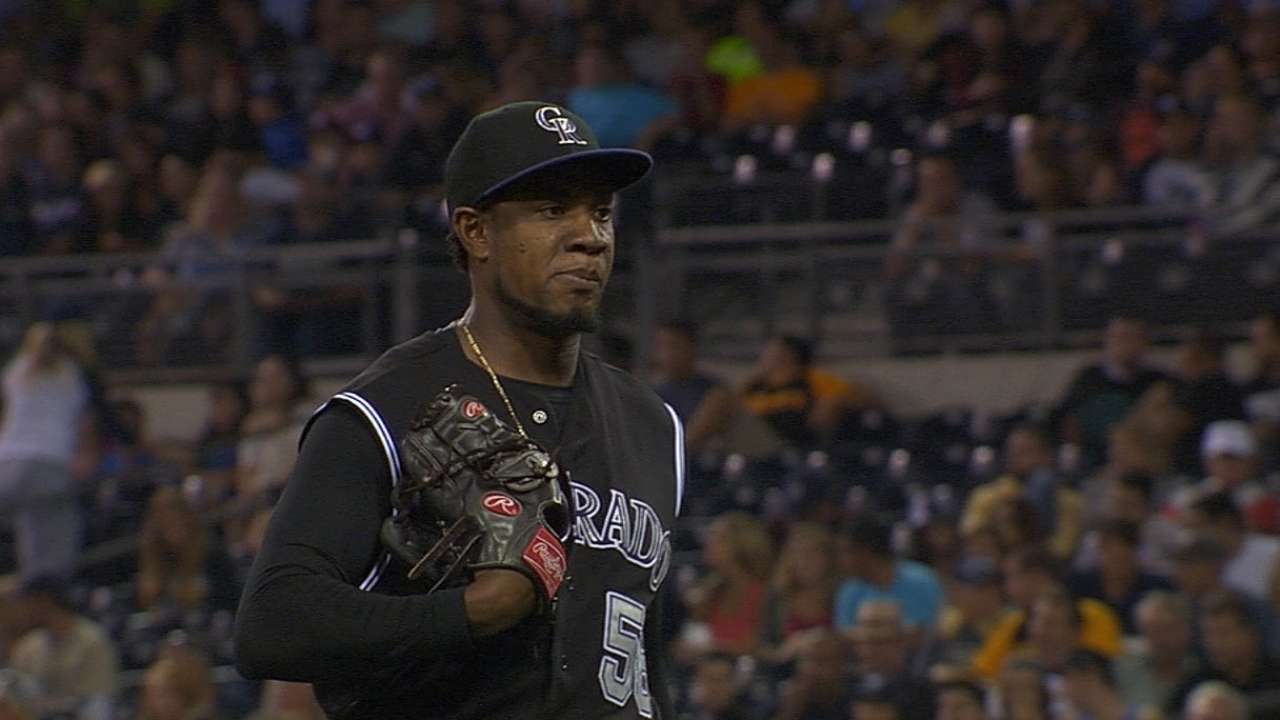 SAN DIEGO -- On the road, the Rockies are filling the unwitting purpose of helping opposing starters end slumps. Then again, when a team has the worst record in the Majors, many opponents' skids end.
Padres right-hander Odrisamer Despaigne struck out eight in seven innings on Tuesday night for his first victory in more than a month, a 4-1 San Diego win at Petco Park in front of 27,188.
The loss -- the Rockies' 12th in their last 15 games -- dropped the Rockies to a Majors-worst 46-73. The Rangers entered the night tied at baseball's bottom with the Rockies, but Texas pushed ahead with a 3-2 victory over the Rays in 14 innings.
Despaigne, who had not won since June 29, became the second starter this trip to end a drought against the Rockies. The D-backs' Trevor Cahill, who had won just once previously this season and hadn't won as a starter since last Sept. 21, took the decision in a 14-4 beating of the Rockies on Friday night.
But the Rockies have enough problems without worrying about a bad run by an opposing pitcher. They would have suffered their eighth shutout of the season had Corey Dickerson not extended his homer streak to three games with his 16th of the season, a solo shot off Dale Thayer with one out in the ninth.
Tuesday's defeat featured some of the poor execution and weak offense that's to blame for the current 3-22 road stretch. The Rockies struck out eight times against Despaigne, who gave up five hits and two walks, and fanned 10 times in all.
The Rockies also wasted a decent performance from lefty Yohan Flande, who gave up two runs and four hits in six innings.
"We've got to focus on putting a total game together -- putting together nine innings," Rockies manager Walt Weiss said. "It's been tough to do."
Despaigne, who mixed a decent fastball with a slow curve, made it difficult on the Rockies' hitters.
"He [Despaigne] had much better use of his fastball and that set up his other pitches. I think that made the Rockies more susceptible to other pitches," Padres manager Bud Black said.
The Rockies' offensive frustration reached head-scratching proportions in the top of the eighth against reliever Kevin Quackenbush. Padres third baseman Chris Nelson -- a one-time Rockies top Draft pick -- and first baseman Tommy Medica each tumbled into the stands while corralling foul pops by Charlie Blackmon and Josh Rutledge, respectively.
But the Rockies had their chances.
They had runners at second and third with two outs in the first before Dickerson struck out swinging. Dickerson singled with Justin Morneau at second and one out in the fourth, but the Padres pulled off a rundown that erased Morneau between third and home, then Wilin Rosario lined out.
Dickerson said he was fooled when the throw from the outfield overshot the cutoff man but Padres catcher Yasmani Grandal rushed into the infield and fielded that throw.
"I headed toward second, but the catcher came up and made a good play," Dickerson said. "He cut the ball off before the ball made it home and it kind of threw us both off. 'Morney' thought home plate was open but the pitcher came up and covered.
"It was a bad situation. It wasn't good baserunning on my part. We've got to work at that, too."
Morneau singled and Nolan Arenado walked with one out in the sixth, but Dickerson grounded to second and Rosario fanned.
Morneau and Dickerson each at least extended their hitting streaks to seven games.
Flande, who forced 12 ground ball outs, never gave up the big hit. He also added his first Major League hit, an infield single in the fifth.
Alexi Amarista beat out a potential double play grounder with the bases loaded and one out in the Padres' second, and Abraham Almonte knocked a sacrifice fly in the fourth after Rymer Liriano's single off Flande's glove and Yasmani Grandal's hit-and-run single.
Nelson added a two-run single off Tommy Kahnle with two outs in the eighth.
Thomas Harding is a reporter for MLB.com. Read his blog, Hardball in the Rockies, and follow him on Twitter @harding_at_mlb. This story was not subject to the approval of Major League Baseball or its clubs.