Halos' seven-run sixth sends Phillies reeling
Calhoun's homer ignites rally; Wilson gets back in win column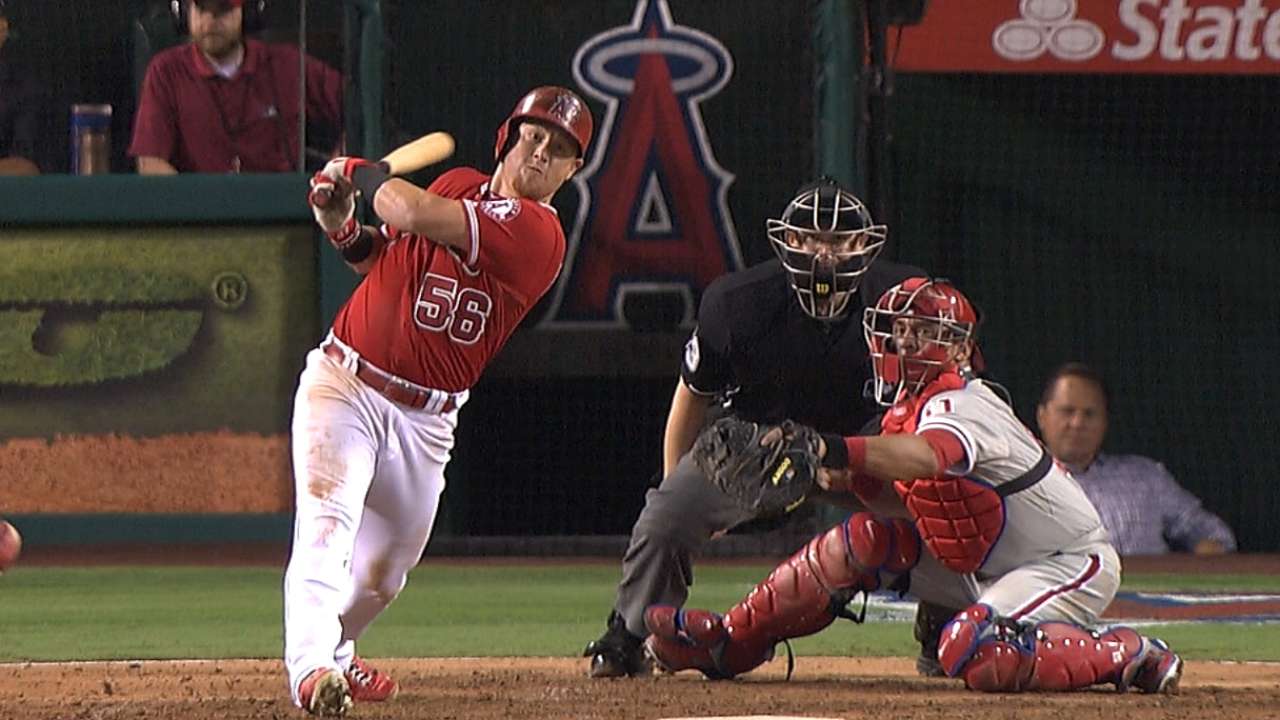 ANAHEIM -- An underperforming offense notched a seven-run frame and a struggling starting pitcher, C.J. Wilson, gave up only two runs in 6 2/3 innings, leading the Angels to a 7-2 victory at home on Tuesday night.
So what if it came against the last-place Phillies.
The Angels' bats had gone cold since the All-Star break, sporting the third-lowest OPS and runs per game in the Majors in the second half while going 3-for-39 with runners in scoring position over their previous six games. And Wilson entered his Tuesday outing with an 11.03 ERA over his last six starts, giving him a 4.82 mark that was the third-highest among qualified American League pitchers.
This was the kind of night they needed.
"There were definitely some positives tonight," Angels manager Mike Scioscia said after his team's eighth consecutive win against the Phillies. "Great inning, with a lot of two-out hits. And C.J., that's in line with the way he can pitch and where we need him to be. Hopefully he's turned the corner on some things."
The Angels won for the 12th time in 24 second-half games, and only the second time in their last seven contests. They remained 3 1/2 games back of the AL West-leading A's, thanks mostly to a bottom of the sixth that saw them send 11 batters to the plate -- more than they had in any other inning since July 5.
So what if it was made possible by a defensive blunder from right fielder Marlon Byrd.
Former Angels starter Jerome Williams, 11 days removed from giving up 10 runs in what would be his final start for the Rangers, shut out the Angels through the first five innings. Kole Calhoun then led off the sixth with a homer to cut the Angels' deficit in half, Albert Pujols hit a one-out single, Josh Hamilton followed with a four-pitch walk against lefty Antonio Bastardo and Howie Kendrick laced a two-out RBI single to tie it at 2-2.
The next batter, pinch-hitter Collin Cowgill, skied a fly ball near the corner in right field. Byrd charged toward foul territory, but he overran the ball and watched it go for the ground-rule double that put the Angels (69-49) ahead for good.
"I just missed it," Byrd said, prompting a question of whether he lost it in the Angel Stadium lights.
"Nope. Just missed it."
David Freese then added a two-run double, Chris Iannetta and Calhoun notched back-to-back RBI singles, and the Angels tied their game high in runs since the All-Star break in just one inning.
So what if it's only one night.
"This is a talented offense up and down," Calhoun said. "To come up a little short, like we have been lately -- it's going to turn around. It's a big inning for us. Hopefully we keep it going."
Ten days after lasting only 1 1/3 innings in his return from the disabled list, and five days removed from a four-walk, four-run, 5 2/3-inning outing against the Red Sox, Wilson threw first-pitch strikes to 19 of the 28 batters he faced, trusted an increasingly effective changeup and rode better command to his first quality start since June 19 and his first win since June 24.
So what if he wasn't necessarily dominant.
For the first time in a long time, the 33-year-old left-hander didn't overanalyze the matchups, or get caught up in precision, or think about all the mechanical adjustments he had been working on.
He just threw.
"You care," Wilson said, "so if you're giving up hits and you're walking guys, or guys are hitting little bloopers and things like that, you have a tendency as a player to try to do a little bit extra.
"I just think that if I stay with my eyes on the target the whole way, then the ball's going to go where I want it to go. And if the ball goes where I want it to go, then it's going to be good. Because I know exactly what my stuff does; it's just a matter of trying to keep it where I want."
Alden Gonzalez is a reporter for MLB.com. Read his blog, Gonzo and "The Show", and follow him on Twitter @Alden_Gonzalez. This story was not subject to the approval of Major League Baseball or its clubs.