Williams' solid debut marred by Bastardo's hiccup
Phillies' newest right-hander exits with a lead, but bullpen falters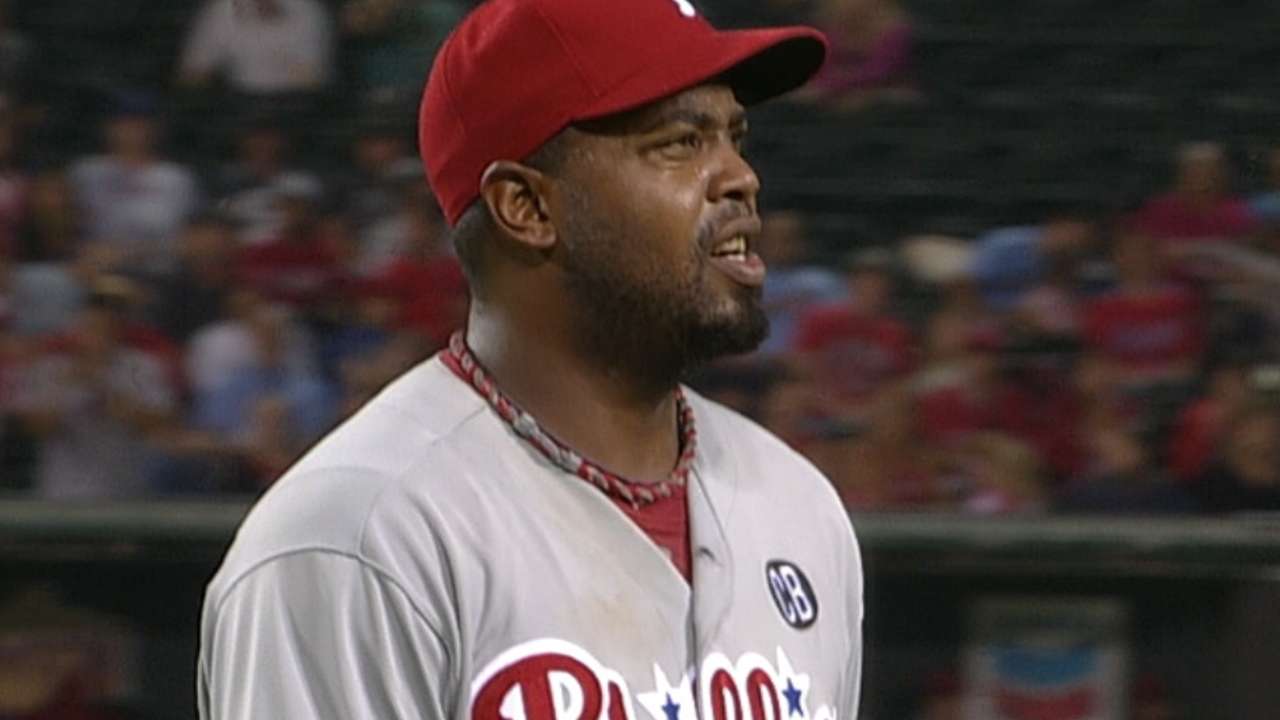 ANAHEIM -- Jerome Williams missed a call Sunday from the Phillies because he was floating along a lazy river at a water park in Texas.
Williams, who was celebrating his son's birthday, eventually reached Phillies general manager Ruben Amaro Jr. He had been claimed off waivers from the Rangers and the Phillies needed him to pitch Tuesday night in Anaheim. Williams hopped on a flight that night to San Diego, where he lives in the offseason. He threw a bullpen there on Monday and on Tuesday drove to Angel Stadium, where he joined his new team and pitched well, but the bullpen failed him in spectacular fashion in a 7-2 loss to the Angels.
Williams pitched for the first time in 11 days and allowed two runs on five hits and one walk while striking out three in 5 1/3 innings in his Phillies debut. He exited the game with a 2-1 lead in the sixth when left-hander Antonio Bastardo replaced him with a runner on first with one out. Bastardo used his first four pitches to walk Josh Hamilton, who had hit just .154 with no home runs against lefties since early July, and allowed the inning to spiral out of control from there as the Angels scored seven runs to take a five-run lead.
"The leadoff walk by Bastardo to Hamilton played big in that," Phillies manager Ryne Sandberg said.
Bastardo has walked the first batter he has faced in 11 of 53 (20.8 percent) appearances this season. He has walked 18 of the other remaining 171 (10.5 percent) batters he has faced. His knack for getting himself into early trouble might be one reason the Phillies could not move him before the July 31 non-waiver Trade Deadline.
It also is why Bastardo started the season as the team's setup man, but has fallen on the depth chart with the emergence of Ken Giles, Jake Diekman and others.
"I don't know if he tries to be too fine when he first gets out there," Sandberg said. "In this case, that's the guy [Hamilton] he wants to go after."
Bastardo can be tough to trust in a big spot because of his Jekyll and Hyde tendencies.
"He's got to rise to the occasion," Sandberg said.
Bastardo typically is not available for comment after he struggles, and Tuesday was no exception.
But it will be interesting to see what happens with Williams going forward. The Phillies traded Roberto Hernandez to the Dodgers on Thursday for two players to be named or cash. Sean O'Sullivan took his spot in the rotation that night, and he allowed five runs in six innings against the Astros.
O'Sullivan was designated for assignment when the Phillies claimed Williams off waivers from the Rangers, for whom he posted a 9.90 ERA in two starts.
Williams, who allowed a solo home run to Kole Calhoun to start the sixth, could remain in the rotation the rest of the season with no prospects knocking at the door. Double-A left-hander Aaron Nola, the organization's first-round pick in this year's First-Year Player Draft, will be a rotation candidate next season, but he has just seven Minor League starts under his belt. Amaro called Nola's chances to be a September callup "improbable." Ideally, Jesse Biddle would have been in the big leagues at this point, but he took a considerable step back this summer when the Phillies placed him on the inactive list for what they called a "mental break."
Biddle just returned to the mound with Class A Clearwater.
But assuming the Phillies don't acquire any outside talent and don't promote someone from the farm system to take his place, Williams will get more starts.
"It's just trying to help in any way possible," Williams said. "I don't think it's like an audition or anything like that. The only thing I'm thinking about is performing. Whatever the team asks me to do I'll do."
The Phillies built a 2-0 lead with Ryan Howard's sacrifice fly in the fourth and Marlon Byrd's one-run single in the sixth. But Bastardo ignited a recently struggling Angels offense, wasting Williams' decent first effort.
Todd Zolecki is a reporter for MLB.com. This story was not subject to the approval of Major League Baseball or its clubs.