White Sox prevail on Beckham's 10th-inning RBI
Sale whiffs 12 over eight innings in no-decision; Dunn hits two-run HR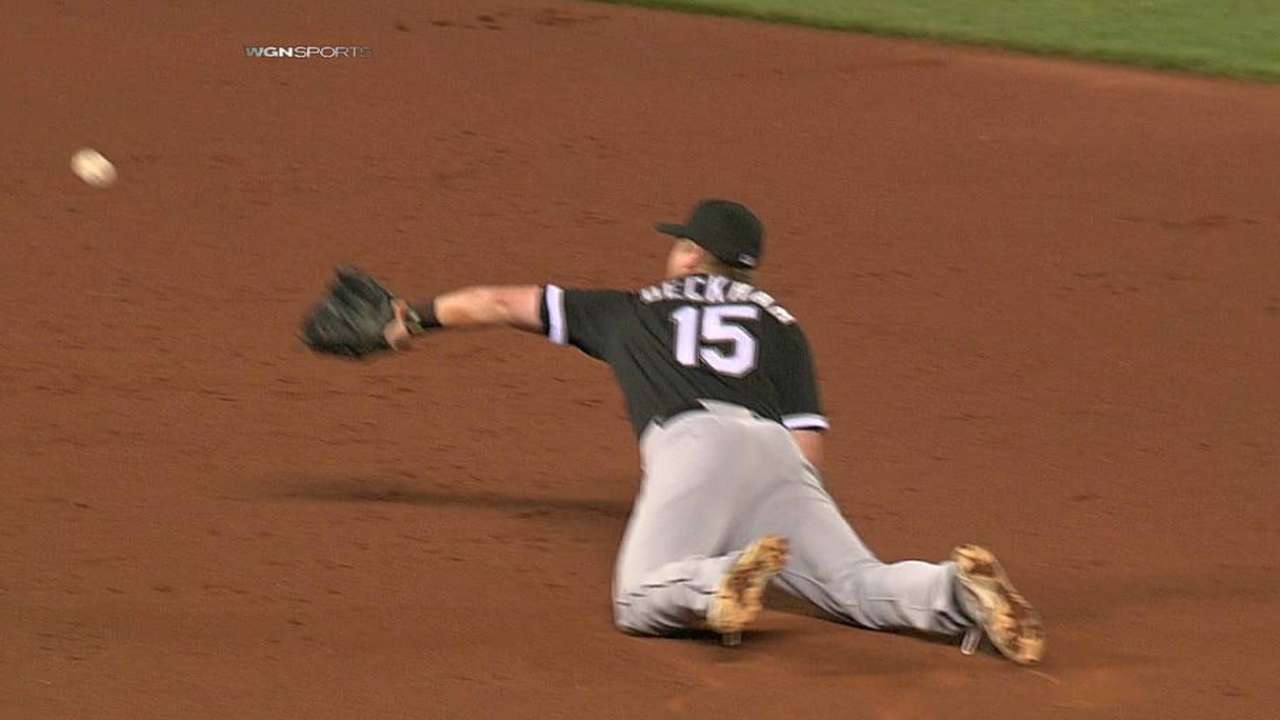 SAN FRANCISCO -- After each start this season, Chris Sale has been assigned a specific word to mention during postgame interviews. Tuesday's was "susurration". For the game's hero, Gordon Beckham, the operative word was "fun".
It took one inning more than it appeared it would, but Beckham saved the White Sox on Tuesday night. His sensational diving stop in the ninth inning temporarily preserved a lead. After the Giants proceeded to tie the game one batter later, he put Chicago ahead for good with an RBI single in the top of the 10th as the White Sox defeated the Giants, 3-2, at AT&T Park.
After seeing his batting average plummet nearly 80 points in the last two months, it's easy to understand why Beckham used the word multiple times to describe his performance Tuesday night -- it'd been a while since he's had much on the diamond.
"I'll get satisfaction out of anything positive after my last couple months," Beckham quipped. "It was fun to make that play, and I wish it would've ended there. To get the hit in the tenth was just as much of a thrill. They were both awesome."
After back-to-back-to-back singles off Jake Petricka loaded the bases with nobody out in the ninth inning of a 2-0 game for Joe Panik, the Giants' second baseman drilled what looked like a game-tying grounder in Beckham's direction. AT&T Park's thick infield grass slowed the ball just enough to allow Beckham to make the fantastic diving stop, and then from the ground flip the ball to Alexei Ramirez to start a double play. Giants manager Bruce Bochy called it one of the best he's ever seen.
"As soon as he hit it, I knew I could," Beckham said when asked if he thought he could snag the grounder. "There was definitely a chance I wasn't going to be able to get to it, but I was able to glove it. It was just reaction."
A half-inning later, with two outs and Moises Sierra on third, Beckham responded to Brandon Crawford's ensuing RBI single by knocking an 0-1 offering from Santiago Casilla into left field to secure the victory.
"(Jordan Danks and Sierra) were able to get on and force the issue; luckily, I was able to come through," Beckham said. "It was fun."
That's not exactly the word Giant hitters would use to describe facing Sale.
In his second start against them this season, Sale flummoxed the Giants for eight shutout innings. He allowed just four hits, while reaching double-digit strikeouts (12) for the sixth time in 19 starts this season and sixteenth time in his career.
With two outs in the top of the first, Adam Dunn blasted a 91-mph fastball from Giants right-hander Ryan Vogelsong into the left-center bleachers to provide Sale's only run support. The two-run shot wouldn't have been possible if not for Jose Abreu, whose hustle one batter earlier allowed him to beat what would've been an inning-ending double-play ball.
But, for the fourth time this season, Sale eventually left a game with a lead just to be saddled with a no-decision. Petricka's blown save was his third in 11 attempts and the team's 18th, which is tied for the Majors' third-highest mark.
"We ended up winning, so it's not who gets it," Sale said, "it's that we get it."
It's a game that last year's White Sox wouldn't have won, according to Beckham. Unlike last year, the 2014 South Siders -- an average but resilient bunch -- didn't get the here-we-go-again feeling after the bullpen's latest meltdown. Manager Robin Ventura agreed.
"These guys, offensively, they compete," Ventura said. "We find a way to just fight back, and tonight it was some guys you normally don't hear about."
For Beckham in particular, that was a fun change.
Ryan Hood is an associate reporter for MLB.com. This story was not subject to the approval of Major League Baseball or its clubs.