After brushback pitch, Cespedes tees off
Slugger belts two-run, 433-foot home run to center in eighth inning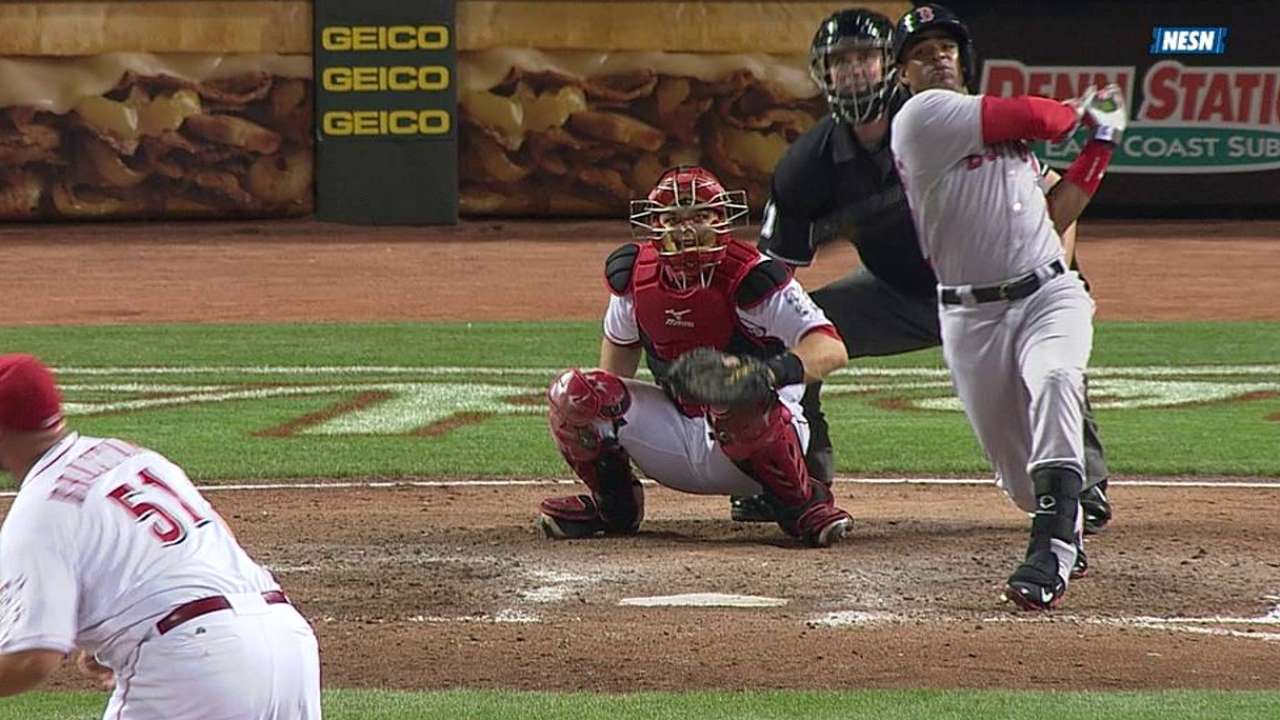 CINCINNATI -- There are some hitters who actually can be moved off the plate by a high-and-tight fastball. But the Red Sox learned on Tuesday night that their prized new power hitter doesn't fall under that category.
If you want to buzz Yoenis Cespedes, go right ahead. But he just might make you sorry one pitch later.
That's precisely what happened to Jonathan Broxton with two outs in the top of the eighth at Great American Ball Park. His 95-mph heater caught too much of the plate, and Cespedes nailed a 433-foot bullet to center for a two-run homer that led the Red Sox to a 3-2 victory.
"A lot of times pitchers think when you get a pitch thrown high and tight on you like that, you'll back off and get a little flustered, but that's not how I am," said Cespedes through an interpreter. "I was able to focus myself more after that pitch and was able to get a good pitch to hit."
Of course, Cespedes didn't just hit it. He crushed it on to the berm well beyond the wall.
"I haven't looked at it -- you all had a better look at it than I did," said Broxton. "But I think it was more middle, and that's not where you want to be against him."
And the preceding pitch that went just under the chin of Cespedes? Broxton said he actually brushed Cespedes back by accident.
"It just got away from me; I tried to overthrow it," said Broxton. "I've hit him already one time in my career, and it just got away from me. I wasn't trying to go in, I was trying to go away and I tried to overthrow it and it took off."
Next thing you know, the baseball took off, soaring high and deep and giving the Red Sox their first lead of the night.
It was the second homer for Cespedes in a Boston uniform, and second in the last two games.
"Two consecutive games now he's come up big in the eighth inning," said manager John Farrell. "Broxton seemed to try to stand him up with a fastball, then he gets a fastball up over the plate and shows how strong he is, but a timely hit against another late-inning reliever."
The Red Sox acquired the outfielder in a blockbuster trade with the Athletics for Jon Lester on July 31.
"It's a middle-of-the-order bat," said Farrell. "He gives us a certain presence in the middle of the order, and a much needed one. And he's shown on all sides of the baseball that he's a complete player. Having that ability to change the game with one swing of the bat is important for us."
Another new acquisition, right-hander Joe Kelly, also turned in a strong effort. Over six innings, Kelly allowed five hits and two runs. He walked three while striking out four.
Kelly got a no-decision after winning his Boston debut against his former team, the Cardinals, last week.
And for good measure, Kelly also stole his first career base, surprising the Reds by taking third in the third inning.
Kelly led off that third with a single to right against righty Matt Latos. After moving to second on a sacrifice bunt, Kelly stole third uncontested. It was the first stolen base by a Boston pitcher since Bill Landis on Sept. 8, 1969, against the Indians. And no Sox pitcher had swiped third since Tom Brewer on July 39, 1959, also against Cleveland.
"It was my first one," said Kelly. "Latos wasn't looking and I timed him up a little bit. I knew, it was 3-0, [Dustin Pedroia] wasn't going to swing. That's the kind of hitter he is. I just tried to time him up and get on third base with one out and try to get in scoring position."
However, Kelly's surprising steal didn't lead to a run. David Ortiz popped to short and Cespedes flew to left to end the threat.
Lefty Tommy Layne earned the win by recording three big outs and setting the table for Koji Uehara, who came on in the ninth for save No. 26.
"He's done a very good job in the short time he's been here," Farrell said of Layne. "A lot of strikes. He's got the ability to vary that arm slot, which makes him difficult against lefties. He varied that and used it tonight. He and Edwin [Mujica] combined for two innings of work and solid outings on their part."
Kelly labored through the first, opening his night by walking Billy Hamilton, who is recognized by most as the fastest man in the game. Hamilton then stole second. Jay Bruce also walked. Todd Frazier and Devon Mesorasco followed with RBI singles, and the Reds had a 2-0 lead.
"I thought he had very good stuff tonight, better stuff tonight than his first start in St. Louis," said Farrell. "He might've pitched a little bit fine early on, the two walks came back to haunt him, but I thought he settled in well and really got into a good rhythm. He has three-plus pitches for strikes tonight with very good fastball velocity."
While Kelly settled down nicely from the mound, the Red Sox couldn't produce anything of substance against Latos until the seventh.
Daniel Nava led off with a double to left-center and Xander Bogaerts lined an RBI single to left to make it a 2-1 game.
And the big swing from Cespedes swung the game in Boston's favor.
Ian Browne is a reporter for MLB.com. Read his blog, Brownie Points, and follow him on Twitter @IanMBrowne. This story was not subject to the approval of Major League Baseball or its clubs.