Latos' quality start spoiled by Broxton in eighth
After starter yields just one run, setup man serves up two-run homer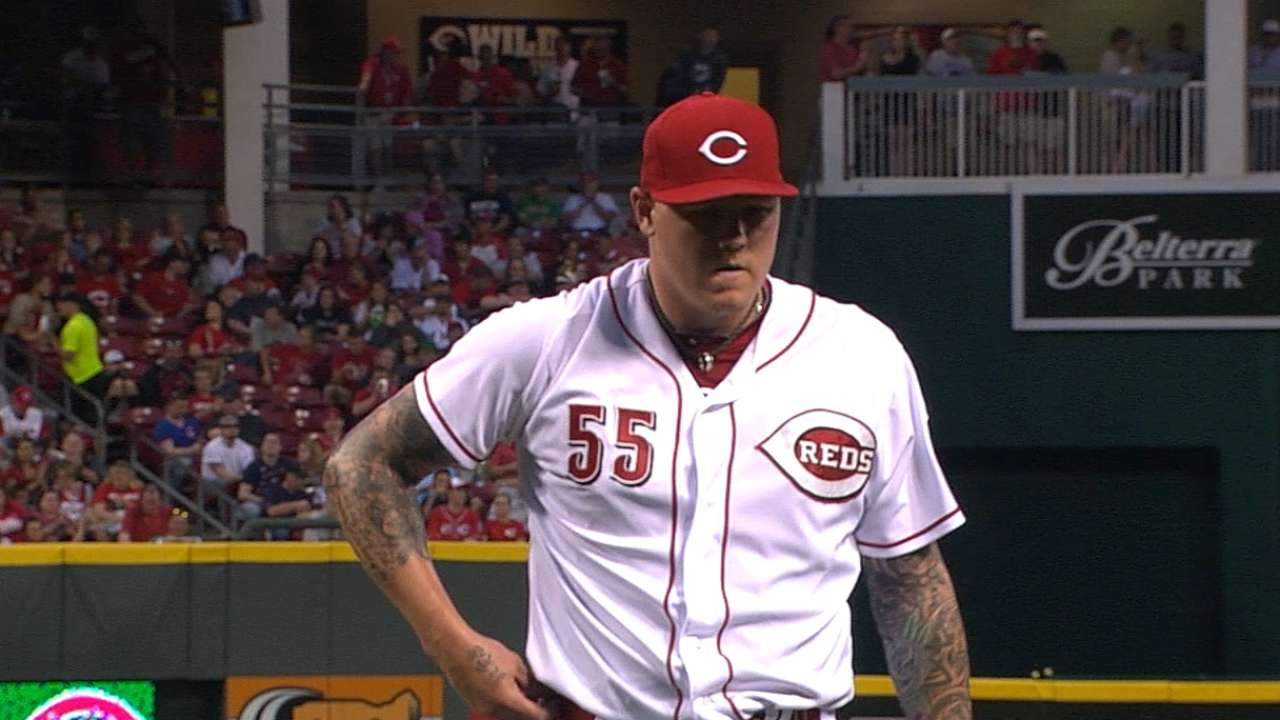 CINCINNATI -- Reds setup man Jonathan Broxton didn't mean to buzz the tower with a first-pitch 95 mph fastball up near Yoenis Cespedes' head. Broxton also didn't intend to throw the next pitch over the middle of the plate to Cespedes, but that also happened and there were certainly consequences.
Cespedes crushed a two-run home run in the top of the eighth inning that sent the Reds to a stinging 3-2 defeat vs. the Red Sox at Great American Ball Park on Tuesday night.
"You've got to have a short memory," Broxton said. "So tomorrow, I'll come in here and hopefully I'll face him again."
Before the season started, manager Bryan Price said he would be willing to break from "the book" and use closer Aroldis Chapman before the ninth inning if the situation or opposing lineup dictated it.
The sensational season by eighth-inning man Broxton made that less necessary for Price to consider. Broxton entered the night with a 1.07 ERA in 44 appearances with only five runs -- including two homers allowed in 42 innings.
When Broxton took over from starter Mat Latos to begin the eighth, he had the top of the order in Brock Holt, followed by the toughest part of the lineup in Dustin Pedroia, David Ortiz and Cespedes.
"Having both guys rested today, I didn't feel a reason where I would need to have Aroldis in the game before the ninth," Price said. "Yes, [Broxton has] thrown so well that I don't really see where I need to have Aroldis throwing two innings. You have to take into account that when he throws two innings, chances are he's probably not going to throw the next day."
Holt lined a single to right field before Broxton got two outs, including a nice stop from first baseman Brayan Pena to take a hit away from Ortiz.
On the first pitch to Cespedes, Broxton's fastball was up and inside, nearly hitting him as he leaned back to get out of the way.
"It just got away from me; I tried to overthrow it," Broxton said. "I've hit him already one time in my career, and it just got away from me. I wasn't trying to go in, I was trying to go away and I tried to overthrow it and it took off."
The 1-0 pitch to Cespedes was another 95-mph heater, but right down the middle of the plate. The tattooed baseball traveled to straightaway center field, estimated at 433 feet.
"A lot of times pitchers think when you get a pitch thrown high and tight on you like that, you'll back off and get a little flustered, but that's not how I am," said Cespedes, who was acquired from the A's at the non-waiver Trade Deadline. "I was able to focus myself more after that pitch and was able to get a good pitch to hit.''
It was only the sixth time this season that Broxton gave up any runs in a game. It was Broxton's first loss in a game since June 13, 2013, at the Cubs.
"I haven't looked at it -- you all had a better look at it than I did," Broxton said of the home run pitch. "But I think it was more middle, and that's not where you want to be against him."
Partly because it would have put the go-ahead run on first base, and partly because of his confidence in Broxton, Price was not looking to pitch around Cespedes to face next batter Daniel Nava.
"Had we gotten much further down in the count that we probably would have just walked him and gone after Nava," Price said. "[But] I never thought about walking Cespedes there unless we would have gotten ourselves into a terrible count, and 1-0 I didn't see as a terrible count."
Cincinnati, now 60-59 after losing its third in the last four games, lost another game it could not afford to lose. With losses by first-place Milwaukee and second-place St. Louis, the fourth-place Reds remained 5 1/2 games out in the National League Central race. A chance to gain ground for the Wild Card was also missed as the Reds are still 2 1/2 games back.
In 24 games since the All-Star break, the Reds' rotation has a 2.78 ERA -- but only nine victories. The bullpen is 0-6 while the team's hitters are batting .221 in that span.
Undone on Tuesday was the effort by Latos, who worked seven innings and allowed one earned run in the seventh and five hits overall while walking one and striking out five. He was staked to a 2-0 first-inning lead on RBI singles by Todd Frazier and Devin Mesoraco against Joe Kelly.
Cincinnati was unable to do much the rest of the night.
Mark Sheldon is a reporter for MLB.com. Read his blog, Mark My Word, and follow him on Twitter @m_sheldon. This story was not subject to the approval of Major League Baseball or its clubs.