Another game, another quality start for Hendricks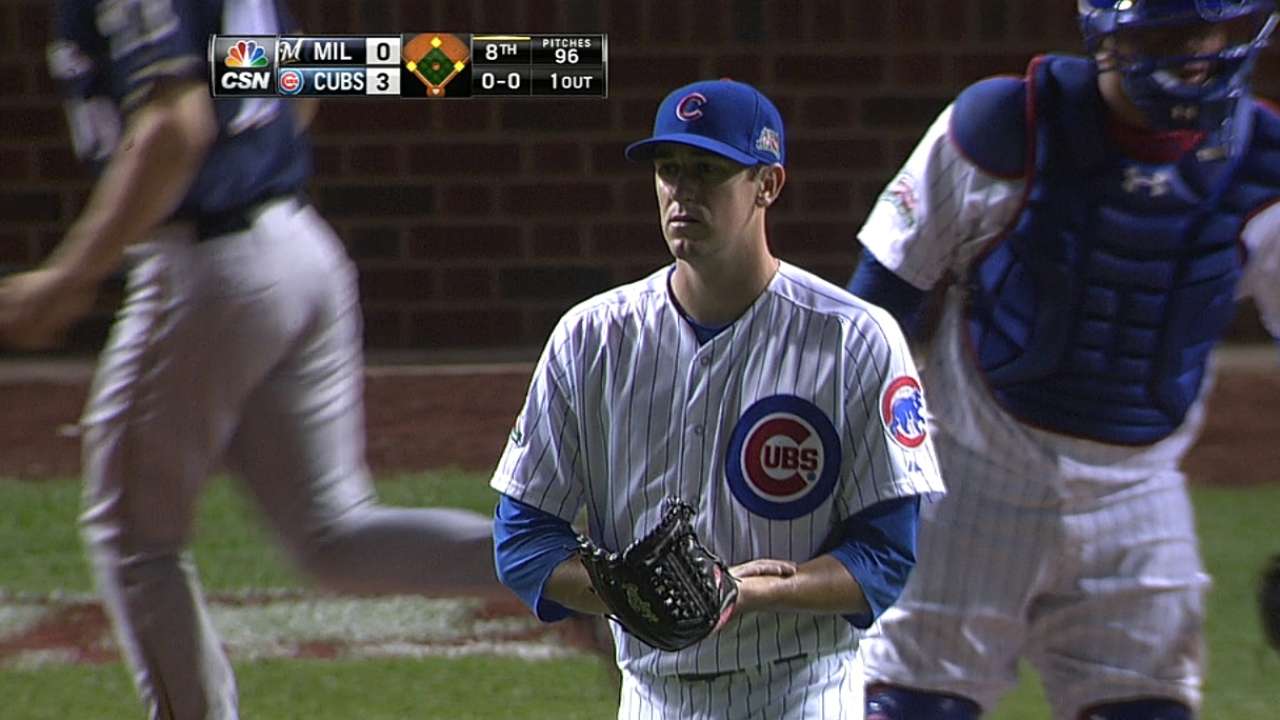 CHICAGO -- Kyle Hendricks continues to pass all the tests.
Anthony Rizzo belted his 26th home run to back Hendricks -- who held the National League Central-leading Brewers to six hits over 7 1/3 innings -- and lift the Cubs to a 3-0 victory on Tuesday night at Wrigley Field.
This was Hendricks' fifth straight quality start, and he's the first Cubs rookie to post that many in a row since Randy Wells in 2009. The Brewers loaded the bases on three singles with one out in the eighth to force Hendricks' exit after 96 pitches, but Pedro Strop got Jonathan Lucroy to ground into an inning-ending double play.
"When guys get on base, they're saying he's tough, he's sneaky, he has good pitches, he commands them," Rizzo said of Hendricks. "The best part is, it seems he can induce a double-play ball whenever."
Hendricks began his run on July 22, against the Padres, in his second big league start, and followed with quality starts against the Cardinals at home, then the Dodgers and Rockies on the road, and now the Brewers. The rookie right-hander doesn't overpower hitters, just outsmarts them with good location and movement. He's efficient and quick, and was able to zip through this game, which wrapped up in a tidy two hours and 22 minutes.
"It's something I've always done, since I was little," Hendricks said. "The pace of the game is big for me. It keeps the infielders in the game and keeps them on their toes, and it's my pitching style."
He got some defensive help, as second baseman Javier Baez made a nice over-the-shoulder catch of Khris Davis' liner with one out and one on in the second, and shortstop Starlin Castro snared Lucroy's grounder on the grass and threw in time for the out to end the sixth.
How does Hendricks do it? He prepares. He takes the advance scouting report, plus the notes from coach Mike Borzello, and studies video.
"He's got conviction in what he wants to try to do, so there's no reason for him to panic or [have] a sense of fear," manager Rick Renteria said. "He knows how he's going to get out of this problem."
Perhaps the methodical approach is what helped him earn his economics degree at Dartmouth.
Hendricks wasn't upset at the Brewers' eighth, when they got half of his total hits allowed.
"They were all good pitches, and they're great hitters -- a first-place team with that kind of lineup, you just have to tip your cap to them," he said.
"It's tough when you have a guy that relies on movement, and he does," the Brewers' Mark Reynolds said. "He was spotting up real well. Hopefully, the next time we face him, we have a better idea of what his pitches do."
This was the first time the Brewers saw Hendricks in action.
"Maybe he's like [Kyle] Lohse a little bit -- you know, not overpowering, but pinpoints," Reynolds said. "Some of them you walk away scratching your head like -- 'What happened?'"
Brewers starter Wily Peralta may be thinking the same. He began the night tied for first in the National League in wins, yet took the loss. The Cubs took a one-run lead in the second on Justin Ruggiano's RBI single, and opened a two-run lead in the fourth on Arismendy Alcantara's RBI single.
Rizzo belted his first home run since July 22 -- and 26th of the season -- leading off the sixth, launching the first pitch from Peralta into the bleachers in left-center. Rizzo now is 9-for-21 in his career against Peralta, with five home runs.
"It was supposed to be down and away, and I made it up," Peralta said of the pitch to Rizzo.
For Cubs fans eager to get a peek at the future, Tuesday was a good night.
"You get to see the young men everybody has been talking about for the last couple years, and you're seeing them contribute in some way, shape or form in a positive way," Renteria said. "Maybe it starts to validate the direction the organization is going in, which is good. We all understand it's been a long time, and it's going to take a while to chip away and have everybody feel positive about the organization, but it's going that way."
Former Cubs third baseman and current Brewers infielder Aramis Ramirez sees it.
"We've seen Baez and, obviously, Rizzo, Castro, some young power arms out of the bullpen," Ramirez said. "They've got some players there. They're not that far away."
Carrie Muskat is a reporter for MLB.com. She writes a blog, Muskat Ramblings, and you can follow her on Twitter @CarrieMuskat. This story was not subject to the approval of Major League Baseball or its clubs.