Cubs put Wily's 15th victory on hold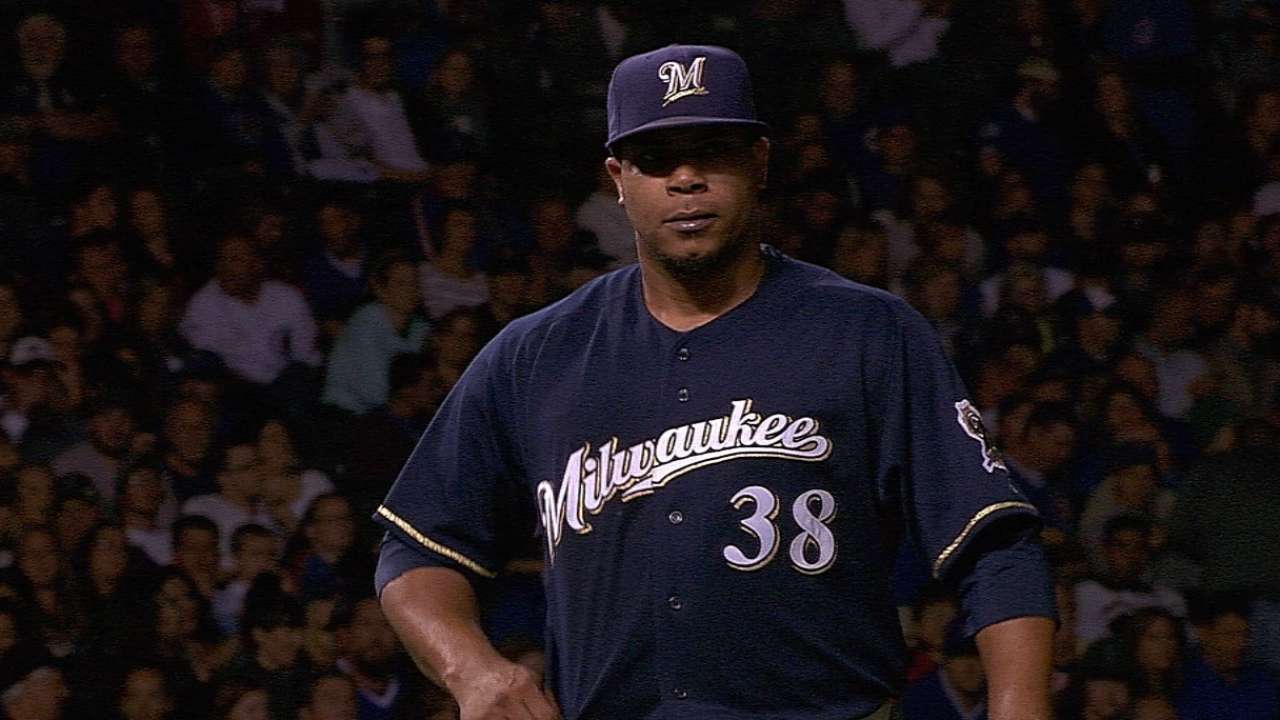 CHICAGO -- This season the Brewers and Cubs have different agendas. The Brewers have led the National League Central since April 5. The Cubs have been in the division cellar since the first week of May.
In coming seasons, things could be different, and on Tuesday the Brewers were introduced to two more of the kids with whom they're likely to tangle.
Twenty-four-year-old right-hander Kyle Hendricks barely touched 90 mph but baffled the Brewers into the eighth inning, and 22-year-old center fielder Arismendy Alcantara helped create a pair of runs against one of the hottest pitchers in baseball, as Chicago topped Milwaukee, 3-0, on a still summer night at Wrigley Field.
"We've seen [Javier] Baez and, obviously, [Anthony] Rizzo, [Starlin] Castro, some young power arms out of the bullpen," said former Cub Aramis Ramirez. "They've got some players there. They're not that far away."
The Cubs hope that Ramirez is right.
"You get to see the young men everybody has been talking about for the last couple of years," Chicago manager Rick Renteria said, "and you're seeing them contribute in some way, shape or form in a positive way. Maybe it starts to validate the direction the organization is going in, which is good. We all understand it's been a long time, and it's going to take a while to chip away and have everybody feel positive about the organization, but it's going that way."
The Brewers countered with one of their own young players, 25-year-old Wily Peralta, who had won each of his previous five starts and 10 of his last 11 decisions but was denied by the Cubs in his bid to become baseball's first pitcher to 15 victories. He allowed three earned runs on seven hits in 6 1/3 innings, with two walks and three strikeouts in his first loss since July 8.
Hendricks was better, with a little bit of help. He scattered six hits -- all singles -- in 7 1/3 innings, and didn't allow a runner to reach scoring position until the fifth. He extinguished that rally by getting Jean Segura to hit into a double play, and reliever Pedro Strop induced another inning-ending double play in the eighth after three Brewers hits loaded the bases. Jonathan Lucroy was the culprit that time.
But don't be fooled by Hendricks' modest fastball velocity. He is the 19th-best prospect in the Cubs' well-regarded farm system, according to MLB.com's rankings, and was Chicago's Minor League Pitcher of the Year for 2013. He has met the definition of "quality start" in each of his last five starts, pitching into the eighth inning in each of the last two.
"We didn't do a whole lot," manager Ron Roenicke said. "We got the three hits there in the eighth, but before that we didn't do much."
As a result, the Brewers' lead over the second-place Pirates in the NL Central was trimmed to 1 1/2 games. The Cardinals remain three games back.
Against Peralta, Rizzo hit a misplaced slider for a solo home run in the sixth inning, but the Cubs' other two runs fell more comfortably into the "bad luck" category. Alcantara stole a base and scored a run after reaching on a fielder's choice in the second inning, and he singled home a run in the fourth.
Both times the Brewers pulled their infielders in with a runner at third base and one out, and both times the Cubs snuck a ground-ball single through.
"I got the thing that I wanted -- I just wanted a ground ball," Peralta said. "I got it, but the ball passed through. There's nothing you can do about it. You just have to keep throwing your pitches and get a ground ball."
Roenicke explained drawing in his defenders so early in a game.
"With Wily, he's a ground-ball pitcher, which makes you feel like [doing] it," he said. "We were talking the other day, trying to think of when … they have gotten balls by us because we are in, and then, do they score [additional] runs because of it? We can't think of any times they have scored runs because of it. If that's the case, we should be in probably every single time."
Meaning, every time with Peralta on the mound?
"With everybody," he said. "We just talked about it yesterday. I can't remember when it has hurt us. You lose your range a little bit because you are in farther, but if you are back, the run is going to score [from third anyway], so if that guy that hits it doesn't score, then you need to do it all the time."
Peralta will aim again for win No. 15 on Sunday at Dodger Stadium, but he will have to wait until September for a rematch with the Cubs, who have now beat him three times in as many starts this season.
"For some reason [the Cubs] put good at-bats against me," he said. "It's a young team, [but] they have big league hitters. I think I'm going to get another chance to face them and get a win."
Adam McCalvy is a reporter for MLB.com. Read his blog, Brew Beat, and follow him on Twitter at @AdamMcCalvy. This story was not subject to the approval of Major League Baseball or its clubs.