Donaldson's two homers fuel A's 20-hit attack
Lester strikes out nine in improving to 9-3 all-time against Royals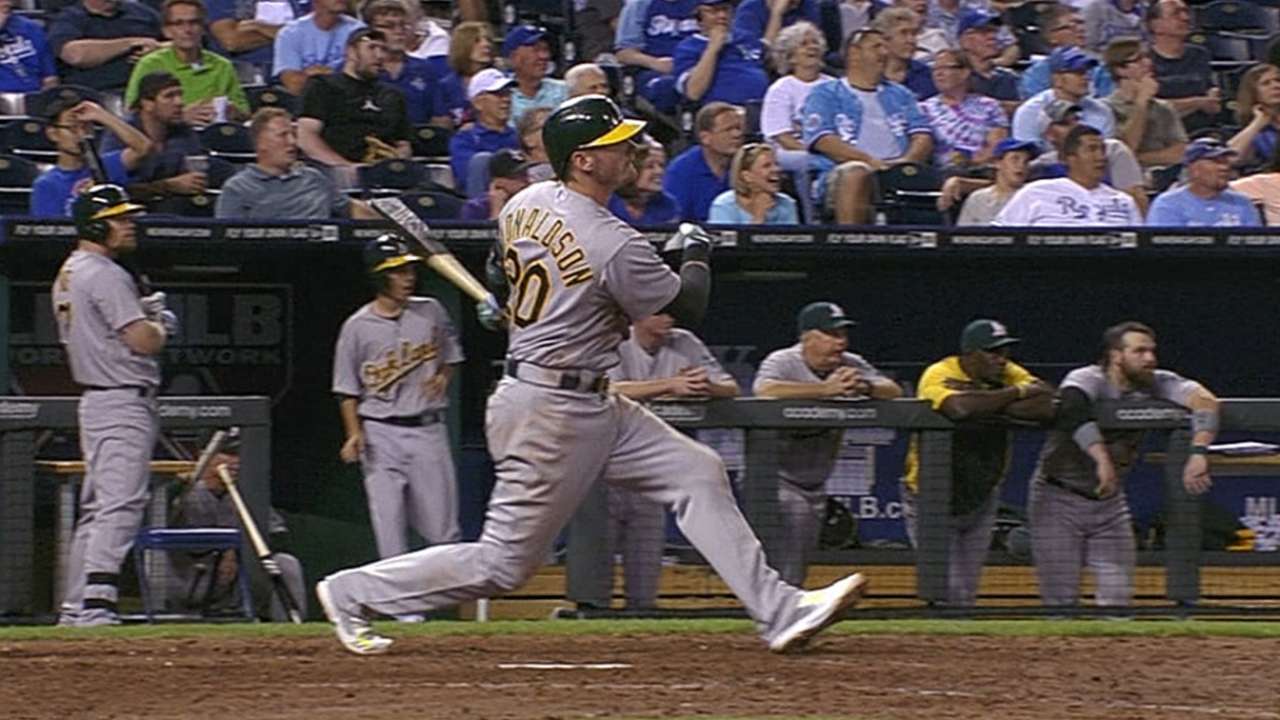 KANSAS CITY -- That Jon Lester was on the mound surely increased the A's chances of winning Tuesday evening. But nothing is guaranteed when they keep trotting out a feast-or famine offense.
The A's happily gorged themselves all night at the plate, shaking off Monday's series-opening loss in which they collected just three hits with a 20-hit, 11-3 victory to even this four-game set at Kauffman Stadium.
Lester collected the win after striking out nine in six innings of work, improving to 3-0 in as many starts with the A's and extending his win streak to an American League-best seven games.
But, unlike his previous two outings in green and gold, Lester wasn't front and center in this one. Instead, he shared the stage with a handful of donors.
Josh Donaldson collected two home runs to up his season total to 25, a new career high, and finished with four RBIs. Sam Fuld also enjoyed a three-hit night, but it was Brandon Moss, who went 2-for-28 on the last homestand, who chipped in with a career high-tying four hits and two RBIs, including three to the opposite field. One of Moss' hits was a bunt to beat the shift.
Talk about an odd day for this pull hitter.
"A weird day," said Moss, "but a good day."
"I told him, I don't even know you anymore," said manager Bob Melvin, grinning. "He's been working hard at it, he really has. When you're struggling some, you try to track the ball a bit deeper, get a better look at it, and with that comes some balls hit the other way. Couple that with a bunt, you're on your way of moving the field a little bit, as far as the defenders go."
Moss has five hits in seven at-bats in this series, along with four RBIs, after recording only one in his previous 14 games.
It had been a somewhat troubling stretch for all involved, magnified even more amid the timing of Yoenis Cespedes' trade to the Red Sox.
The return of Lester has eased such concern every fifth day, but all the while his new teammates were struggling to capitalize on multiple scoring opportunities. On Tuesday, the A's answered with runs in six different innings, getting six of them (four earned) off starter Jeremy Guthrie in just 4 2/3 innings.
"It's one of those things where you're still trying to get the feel for the lineup just because there obviously has been some change," Donaldson said. "I believe we have a good lineup and that we'll continue to have success.
"It helps when you have contributors up and down the lineup. You believe that's going to happen more times than not."
"We really can't rely on just a couple guys, so it can be contagious when a couple guys start getting hits," Melvin said. "The confidence builds within the team and not just the individual, and that's the way we've been for a couple years now. The length of our lineup is really the strength."
Lester allowed all of his runs in the fifth, but he was otherwise fantastic. He struck out the side in two of his six frames and walked two in the 99-pitch outing, before handing the ball over to Ryan Cook, who extended his scoreless streak to 20 innings with a clean seventh.
Lester is now 9-3 with a 1.84 ERA in 13 career starts against the Royals, to which Melvin says, "I think he's got the ability to do that to anybody."
The southpaw played with Moss in Boston, as well as in the Minor Leagues, where he remembers a guy who sprayed the ball all over the field, a la the Moss who stepped to the plate on Tuesday.
"Really, any hitter, when they're right, they're doing that, so that's a good sign to see from him," Lester said. "Hopefully, he's starting to feel more comfortable at the plate, which is always a big boost for this lineup."
Jane Lee is a reporter for MLB.com. This story was not subject to the approval of Major League Baseball or its clubs.