Royals stay in first despite streak-ending loss
Guthrie yields four earned runs in 4 2/3, but KC keeps half-game lead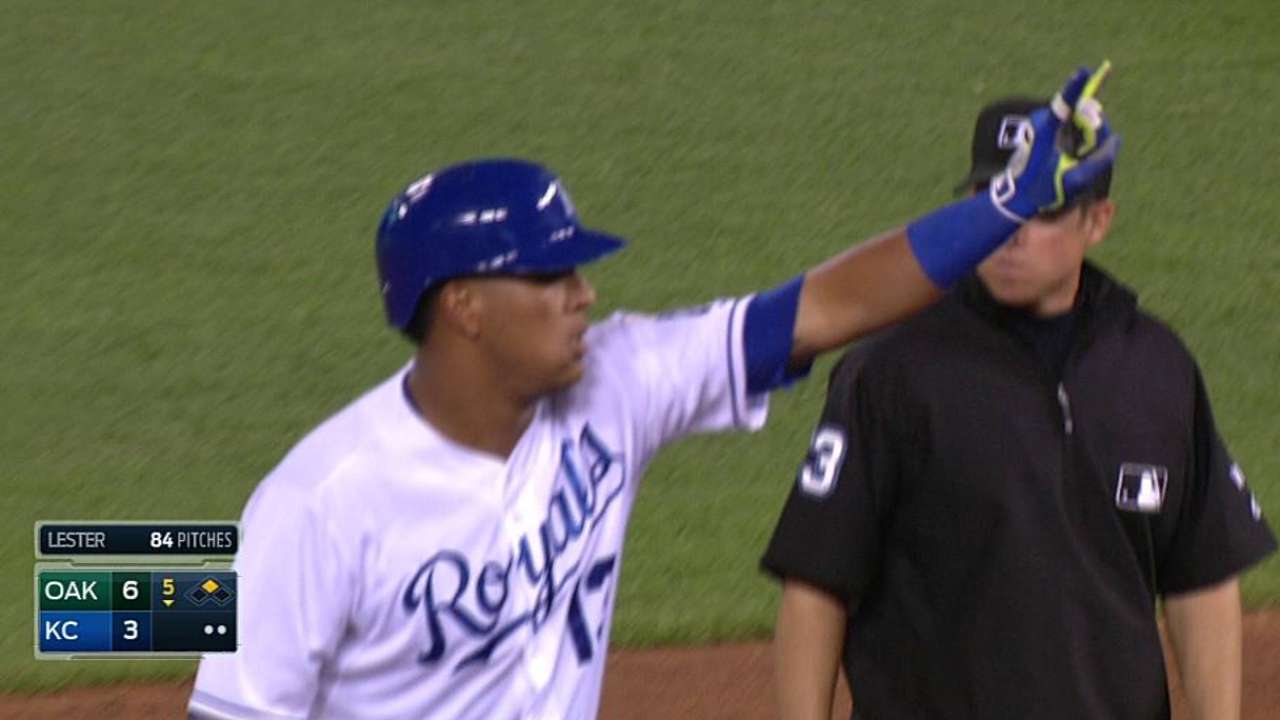 KANSAS CITY -- Jon Lester -- again.
No matter what uniform Lester wears, his pitching seems too much for the Kansas City club. He used to beat them like a drum for Boston. Now, he's doing the same thing for Oakland.
Lester went six innings on Tuesday night to steer Oakland's Athletics to an 11-3 victory over the Royals, snapping KC's eight-game winning streak. He gave up six hits and three runs, but struck out nine.
"He was nasty, brother," Royals catcher Salvador Perez said.
This was Lester's second win in two starts against the Royals since the Red Sox traded him to the A's. His career record against them is 9-3 with a tiny 1.84 ERA in 13 starts. All three losses came at Kauffman Stadium where this was just his second victory.
"I thought Lester pitched better today than he did in Oakland," Royals manager Ned Yost said. "He was spotting the ball better, had better command of his fastball, had better command of his curveball. I thought he threw the ball well."
Lester has no explanation for his domination of the Royals.
"If I knew, I'd do it against everyone rather than just one team. I don't know," Lester said. "It is what it is."
A's manager Bob Melvin said that the lefty, who pitched a no-hitter against KC in 2008, really doesn't single out any team.
"I think he's got the ability to do that to anybody," Melvin said.
Josh Donaldson led the A's 20-hit attack with two solo home runs plus four RBIs, while Brandon Moss had four hits. Donaldson, Sam Fuld and Josh Reddick each had three hits.
A crowd of 27,161 -- with 9,020 tickets sold game day alone -- thronged to Kauffman Stadium to see the newly-anointed first-place Royals. At least they retained the lead because second-place Detroit also lost, 4-2, at Pittsburgh and remained a half-game back.
The energy of the crowd was not lost on the Royals despite the lopsided loss.
"We've had an energy all summer I think, really, we've had great crowds," said losing pitcher Jeremy Guthrie. "Some of the best I've ever had the chance to play in front of."
However, the A's had a 6-0 lead and Guthrie out of the game during the fifth inning. He gave up 11 hits, 10 of them singles, as his personal three-game winning streak ended.
"He wasn't quite as sharp as he's been his last two times, but he wasn't near as bad as his line's gonna look in the morning," Yost said. "They hit, by my count, two balls hard -- the double and Reddick hit a ball pretty good to right field. But the other nine hits were all singles that kind of found holes."
The Royals cut the deficit in half against Lester in the bottom of the fifth. Mike Moustakas walked, Lorenzo Cain doubled and Alcides Escobar lofted a sacrifice fly for the first run.
Nori Aoki followed with an RBI single on the infield and took second on shortstop Eric Sogard's wild throw. Aoki scored on Perez's double to left for a 6-3 score. But that would be it against Lester and relievers Ryan Cook and Dan Otero.
"He's got all plus pitches and even if you think you know what's coming it's still sometimes tough to hit and that's what makes him a good pitcher," said Aoki, who had two of the hits off Lester.
The A's, however, weren't finished after Lester departed. They, after all, are the first-place team in the AL West, have the best record in the Major Leagues and lead the league in scoring.
After Aaron Crow bailed out Guthrie with a one-pitch out, Bruce Chen took over for the sixth inning. He gave up a leadoff homer to Donaldson, a shot to center, to open the seventh. Then, in the eighth, the A's had a four-run inning against Chen, punctuated by Donaldson's second homer.
The Royals' bullpen was short-handed with the big three back-enders, Kevlin Herrera, Wade Davis and Greg Holland, all declared out of action because of their prior workload. Scott Downs also went on the disabled list earlier in the day.
"I had Crow, [Jason] Frasor, [Francisley] Bueno and Chen so, in the sixth inning, we were almost pretty committed to Chen at that point, but when they scored a couple more runs, I was just going to let him run it out," Yost said.
"He hadn't pitched in nine days. He wasn't really sharp either."
But Lester certainly was, according to the hitters. Newcomer Josh Willingham, who doubled off the lefty in the first pitch he saw for the Royals, was in the Twins' lineup last Thursday when Lester threw a shutout.
"I had the privilege of facing him five days ago and those are probably the best two I've seen him," Willingham said. "Not necessarily velocity, but curveball, cutter. He spots the ball real good and he's got good stuff. That's a bad combination."
So the Royals' winning streak was over but, still, they have won 16 of their last 20 games.
"We're not going to win every game from here on out. If somebody thinks that we were, I'm sorry," Yost said. "But we've got to keep these nights few and far between. These nights, quite frankly, are easier to forget than a 3-2, 2-1. You just move on."
Dick Kaegel is a reporter for MLB.com. This story was not subject to the approval of Major League Baseball or its clubs.