Bucs return to high-water mark in win over Tigers
Harrison enters NL batting race in third place; club within 1 1/2 of first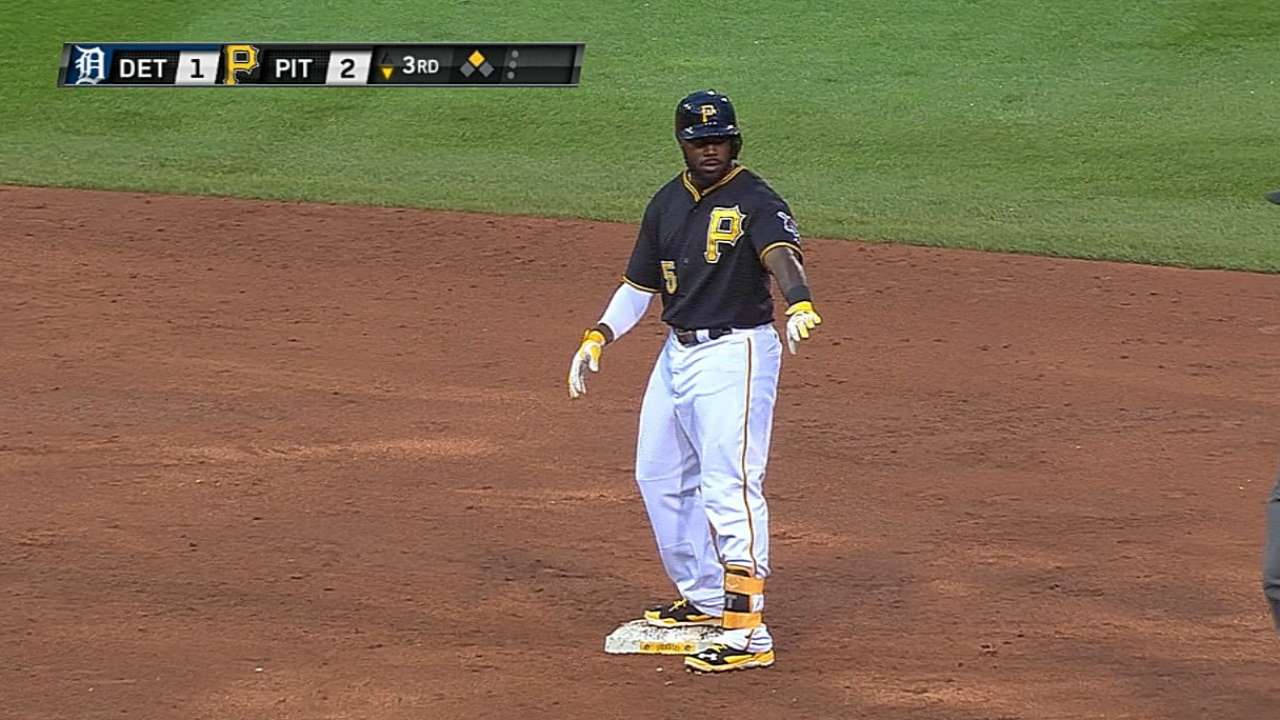 PITTSBURGH -- It wasn't exactly a coming-out party for the Pirates, already strutting on Major League Baseball's Main Street prior to Tuesday night's 4-2 Interleague triumph over Detroit.
With the victory in front of 34,919 in PNC Park, the Bucs did return to their season peak of nine games above .500 while gaining a game on each of the three other National League Central contenders, nearing within 1 1/2 games of the leading Brewers.
However, the occasion was a legitimate emergence for Josh Harrison. After having spent the first month of the season in his familiar shadows, with fewer than 50 at-bats, Harrison by late Tuesday officially entered the National League batting race in third place.
With his four plate appearances against Detroit, Harrison earned qualification, which requires 3.1 plate appearances per each team game. With one hit in three at-bats, Harrison raised his average to .318 -- ahead of teammate Andrew McCutchen, and trailing Colorado teammates Troy Tulowitzki and Justin Morneau.
"It's good confirmation of how important he has been for us," manager Clint Hurdle said. "Offensively, he has been the glue holding us together."
"I'm not really worried about it," said Harrison, who had been made aware of the development, pretty significant for someone who had a total of 96 plate appearances in 2013 while constantly shuttling between Pittsburgh and Triple-A Indianapolis. "It lets me know I've played enough games. It does feel good to be recognized, but there's still more season left."
Harrison's one hit, characteristically, was key -- a third-inning double that led to the eventual winning run.
With the sweep of the two-game Phase I of this Interleague clambake -- Phase II comes the next two days in Michigan -- the Bucs made it 19 wins in their last 25 home games. The team with the NL's top home record, the Bucs will continue to play this card the rest of this month, with nine of 17 remaining August games in PNC Park.
Obviously, the tab for that comes due in September: The team will be home for only nine of 26 games.
Hurdle, of course, is not worried about that. Nor is he concerned about his Pirates being two games into a stretch of 22 games against contenders. He wasn't even thinking of Wednesday, yet.
"Today's game is all this team has on its mind. That's the way we've always approached it," Hurdle said.
Focus on what is immediately in front of you certainly served Edinson Volquez well on Tuesday. Particularly when Miguel Cabrera was in front of him three times. The first time, Cabrera ripped a single to aggravate a first-inning situation Volquez was able to escape only by instinct and reflex.
The next two times, Volquez walked the two-time American League MVP.
"I told him, 'You're not going to beat me. Enjoy your time at first base,'" Volquez said. "I even told [catcher Russell Martin], 'Don't let this guy beat me. He doesn't want to steal any bases [when he gets on first], so I can take care of the rest of the guys.'"
He did so well enough for six innings, allowing five hits and two runs, to nail down his 10th win of the season, the veteran right-hander's return into double-figures territory for the first time since 2012, when he won 11 in San Diego.
"About time," Volquez said. "It feels really good, and it's also a great win for the team."
Detroit rookie Robbie Ray acquitted himself quite well, finding the Pirates only a little more troublesome than he had found their Triple-A underlings. In three International League starts this season against the Indianapolis Indians with Toledo, the most recent on Aug. 4, Ray allowed four earned runs in 19 1/3 innings. Tuesday, in his first Tigers start since May 22, the 22-year-old went five-plus innings and allowed six hits and four runs, with a pair of walks and five strikeouts.
"He did a good job," Detroit manager Brad Ausmus said. "He did what we asked. He gave us a chance to win, and we didn't take advantage."
Ray, as well as Wednesday starter Buck Farmer, are stepping in to assist with the Tigers' pitching load in the aftermath of their 19-inning Sunday game in Toronto. As far as at least one Detroit player was concerned, that marathon's shelf life as an alibi has expired.
"No excuses," said Victor Martinez. "That's not an excuse. We played 19 innings. It's over. We got here plenty early. We got some rest. There's no excuses."
The Bucs doubled up to take a 2-1 lead in the second, with Martin, Gaby Sanchez and Travis Snider lacing two-baggers, and the next inning Jordy Mercer's single cashed in yet another double, by Harrison.
After Alex Avila's solo homer in the fourth brought the Tigers within a run, Ike Davis' run-scoring double in the sixth reset the Bucs' lead at two runs.
Volquez may have saved his game early, with a "Matrix" defensive play. With one away in the first, he had allowed three straight hits, with Ian Kinsler's RBI single in the middle, to fall behind, 1-0, with more trouble looming. Martinez ripped a hard one-hopper back to and apparently over the mound -- but even while falling off to his left at the end of his delivery, Volquez instinctively whipped his gloved left arm behind his back and blindly snared the ball.
Volquez's alert throw home erased Kinsler after a brief rundown. Then J.D. Martinez's outfield fly ended the inning, with still only that one run on the scoreboard.
Tom Singer is a reporter for MLB.com and writes an MLBlog Change for a Nickel. He can also be found on Twitter @Tom_Singer. This story was not subject to the approval of Major League Baseball or its clubs.