Rosales draws bases-loaded walk for win in 14
Rangers erase two-run deficit in 7th, plate game-winner with two outs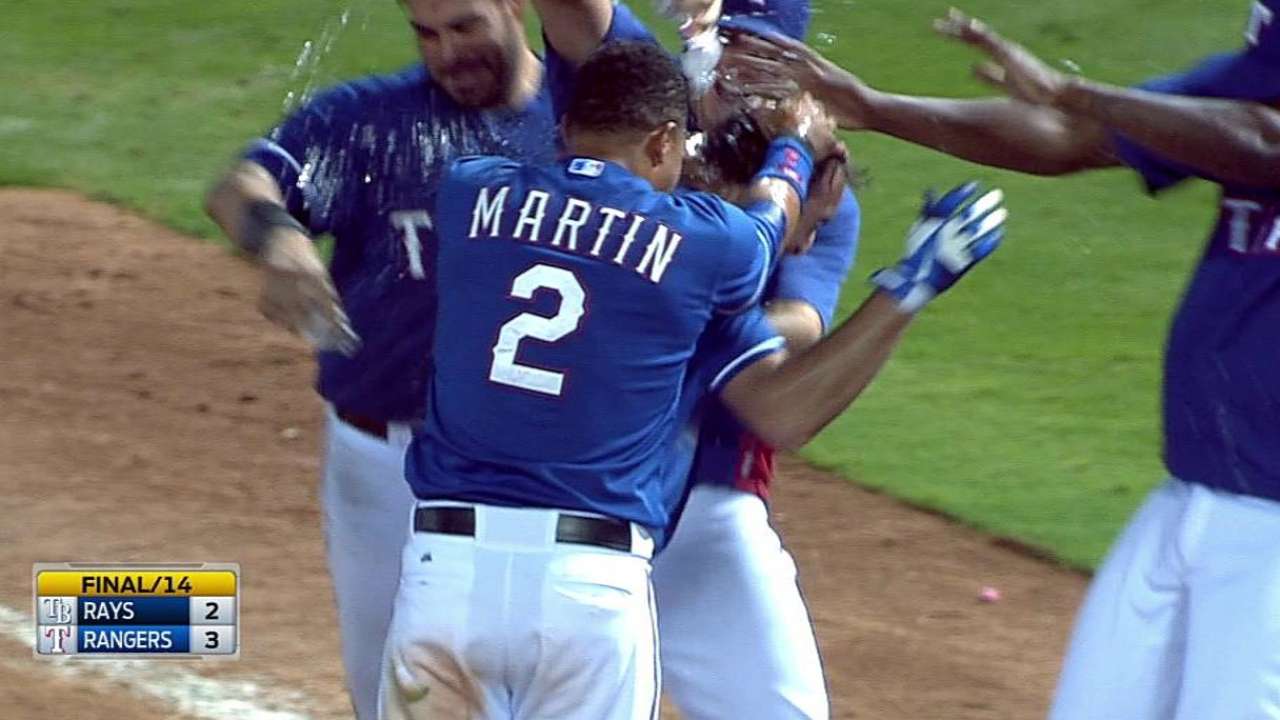 ARLINGTON -- They also serve who only stand and wait, John Milton once wrote. Adam Rosales did just that for four pitches and brought the Rangers 14-inning marathon to an end with a 3-2 victory over the Rays on Tuesday night.
Rosales' two-out walk with the bases loaded off of Rays reliever Cesar Ramos also allowed reliever Scott Baker to earn his first Major League victory in over three years. Baker was pitching in his 21st game for the Rangers this season and they were 0-for-20 in his previous appearances.
This time he pitched the final two of seven scoreless innings from the bullpen that allowed the Rangers to prevail in a terrific ballgame for their fifth walk-off victory of the season and their first since April 16. It was also only the second time in six tries that the Rangers won in extra innings. The other was a 1-0 win over the Astros in 12 innings on April 11.
"At this point of the season, we'll take a win any way we can get it," Baker said. "I guess in a way it's a stat, but regardless as a reliever or a starter, to win a game in the big leagues is something special. I'm very happy, but at the same time I was in the right place at the right time."
The game lasted four hours and 49 minutes and was the second time since the All-Star break that the Rangers went 14 innings. It was also the first 14-inning game in Arlington since May 27, 2011.
"Gratifying, it was really gratifying to get that win," catcher Geovany Soto said. "After 14 innings, it's gratifying to come out of here with a win. It was a really good game, good pitching, good defense. Everybody battled, everybody on the team. It feels good."
The Rangers' rally against Ramos started with one out when Rays third baseman Evan Longoria misplayed Soto's grounder for an error. After pitcher Nick Martinez pinch-ran for Soto, Rougned Odor grounded a single through the right side to put runners on first and second.
Shin-Soo Choo then blooped a single just beyond the reach of shortstop Ben Zobrist to load the bases and bring up Elvis Andrus. Rays manager Joe Maddon went with a five-man infield to cut off the run and Andrus popped out to right field for the second out.
That left it for Rosales, who had entered the game as a pinch-hitter for first baseman Mike Carp in the seventh.
"I knew he had to come to me so I had to be patient," Rosales said. "That's usually my approach, but especially with the bases loaded and the game on the line."
Ramos didn't come close in four pitches.
"It's just baseball. I just put myself in a hole, going 2-0, 3-0, walking him in," Ramos said. "That's just unacceptable on my part at that point. Getting those two outs and having an opportunity to get out of it and to lose it like that is unacceptable. I'd rather give up a hit than give a guy a free base. Especially doing it on four pitches."
The Rangers bullpen was superb after starter Nick Tepesch held the Rays to two runs in seven innings. Neal Cotts and Roman Mendez combined for a scoreless eighth, then Neftali Feliz and Shawn Tolleson each pitched two scoreless innings.
That took the Rangers to the 13th and Baker, who set down the side in order in the 13th and also retired Brandon Guyer on a foul pop to start the 14th. Longoria then doubled to left-center but Baker got James Loney on a pop up and Sean Rodriguez on a fly to center. That put him in position to get his first win since July 23, 2011.
It was also the first victory for a Rangers reliever since Cotts on June 14, a drought of 50 games for the bullpen. But the bullpen earned this one by allowing just three hits in seven innings.
"Outstanding. They did a great job, they really did," Rangers manager Ron Washington said. "Baker kept us there and gave us a chance."
The Rangers did not walk a batter in 14 innings. It's only the 20th time in club history the Rangers did not walk a batter in an extra-innings game. It's the first time they've accomplished that in a 14-inning game since July 14, 1972. Tepesch went seven innings, allowing two runs on four hits without walking a batter and striking out four.
"He hit his spots, had a good sinker and was able to mix in his breaking ball and changeup," Washington said. "He was out there competing and executing pitches. He did a heck of a job."
Tepesch took a one-hit shutout into the sixth, but Desmond Jennings led off with a triple to right-center and scored on Zobrist's sacrifice fly. Matt Joyce followed with a triple into the right-field corner and he ended up scoring when second baseman Odor's throw to third bounced passed third baseman Adrian Beltre for an error.
The Rangers tied it up in the seventh after Rays starter Jeremy Hellickson's departure. He was replaced by right-hander Joel Peralta. Leonys Martin led off with a single, his third straight hit, and went to third on a double by Soto.
Odor followed with a fly to deep right that scored Martin and sent Soto to third. Choo, swinging on a 3-0 pitch, then doubled to right-center to bring home the tying run. The Rangers had been hitless in 10 at-bats with runners in scoring position over two nights before Choo delivered.
T.R. Sullivan is a reporter for MLB.com. Read his blog, Postcards from Elysian Fields, and follow him on Twitter @Sullivan_Ranger. This story was not subject to the approval of Major League Baseball or its clubs.