Pino unable to keep ball in yard in loss to Astros
Twins righty gives up three HRs, seven runs; Arcia goes deep twice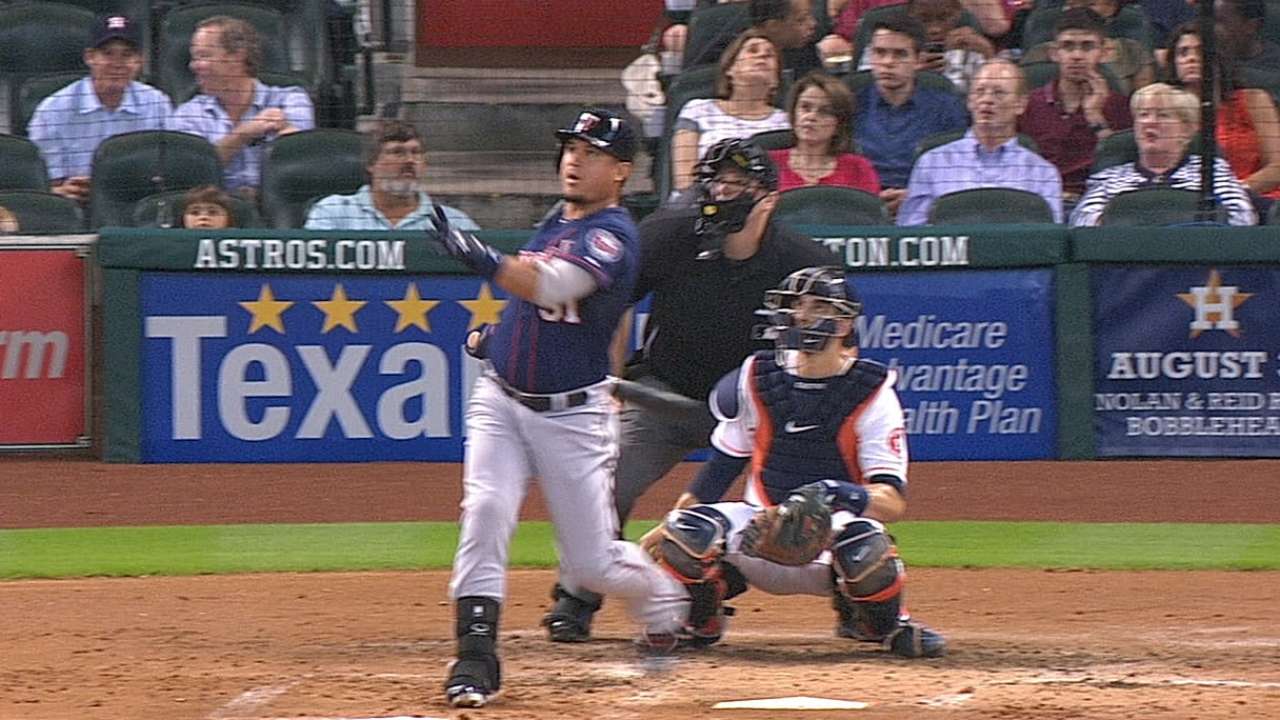 HOUSTON -- Oswaldo Arcia matched Astros slugger Chris Carter with a pair of home runs on Tuesday night at Minute Maid Park. And the Twins equaled the Astros' three home runs.
However, the three Minnesota home runs weren't enough to keep pace with Houston. And a ninth-inning spurt by the Twins wasn't enough in a decisive 10-4 loss to the Astros.
Kennys Vargas and Arcia homered in Minnesota's three-run ninth. But that only delayed the outcome.
"A couple of the kids put the ball in the seats, but we didn't pitch well enough tonight," said Twins manager Ron Gardenhire.
Yohan Pino is probably glad the Astros, and specifically Carter, aren't in the same division as the Twins. The less Pino faces the Houston slugger, the better.
Carter lit up the Minnesota starter with two home runs and five RBIs to even the series at a game apiece.
"He's a good hitter," said Pino (1-5), who didn't get out of the fifth inning. "He has power. I tried to stay away but left them in the middle. I tried to get him to hit ground balls and left them up."
Carter, who has 28 home runs, is on a major power streak. In homering for the second consecutive game, Carter recorded his ninth career multihomer game, and sixth this season to tie a franchise record for single season (Lance Berkman, 2006).
In five games against Minnesota this season, Carter has four home runs and 10 RBIs. Since July 1, Carter leads Major League Baseball in home runs (15), slugging percentage (.732) OPS (1.104) and RBIs (36).
"We've seen Carter do it before," said Gardenhire. "Get those balls up to him and he's going to do that. Pino missed with his pitches, and then we got the kid [Trevor May] in there later and he didn't throw it over too well either, trying to give him some work."
May allowed three runs (two earned) and three hits in 2 1/3 innings.
Jake Marisnick also homered in Houston's 12-hit attack that was more than enough support for Houston starter Collin McHugh (5-9), who allowed only one run and four hits in six innings.
But it was Carter who was the difference maker.
"It's always been there, just hasn't really shown up in the big leagues," said Carter. "It's something I went through in the Minors and I'm happy it's finally showing up here.
"I'm staying with my approach and sticking to it every day. I'm working hard in the cage."
Added Houston manager Bo Porter:
"He's definitely locked in," said Porter. "I've said this many times that when this guy's locked in, he can carry a ballclub. We're witnessing that right now."
Pino allowed the three home runs and seven runs on seven hits in 4 1/3 innings. Carter's three-run shot in Houston's four-run fifth gave the Astros a six-run lead. In the third, Carter's two-run homer had broken a tie.
"I'm fine," said Pino, who struck out seven and walked one. "I'll do my best next time. I don't worry about today."
Before Carter started cranking out the homers, Arcia got one. The right fielder homered in his first at-bat off McHugh. Arcia had been out of the lineup since Friday after tweaking his lower back. His homer to right field was his ninth of the season. He added his 10th, a two-run shot, in the ninth off Mike Foltynewicz, who allowed two homers in his only inning.
It was Arcia's first career multihomer game. Arcia was the only Twin to get two hits.
Joe Mauer, playing in his second game since coming off the disabled list Monday, singled in the first inning to push his hitting streak to a season-high 14 games, and the longest this season by a Twin.
Pino started out well in his 10th career Major League start. The right-hander did not allow a hit through the first two innings, retiring the Astros in order in the first. Marisnick, who had four hits Monday, led off the Houston third with his first home run of the season into the Crawford Boxes in left field.
It wasn't long before things began to unravel for Pino. Four batters later, Carter hammered a Pino offering, giving the Astros a 3-1 lead. Carter's blast to left field scored Jose Altuve, who went 3-for-5 to raise his batting average to .339.
Richard Dean is a contributor to MLB.com. This story was not subject to the approval of Major League Baseball or its clubs.